New Interactive Report
Posted on

by
Interactive Health, United States, 2011, In Brief, is a new interactive version of Health, United States, 2011, In Brief . It was developed jointly with the National Library of Medicine (NLM) of the National Institutes of Health.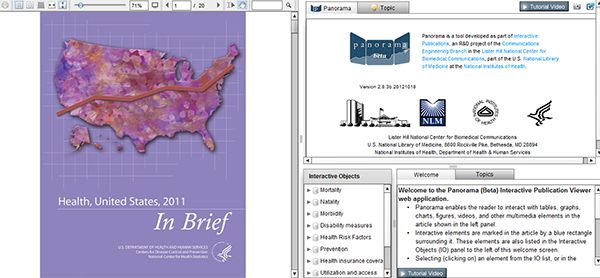 The new interactive report provides text, charts, and tables from Health, United States, 2011. Additional data from the full Health, U.S., report are available for the user to create custom charts. A wide range of related health topics can be explored in great depth through links to relevant information on other sites. Easy-to-follow video tutorials guide users through the interactive website.
NLM approached NCHS in November 2011 to suggest a collaboration using Panorama, their interactive software.  Developers believed that Panorama could expand the usefulness of the wealth of health statistics collected and disseminated by NCHS by letting users access data in an interactive format. NCHS decided to pursue this innovative program and Health, U.S., In Brief was chosen as the first interactive product.
NCHS is the first to use NLM's interactive software for data.  NCHS health statistician Sheila Franco, the principal NCHS contact with the center's NLM collaborators, describes the process as "a terrific collaboration. We have the data expertise and can describe how we want the data presented. And they have the foresight and software expertise to bring it to life." Usability assessments from the 2012 National Conference on Health Statistics were very positive, and the collaborators are looking ahead to the release of the 2012 In Brief and other applications.
Posted on

by
Page last reviewed:
October 31, 2022
Page last updated:
October 31, 2022