Understanding Fertility and Families for 50 Years
Posted on

by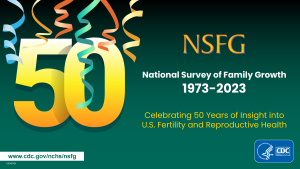 The National Survey of Family Growth is celebrating its 50th year anniversary in 2023. This survey, administered by NCHS, provides a comprehensive, nationally representative snapshot of topics related to fertility, family formation, and reproductive health in the United States.
The National Survey of Family Growth's core purpose has been to explain U.S. birth rates by monitoring a host of factors that impact fertility, including sexual activity, contraceptive use, infertility, and marriage/cohabitation. The survey aims to help understand people's experiences in these areas over the course of their lives, as well as the relative timing of key events such as first sexual intercourse, first marriage or cohabitation, and first birth.
In addition, the survey provides critical information on individuals' use of family planning, infertility, and other health services related to fertility and sexual/reproductive health.  In more recent decades, the National Survey of Family Growth has also contributed to the understanding of risk behaviors for HIV and sexually transmitted infections in the general household population.
From the 1973 through 2019, the survey was conducted through in-person interviews. Since January 2022, data collection has been conducted through both in-person interviews and online surveys.
"The meticulous care taken and professionalism of NCHS statisticians, researchers, and program officials over the decades, as well as hundreds of contracted interviewers, have contributed to the success of the National Survey of Family Growth, " said NCHS Director Brian Moyer, PhD. "Their work has informed federal, state, and local government program decisions and legislation, as well as contributed to the greater body of knowledge our public health partners rely on. "
Further evidence of the impact over the years includes more than 1,300 journal articles and NCHS publications reflecting the wide range of statistical studies that have used the survey data.
"Data from the National Survey of Family Growth are a treasure. I have used these data to analyze patterns of how families form and dissolve in the U.S. spanning nearly 40 years, " said Wendy Manning, PhD, co-director of the National Center for Family and Marriage Research at Bowling Green State University. "These data are the only data set available to assess changing patterns of cohabitation in the U.S. in early and mid-adulthood. Researchers have tracked not only who is currently cohabiting but who has ever spent time cohabiting as well as the number, timing, and duration of cohabiting relationships."
The first National Survey of Family Growth was conducted in 1973 by NCHS. It aligned with the NCHS mission outlined in Section 306 of the Public Health Service Act which requires that NCHS collect data on "family formation, growth, and dissolution."
The 1973 survey was a nationally representative survey of ever-married women ages 15–44. Over the years, the survey expanded. Women regardless of marital experience were included starting in 1982. Men aged 15–44 were added to the survey in 2002, and since 2015, the survey has represented men and women aged 15–49.
"We owe a debt of gratitude to the more than 180,000 survey participants over the past 5 decades who shared their personal experiences, " said Amy Branum (PhD), NCHS associate director for science. "These survey participants represented not only themselves, but thousands of similar individuals across the United States, and allowed NCHS to collect and disseminate key data in the public interest. "
Over the years, the survey has also evolved to include more topics relevant for the health and well-being of the reproductive age population and to understand emerging health concerns. Some of the added topics have included cohabitation (outside of marriage), nonmarital fertility, and risk behaviors for HIV and sexually transmitted infections.
Some examples of the impactful findings from the National Survey of Family Growth have included
Better understanding of teen birth patterns and pregnancy rates from data on sexual activity and timing of first intercourse and contraceptive use.
Discovery of disparities in service use, suggesting disparities in health care access in a wide range of areas such as infertility, preventive screenings, and prenatal care. Data on infertility service use provided evidence for national legislation improving insurance coverage for these services across the United States.
Identifying potentially medically unnecessary pelvic exams and Pap tests by assessing data on the receipt of health screenings that may or may not conform to medical guidelines.
Describing trends over several decades in overall rates of pregnancy, unintended pregnancy, and spontaneous pregnancy loss.
"It's important that the National Survey of Family Growth continues to be able to monitor trends and patterns in all of these fertility and health-related topics in order to understand the impact of societal changes, as well as detect disparities that may exist in access to sexual and reproductive health care, " said Anjani Chandra (PhD), National Survey of Family Growth team lead and principal investigator.
Data collection for 2022-2029 began in January 2022 with a continuous survey design. Pending the availability of funding, data collection will go through December 2029.
More information on the National Survey for Family Growth can be found at www.cdc.gov/nchs/nsfg/
Posted on

by
Page last reviewed:
November 17, 2023
Page last updated:
November 17, 2023