Q & A from Author of Emergency Department Visits with Suicide Ideation
Posted on

by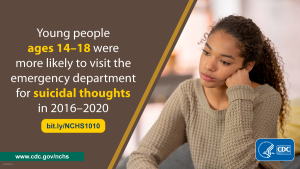 Questions for Alex Strashny, Health Statistician and Lead Author of "Emergency Department Visits with Suicidal Ideation: United States, 2016-2020."
Why did you decide to do a report on emergency department visits with suicidal ideation?
That's a great question. Suicide is a major public health issue. Before to the COVID-19 pandemic, in the United States, suicide was the 10th highest cause of death overall, and the 2nd highest cause for the 10–34 age group.
It is known that suicidal ideation is predictive of suicide. Since we were analyzing a data system of visits to emergency departments (EDs), that's the condition that we decided to report on.
---
Can you describe some of the findings?
One finding that I found fascinating is that the profile of ED visits with suicidal ideation is different between women and men.
For girls/women, ED visits with suicidal ideation are relatively high during the teenage years (14 to 18) and decrease with age. However, for boys/men, these visits increase with age, peaking in midlife (35 to 44), and only then do they decrease.
---
Do you have any data that goes further back than 2016?
Yes, we do. The data system that we used is an annual survey that goes back to 1992. Our agency collects the data and makes it public, so that anyone in the world can analyze it. However, for this report, we only analyzed the years 2016 to 2020.
---
How did you collect this data?
The data comes from the ED component of our National Hospital Ambulatory Medical Care Survey (NHAMCS). Its "findings are based on a national sample of visits to emergency departments (EDs) in noninstitutional general and short-stay hospitals, exclusive of Federal, military, and Veterans Administration hospitals, located in the 50 States and the District of Columbia." This document provides a bit more technical information about the data, as well as many estimates that are based on the data.
---
Any other comments?
In terms of rates, ED visits with suicidal ideation might seem like not very much. 40 visits per 10,000 people per year. However, in terms of absolute numbers, that's 1.3 million ED visits every single year. For such a serious problem, I think that's staggering.
Posted on

by
Page last reviewed:
April 11, 2023
Page last updated:
April 11, 2023