NCHS UPDATES"STATS OF THE STATES" PAGE WITH LATEST FINAL DATA
Posted on

by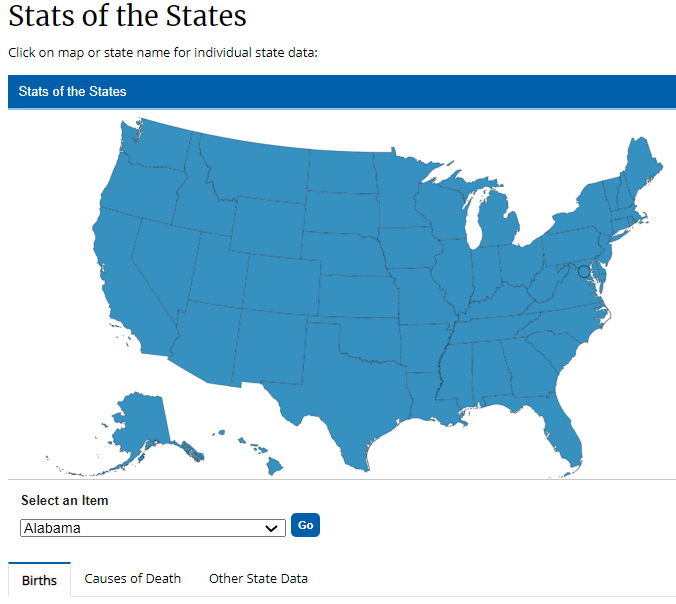 The CDC National Center for Health Statistics web page "Stats of the States" has been updated to include the latest state-based final data on selected vital statistics topics, including:
General fertility rates
Teen birth rates
Selected other maternal and infant health measures
Marriage & divorce rates
Leading causes of death
Other high profile causes of death.
The site's map pages allow users to rank states from highest to lowest or vice versa.  This latest version of "Stats of the States" also includes two new topics:  Life expectancy by state and COVID-19 death rates by state (provisional data on a quarterly basis, through Q3 of 2020).  All death rates are adjusted for age.  Rates are featured in the maps because they best illustrate the impact of a specific measure on a particular state.
The main "Stats of the States" page can be accessed at:  https://www.cdc.gov/nchs/pressroom/stats_of_the_states.htm
Posted on

by
Categories
births
,
Cancer
,
cesarean
,
children
,
Deaths
,
divorce rate
,
Drug Overdose Deaths
,
elderly
,
first birth
,
heart attack
,
heroin
,
infant mortality
,
Influenza
,
kidney disease
,
leading causes of death
,
life expectancy
,
Marriage and Divorce
,
marriage rate
,
National Vital Statistics System
,
overdose
,
Preterm Births
,
State data
,
Stats of the States
,
stroke
,
suicide
,
Teen Births
,
unmarried childbearing
,
Vital Statistics System
Page last reviewed:
March 26, 2021
Page last updated:
March 26, 2021