Latest Report on the Nation's Health Focuses on Pre-pandemic Health Disparities
Posted on

by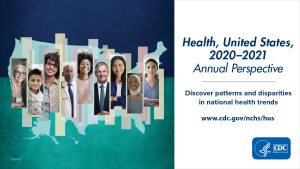 The first Health, United States: Annual Perspective, released on January 19, tracks trends in health disparities across the nation. This shorter, health equity-focused report is part of a new direction for the 47-year-old Health, United States program. Together with the new Health, United States website, launched in August 2022, the Annual Perspective reflects a continued commitment to updating products based on how readers search for, access, and use health statistics.
Findings from the Annual Perspective include—
Non-Hispanic Black people have higher heart disease death rates than people of other racial and ethnic groups.
Health insurance coverage has increased over time, but Hispanic adults are the most likely to lack health insurance and have unmet need for medical care.
Males have higher substance use and lower use of health care than females.
Adults living below 200% of the federal poverty level are the least likely to have recently seen a dentist.
Adults with no high school diploma or GED are more than four times as likely to smoke cigarettes as those with a bachelor's degree or higher.
Males die three to four times as often from suicide and four times as often from homicide as females.
The rate of new HIV diagnoses increased for non-Hispanic American Indian or Alaska Native people, while the rates of new diagnoses in all other race and Hispanic-origin groups decreased.
Health, United States, 2020–2021: Annual Perspective is a congressionally mandated annual report that examines national trends in key health indicators. Now in its 44th edition, the report has undergone various changes throughout the years. This most recent overhaul focused on expanding access to the program's data and analyses through digital formats and online resources.
Visit the Health, United States website to download the Annual Perspective, view infographics, and navigate through topic pages featuring key findings, charts, and trend tables. The topic pages contain links to detailed methodology available on a newly designed Sources and Definitions webpage and trend tables are indexed through the searchable Data Finder.
Posted on

by
Page last reviewed:
January 19, 2023
Page last updated:
January 19, 2023