NIOSH Efforts to Keep Workers and the Country Safe During the Pandemic
Posted on

by
It is an understatement to say that 2020 was an unprecedented year. As we enter 2021 with hope and optimism, we would like to highlight the work of the National Institute for Occupational Safety and Health (NIOSH) staff who worked tirelessly to protect workers and prevent the spread of COVID-19. The NIOSH mission is to protect worker safety and health and as such, much of our work on the COVID-19 pandemic response centers around worker safety and health. However, what is learned in the workplace can provide valuable information for the rest of the population. Although we cannot capture all of our research and prevention activities, we highlighted some key activities below, such as providing technical assistance, certifying respirators, developing industry guidance, and collecting and analyzing workplace COVID-19 data.
Providing Assistance
Over 400 NIOSH employees put their day-to-day work on hold to participate in the Centers for Disease Control and Prevention's (CDC) COVID-19 emergency response. Early in the response, NIOSH staff deployed to airports to screen airport passengers and recommend steps to minimize the risk of COVID-19 transmission to passengers and employees. They also provided health and safety support to workers helping US citizens returning from cruise ships and countries affected by COVID-19. As more cases were identified in the US, NIOSH staff deployed to states and tribal nations across the country to conduct on-site assessments of workplaces and contact tracing in communities with inadequate local staff or facing large surges in infection. The NIOSH team also sought to improve the collection of industry and occupation (I&O) data by developing and supporting the collection of I&O data on case reporting and death abstraction forms of COVID-19 confirmed cases. Staff then analyzed and interpreted the US worker data to better understand which industries or occupations are at greatest risk for COVID-19. Another key activity involved developing various guidance documents and communication products containing recommendations for businesses to maximize worker protection against COVID-19 through appropriate workplace strategies such as ventilation, screening, social distancing, mask wearing, hand hygiene, cleaning and disinfection, and personal protective equipment.
Respirators
Part of the NIOSH mandate is to certify respirators. A respirator user can be confident that their NIOSH-approved device will provide the expected level of protection when used properly. This is a tremendous resource to the millions of workers who rely on respirators to protect them from exposures to chemicals, biological agents, and infectious diseases at work.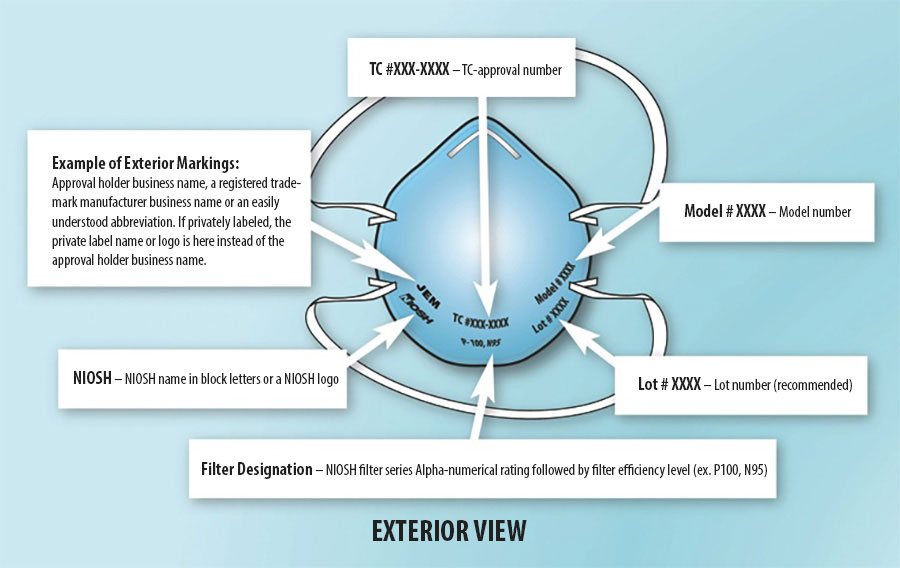 The COVID-19 pandemic created an unprecedented challenge to global personal protection equipment (PPE) supply chains. Widespread shortages of respirators, especially N95 filtering facepiece respirators, left many workers in the United States without the respiratory protection they needed to do their jobs. As healthcare workers across the US provided care to millions of COVID-19 patients, they needed immediate respiratory protection solutions and strategies.
To address national PPE needs during COVID-19, the NIOSH National Personal Protective Technology Laboratory (NPPTL) significantly shifted and increased its operations. There was a great demand to increase the supply of NIOSH-approved respirators. NPPTL rose to meet this challenge, significantly increasing their rate of approval decisions for devices submitted to the respirator conformity assessment program. NPPTL made over 800 approval decisions in 2020. Notable parts of this effort include the first NIOSH-approved elastomeric half mask respirator without an exhalation valve and a new powered air purifying respirator.
The laboratory evaluated filtration performance of more than 8,500 respirators during the COVID-19 response, resulting in 550 reports informing the use of respirators that were 1) conforming to international standards rather than US standards, 2) beyond shelf life, or 3) decontaminated. As part of this effort, NIOSH has been offering assessments of the filtration efficiency of respirators received from non-US countries to help create a better awareness of the quality of products on the market. In the same vein, NIOSH has been testing respirators from stockpiles to assess whether considerations should be made to use respirators that are beyond their shelf-life date during times of shortage. In order to provide users with a better understanding of how a decontamination process may impact filter performance, NIOSH NPPTL also evaluated unused (not contaminated) respirators that have gone through decontamination cycles. While these three filtration testing projects will not result in, nor contribute to, the process of obtaining a NIOSH approval for the models assessed, they inform decisions about what products can be safely used by our frontline workers during the COVID-19 pandemic.
Naturally, over the last year critical PPE questions arose for workers and employers, especially in healthcare. Since January 2020, NPPTL has addressed more than 6,000 public inquiries. To better provide this information to our stakeholders, NPPTL developed ten NIOSH science blog posts, published 12 PPE CASE reports , and contributed subject matter expertise to the CDC COVID-19 webpages on PPE.
To fill important response knowledge gaps, NPPTL conducted a study of filtering facepiece respirators (FFRs) with exhalation valves to assess their effectiveness as source control. FFR models with an exhalation valve are thought to increase the wearer's comfort at high work rates and be suitable for longer periods of use. A concern about FFRs with an exhalation valve is that individuals may spread disease if unfiltered, virus-laden aerosols pass through the valve with the exhaled air. NIOSH recently published the findings from this research that provides improved science-based recommendations on the use of filtering facepiece respirators with an exhalation valve. The findings show that FFRs with an exhalation valve provide respiratory protection to the wearer and can also reduce particle emissions to levels similar to, or better than, those provided by surgical masks, procedure masks, or cloth face coverings. This study also shows that the use of an electrocardiogram pad or surgical tape secured over the valve from the inside of the FFR can provide source control similar to that of an FFR with no exhalation valve. These findings have important implications for guidance on source control and mitigation; however, this strategy of covering the exhalation valve should only be done with authorization from the manufacturer. *
Masks/Neck Gaiters/Face Shields
In order to answer many questions we received about how well various face coverings contain respiratory secretions (source control) of the wearer and prevent contamination of the environment, a team of researchers in the NIOSH Health Effects Laboratory Division (HELD) evaluated the efficacy of masks, including procedure masks, cloth masks, neck gaiters, and face shields, for reducing the expulsion of simulated cough-generated aerosols. HELD developed a source control test system using a cough aerosol simulator and pliable head form (developed by NPPTL) to propel small aerosol particles (0 to 7 μm) into different face coverings placed on the head form. The researchers found that an N95 FFR blocked 99% of the cough aerosol, a procedure mask with ear loops blocked 59%, a 3-ply cloth mask with ear loops blocked 51%, and a polyester neck gaiter blocked 47% as a single layer and 60% when folded into a double layer. In contrast, the face shield blocked only 2% of the cough aerosol.
The results of this research suggest that cloth masks and neck gaiters are preferable to face shields as source control devices for cough aerosols. Results derived from these preliminary studies were published in the scientific literature. Until recently, CDC guidance on use of gaiters indicated that their effectiveness was unknown. The CDC response has now changed the CDC gaiter guidance to recommend their use based on this new data from NIOSH.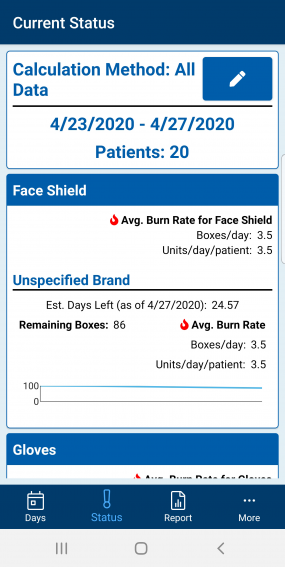 Managing PPE Supply
NIOSH developed a PPE Burn Rate Calculator  to calculate a facility's average PPE consumption rate or "burn rate." The calculator estimates how many days a PPE supply will last given current inventory levels and PPE use rate. The spreadsheet-based model will help healthcare facilities plan and optimize the use of PPE for response to COVID-19. Non-healthcare facilities such as correctional facilities may also find this tool useful. An app is also available for both iOS and Android devices. Visit the NIOSH PPE Tracker app page to download this free tool.
Industry Specific Guidance and Technical Assistance
Approximately 40 NIOSH staff from across the Institute supported the response's Technical Assistance Unit. The unit provides field and virtual occupational technical assistance to companies and various agencies during the COVID-19 response. Since March, the unit has assisted approximately 180 different facilities in 27 states and the District of Columbia. The unit's subject matter experts helped write ventilation guidance, developed an informational web page, and are currently fielding and responding to a variety of questions on ventilation. In conjunction with other CDC task forces, the unit also recently published the School Mitigation Toolkit to aid school administrators as they consider how to protect the health, safety, and wellbeing of students, teachers, other school staff, families, and communities and prepare for educating students moving forward.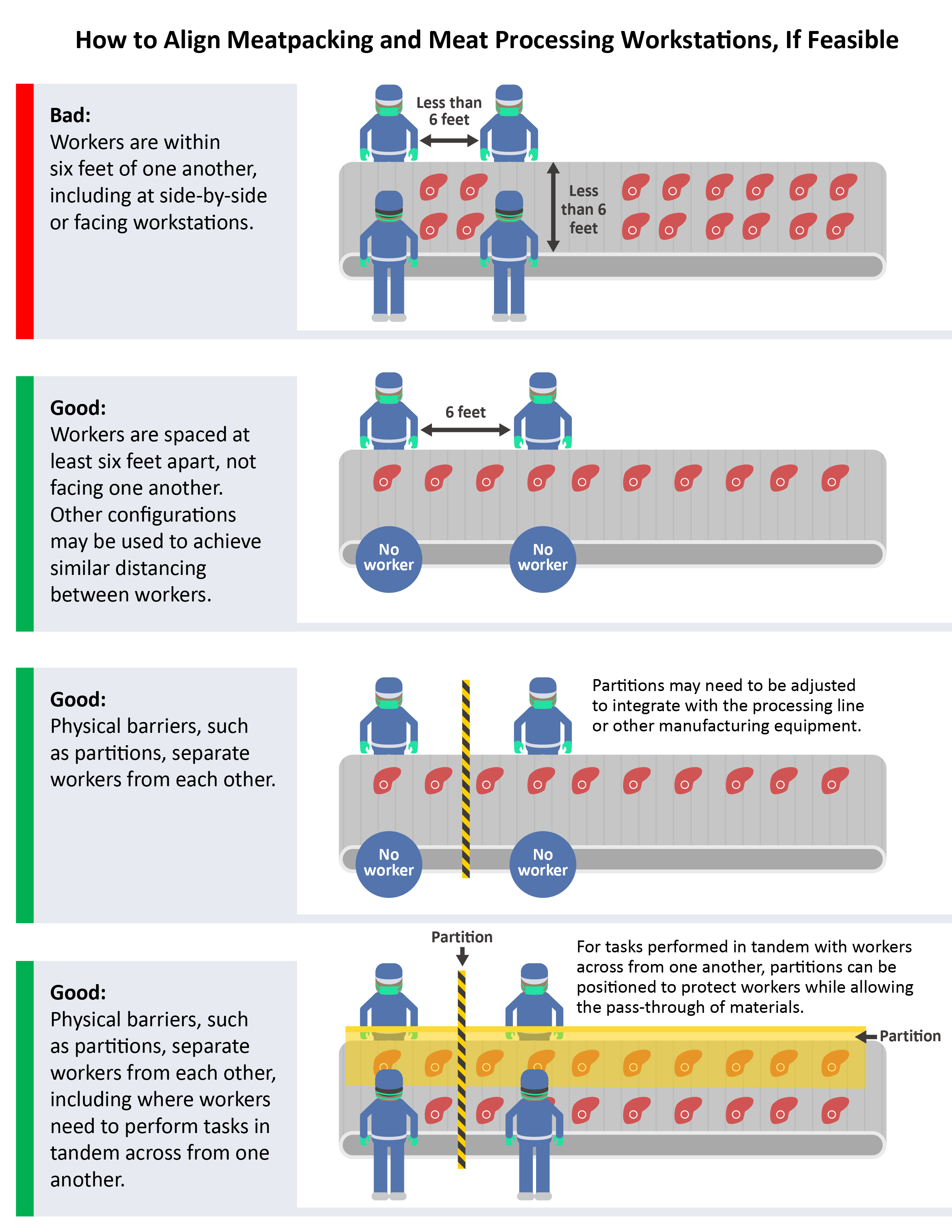 The meatpacking industry was an early hotspot for COVID-19 infections. Meat and poultry processing facilities are a component of the critical infrastructure providing food for our nation. NIOSH staff jointly worked with the Occupational Safety and Health Administration to provide infection prevention and control measures at meat and poultry processing facilities. The infographic at right offers suggestions on how to configure communal work environments so that workers are spaced at least six feet apart.
Wildland fires continue to rage despite the pandemic. Many factors associated with wildland firefighting may be conducive to the transmission of infectious diseases, including COVID-19, such as: strenuous work, long work shifts, close living and working conditions, limited access to hygiene supplies, and a workforce that responds to wildland fire incidents all over the country on short notice. NIOSH staff contributed to recommendations described in CDC's FAQ for Wildland Firefighters to prevent infection and spread of COVID-19 and the NIOSH science blog Wildland Firefighter Health: Some Burning Questions, as well as in a published article Wildland Firefighter Exposure to Smoke and COVID-19: A new risk on the fire line.
Healthcare workers are on the frontlines of this pandemic. NIOSH developed strategies to optimize personal protective equipment (PPE) supplies in healthcare settings. These strategies offer a continuum of options using the framework of surge capacity when PPE supplies are stressed, running low, or absent.NIOSH has provided guidance for respirator use (see above) and other personal protective equipment as well as resources for preventing fatigue and stress (see below) during this trying time. As COVID-19 vaccine administration begins, NIOSH also has resources available to prevent needlestick injuries for healthcare workers.
Other workers are also on the frontlines. NIOSH developed or contributed to over 50 fact sheets with COVID-19 prevention guidelines for the following industries First Responders, Food Services, Manufacturing and Industrial, Personal Services and Hospitality, Public Services and Sanitation, Schools, Transportation and Delivery. A few examples are provided below.
NIOSH also contributed to 16 guidance documents including:
Stress/Sleep/Substance Use and Misuse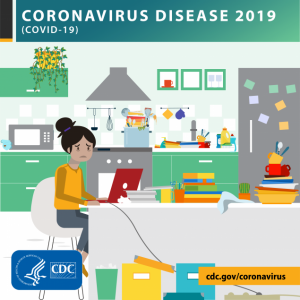 The COVID-19 pandemic has affected nearly every aspect of Americans' lives and had a significant effect on the well-being of workers. As employers and workers work to adopt protective health practices and remain productive, they must also balance concerns about their health and the health and well-being of their families. This can contribute to significant stress and issues with sleep, well-being, and substance use/misuse. The following information provides resources for workers and employers during these trying times.
Fact Sheets
NIOSH Science Blog Posts
Data
Collecting information about the jobs of all workers with COVID-19 will help the public health community identify work-related outbreaks and evaluate risks among various groups of workers. Implementation of this data collection has proved challenging, and collection of essential I&O data variables for local jurisdictions is now optional, resulting in gaps in reported data on the work-relatedness of COVID-19 cases and deaths. These gaps prevent CDC from fully understanding which industries or occupations are at greatest risk for COVID-19, further impacting the agency's ability to target research and resources.
The following blog posts discuss how to best collect and analyze this data.
Another way to use data to try to better understand the impact of COVID-19 in the workplace is to examine days away from work. This is discussed in the Morbidity and Mortality Weekly Report (MMWR) article, Increases in Health-Related Workplace Absenteeism Among Workers in Essential Critical Infrastructure Occupations During the COVID-19 Pandemic — United States, March–April 2020 and the NIOSH science blog post, Using Worker Absenteeism to Track the Flu.
Conclusion
Throughout the challenges of 2020, NIOSH used its unique expertise to protect workers and help prevent the spread of COVID-19. Our world-class research has informed public health guidance and our expertise across a host of work-related topics serves as an invaluable resource. As we enter 2021 hopeful for the changes it will bring, know that NIOSH continues to conduct research and prevention to protect working people.
For more information see the website COVID-19 Information for the Workplace. A list of all of the COVID-19 related NIOSH science blog posts can be found here.
John Howard, MD, Director, NIOSH
RADM (Retired), Margaret M. Kitt, MD, MPH, Deputy Director for Program, NIOSH
CAPT Lisa Delaney, MS, CIH, Associate Director for Emergency Preparedness and Response, NIOSH
*Data in this section were updated to reflect final year end numbers.
Posted on

by
---
Page last reviewed:
August 11, 2023
Page last updated:
August 11, 2023