Wildland Firefighter Health: Some Burning Questions
Posted on

by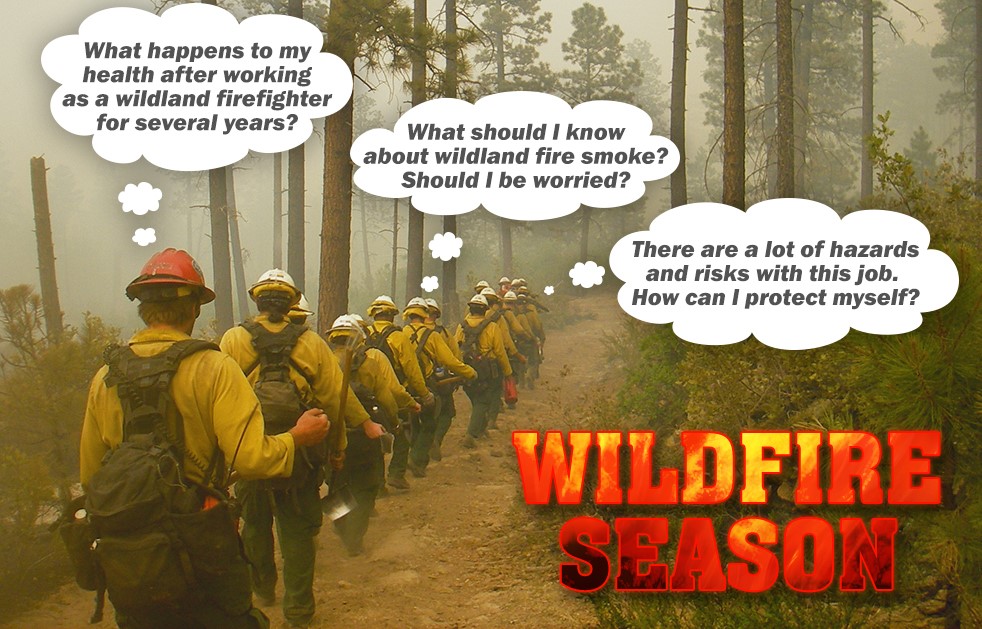 While research has not yet been conducted on all the hazards and risks associated with the wildland firefighting job, the National Institute for Occupational Safety and Health (NIOSH) is asked numerous questions about the hazards of fighting wildland fires. This blog is designed to answer some of those questions.
What Is in Wildland Fire Smoke?
Wildland fire smoke is a mixture of gases and particles such as carbon monoxide (CO) and respirable particulate matter (PM) that may cause short- and long-term health effects. Wildland firefighters can be exposed to smoke at wildfires and "prescribed" fires (planned and intentionally ignited low-intensity fires). The contents of and exposure to wildfire smoke can vary greatly throughout the day depending on the vegetation type, fire behavior, and meteorological conditions. Research has shown that wildland firefighters have been exposed to gases and particles such as CO and PM above the occupational exposure limits during both wildland and prescribed fires. While burning vegetation is the primary exposure of concern for wildland and prescribed fires, when fires burn in the wildland urban interface (WUI, where wildland vegetation and urban areas meet) the smoke may contain compounds that are more similar to what structural firefighters encounter. Wildland firefighters will often suppress these fires and may be exposed to some of the hazardous compounds of WUI smoke such as volatile organic compounds (VOCs), flame retardants, and polycyclic aromatic hydrocarbons (PAHs). However, wildland firefighters do not have the benefit of wearing some of the personal protective equipment (PPE) typically used in a structural response (e.g., self-contained breathing apparatus [SCBA], turnout gear) that could provide protection from these compounds. Additionally, wildland firefighters may be exposed to smoke at firefighting base camps (incident command posts) where they eat and rest while off-duty.
What Do We Know About the Health of Wildland Firefighters?
Cardiovascular and Lung Health
In the past decade, several studies have linked exposure to wildfire smoke to short-term health effects, such as increases in inflammation and respiratory effects, for example, lung function decline.[i] However, these studies have only examined the health effects across a few shifts or a single fire season. It is not clear if these adverse health effects continue after fire season and whether they worsen after several seasons of fighting fires. Researchers suspect that exposure to particulate matter and other contaminants from wildfire smoke, heavy physical exertion, existing health and behavior risk factors, and cardiovascular strain could contribute to sudden cardiac events for wildland firefighters. Recent research indicated that wildland firefighters may be at an increased risk of mortality from cardiovascular disease and lung cancer than the general public from career exposure to wildfire smoke.[ii]
COVID-19
The strenuous work, long work shifts, close living and working conditions, limited access to hygiene supplies, and a workforce that responds to incidents all over the country on short notice to wildland fire incidents may be conducive for the transmission of infectious diseases, including SARS-CoV-2. Exposure to air pollutants in wildfire smoke can irritate the lungs, cause inflammation, alter immune function, and increase susceptibility to respiratory infections, possibly including COVID-19.[iii] In addition to potentially making firefighters more vulnerable to getting COVID-19, inflammation in the respiratory tract due to wildfire smoke might also increase the risk of developing more severe outcomes for those with COVID-19.[iv] Wildland firefighters should implement the recommendations described in the CDC's FAQ for Wildland Firefighters to prevent infection and spread of COVID-19.
Heat-Related Illness and Rhabdomyolysis
Due to the nature of their work, firefighters are at risk of developing severe heat-related illness (such as heat stroke) and rhabdomyolysis (muscle breakdown).[v],[vi] Delays in diagnosis and initiating treatment of these illnesses increase the risk of permanent muscle damage. Since 2010, 62 cases of severe rhabdomyolysis among wildland firefighters have been reported to a passive surveillance system designed to capture fatalities and certain types of injuries and illnesses including rhabdomyolysis. The actual number of cases is likely higher due to underreporting and inconsistencies in reporting requirements and systems. Prior to 2010, no cases were reported.
Hearing
Wildland firefighters work around power tools and heavy equipment that produce noise levels that are hazardous to hearing. In addition to hearing loss, noise exposure may also cause tinnitus (ringing/buzzing in ears), increased heart rate, fatigue, and interfere with verbal communication. Researchers from NIOSH and the United States Forest Service (USFS) evaluated personal noise measurements on 156 wildland firefighters conducting various training and fire suppression tasks, and reported that 85 of the 174 measurements were above the NIOSH maximum allowable daily dose[vii]. A follow-up study showed use of hearing protection was mixed; while almost all the wildland firefighters were aware of the noise in their environment and potential risk, very few were enrolled in hearing conservation programs.
What Are NIOSH Researchers Doing to Better Understand Exposures and Health Effects?
NIOSH is currently conducting research to understand the exposures and health effects of firefighters suppressing wildland and WUI fires. NIOSH researchers and collaborators at the US Forest Service and Department of the Interior have finished the second year of a multi-year study investigating exposures and health effects among six federal 20-person firefighting crews. The primary goal of this study is to measure exposures in the wildland fire environment and examine associations between those exposures and changes in lung, cardiac, kidney, and hearing function during each fire season and the off season over multiple fire seasons. This study has been paused in 2020 due to COVID-19 but is expected to resume.
To understand exposures and health effects faced by WUI firefighters, NIOSH is working with researchers from the University of Arizona and University of Miami to expand an existing collaborative research study (the Fire Fighter Cancer Cohort Study) to collect data regarding exposures from WUI fire incidents during the 2019 and 2020 fire seasons. Characterizing the types of chemicals, as well as the routes and levels of exposures, will help us understand health risks for wildland firefighters.
NIOSH is also in the process of developing a study assessing self-reported exposures to wildfire smoke and COVID-19 health outcomes among wildland firefighters. Additional information about this research will be available soon on the NIOSH Fighting Wildfires Page.
LCDR Corey Butler,MS REHS, is a Lieutenant Commander with the United States Public Health Service and an Occupational Safety and Health Specialist in the NIOSH Western States Division.
CAPT Christa Hale,DVM, MPH, DACVPM (Epi), is a Captain with the United States Public Health Service and Senior Epidemiologist and Veterinarian in the NIOSH Western States Division.
Kathleen Navarro, PhD, MPH is an Associate Service Fellow with the Division of Field Studies and Engineering.
Elizabeth Dalsey, M.A., is a Health Communication Specialist in the Western States Division.
CAPT Chucri (Chuck) A. Kardous, MS, PE, is a Captain with the United States Public Health Service and a research engineer with the NIOSH Division of Field Studies and Engineering.
Pamela S. Graydon, MS, COHC, is an Electronics Engineer working in hearing loss prevention in the NIOSH Division of Field Studies and Engineering. 
CAPT David C. Byrne, Ph.D., CCC-A, is a Captain with the United States Public Health Service and a research audiologist with the NIOSH Division of Field Studies and Engineering.
References
[i] Adetona O, Reinhard T, Domitrovich J, Boryles G, Adetona A, Kleinman M, Ottma R, Naher L [2016]. Review of the health effects of wildland fire smoke on wildland firefighters and the public. lnhal Toxicol 28(3): 95-139. Available from: https://pubmed.ncbi.nlm.nih.gov/26915822/
[ii] Navarro K, Kleinman M, Mackay C, Reinhardt T, Balmes J, Broyles G, Ottmar R, Naher L, Domitrovich J [2019]. Wildland firefighter smoke exposure and risk of lung cancer and cardiovascular disease mortality. Environ Res 173:462-468. Available from:https://www.sciencedirect.com/science/article/pii/S001393511930194X
[iii] Reid CE, Maestas MM. Wildfire smoke exposure under climate change: impact on respiratory health of affected communities. Curr Opin Pulm Med 2019;25:179–187.
[iv] Moore JB, June CH. Cytokine release syndrome in severe COVID-19. Science 2020;368:473.
[v] West MR, Costello S, Sol JA, Domitrovich JW [2020]. Risk for heat-related illness among wildland firefighters: job tasks and core body temperature change. Occup Environ Med77(7):433-438. Available from: https://pubmed.ncbi.nlm.nih.gov/31996475/
[vi] NIOSH [2012]. Report of a NIOSH health hazard evaluation, HHE 2011–0035. By Eisenberg J and McFadden J. Cincinnati, OH: U.S. Department of Health and Human Services, Centers for Disease Control and Prevention, National Institute for Occupational Safety and Health. Unpublished.
[vii] Broyles G, Butler C, Kardous C [2017]. Noise exposure among federal wildland fire fighters. J Acoust Soc Am 141(2) EL177. Available from: https://www.ncbi.nlm.nih.gov/pmc/articles/PMC5975217/
Posted on

by
---
Page last reviewed:
October 5, 2020
Page last updated:
October 5, 2020