Women in STEM
Posted on

by
In honor of Women's History Month, this blog highlights a few of the talented female researchers working in science, technology, engineering and math (STEM) at NIOSH. Their varied paths into STEM fields are as interesting as they are inspirational. After reading these stories please pass them along to other women and girls so that they can inspire the next generation of scientists.
Kyla Retzer, MPH/ Research Epidemiologist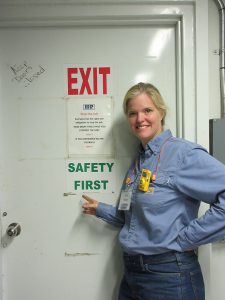 Kyla Retzer's journey into a STEM field started early in school. Growing up, she excelled in mathematics so people recommended she pursue accounting or actuarial work as a career. She never knew anything about public health. As a disgruntled business major in college, she happened into an epidemiology internship at the Texas Department of Health and found it to be fascinating! Kyla analyzed Behavioral Risk Factor Surveillance System (BRFSS) data to examine differences in various health behaviors by race, gender, and age in Texas. Following college, she was a Peace Corps volunteer in West Africa, and this is where her real passion for public health work solidified. A couple of years after returning to the U.S., Kyla decided to pursue a Master's in Public Health with a concentration in Epidemiology. Her focus became injury epidemiology because of her interest in better understanding how people are affected by preventable crashes and other types of traumatic injuries. She moved to Alaska in 2004 to work with Alaska Native tribes doing injury surveillance and epidemiology. In 2010, Kyla was hired at the NIOSH Alaska Pacific Regional Office.
Kyla has worked at NIOSH for almost nine years and has relocated to Denver with her family. Her work now focuses primarily on the safety and health of oil and gas extraction workers. She helped create the Fatalities in Oil and Gas (FOG) Database, it contains detailed information about worker fatalities in this industry. FOG has been used to identify and raise awareness about emerging and ongoing safety and health hazards to oil and gas workers. This work has led to some great public health partnerships; for example, Kyla developed a video about one of the hazards identified in FOG, acute exposure to hydrocarbon gases and vapors with a team of people from NIOSH and the California Department of Public Health. Kyla notes that working with a multi-disciplinary team at NIOSH including industrial hygienists, toxicologists, engineers, and communication experts has helped her learn more about safety and health beyond her field of expertise.  She also collaborates with numerous industry stakeholders from trade associations, insurance companies, large and small companies, and technology vendors to conduct her research. Kyla currently serves as the Assistant Coordinator at the NIOSH Center for Motor Vehicle Safety where she contributes to the strategic direction of NIOSH's motor vehicle safety research. "I have come so far from where I started in adulthood, not knowing how to make use of the right side of my brain! It is a rewarding feeling to know my STEM career is playing a small part in improving safety and health for workers, said Kyla." "My advice for young people is to do their best in their STEM classes and then go out and explore all of the opportunities available to them so they can find their niche and make a difference."
Anna A. Shvedova, PhD, DSc/Research Physiologist
Dr. Anna A. Shvedova is a research physiologist and internationally recognized leader in research on nanotoxicology. Anna's career spans more than four decades producing remarkable research. She is an expert in molecular, cell, and whole organism toxicology, particularly as it relates to the field of nanotoxicology. While in medical school in Moscow, Anna was mystified by the plethora of responses to internal and external factors that could predispose the human body to a wide range of diseases. During this time she realized that what she was passionate about would require a lot of education –specifically the many aspects of physiology and pathology, chemistry and biochemistry, physics and biophysics; and thus began her life-long journey of learning. She notes that during her career, she changed her field of research five times. This did not discourage her, on the contrary it gave her a chance to gain knowledge and get ready to enter a new frontier discipline, that of nanoscience and nanotoxicology.
Anna pioneered nanotoxicology research at NIOSH and has been recognized as a leader and expert in various aspects of nanotoxicology ranging from free radical biology to genotoxicology. Her discoveries are vast and significant, as demonstrated by her outstanding publication records that include 172 peer-reviewed manuscripts and over 100 presentations in different areas of toxicology, particularly as they relate to occupational settings, risk assessment, and human health. Over the past three years, Dr. Shvedova has been recognized as one of the most cited scientists in the field of toxicology/pharmacology. "I'm glad I have had opportunity and chance to explore novel health effects of nanomaterials as part of the emerging technology working group. Working together with interdisciplinary teams at NIOSH, and with scientists from the US and EU including Switzerland, Finland, Sweden, Germany, Russia and South Korea, provided remarkable opportunities for research and success," said Anna. Anna's advice to young people, "Do not be afraid to get into an unknown field. You can do it, you just need to be eager to learn many new things."
Jenny Topmiller, MS/ Research Engineer, Research Supervisor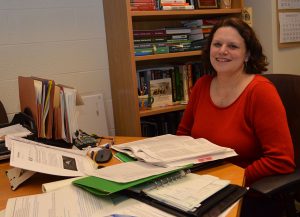 Jenny Topmiller has been with NIOSH for over 30 years. She started as a research engineer and has been in the Division of Applied Research and Technology (DART). She is a Team Leader in the Engineering and Physical Hazards Branch and is currently serving a detail as the Acting Associate Director for Science for DART.  Jenny has both a BS and MS in mechanical engineering from the University of Kentucky. Her interest in science started a young age. She always loved math and science, so a STEM career was a natural fit for her. Her high school mentor encouraged this interest along with her older brothers who had already started jobs in the field of engineering. One of Jenny's college professors, knowing that she wanted to work in the Cincinnati area, told her that NIOSH was looking for an engineer. Prior to that first interview, she did not know much about the field of engineering controls and public health. However, she quickly decided that this was an interesting place to be. Jenny found that NIOSH offers a more varied experience than many engineering positions, as well as the opportunity to interact with researchers in other fields of science.
Jenny has been involved in many interesting projects throughout her career. She worked to develop controls for woodworking tools, led a contract to study the hazards of powered hand tools, studied disease transmission in aircraft cabins, and was the primary author of a document to summarize the use of engineering controls in the nanotechnology industry. As the Acting Associate Director for Science Jenny monitors the quality of scientific documents that DART creates. Jenny is a member of the Center for Robotics Research and the Respiratory Health Program committees. She is also a member of the American Conference of Governmental Industrial Hygienist's (ACGIH) Industrial Ventilation Committee. This committee publishes and regularly updates the ACGIH Industrial Ventilation Manual, which is an industry standard in industrial ventilation. The 2019 edition has just been released.
Jenny says that although NIOSH was not where she expected to spend her career, she feels that she has landed right where she was supposed to be. "I want students to always give the STEM classes a chance. I don't like to hear them say that they don't like math or science because they will never need to use it. I want them to see how exciting it is be part of something that can make a difference for someone else."
Audrey Reichard, MPH/Epidemiologist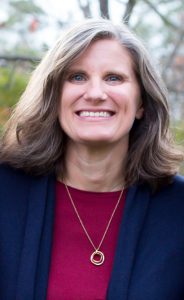 Prior to pursuing her Master's in Public Health, Audrey was an occupational therapist working in outpatient rehabilitation. She became interested in understanding injury prevention when she noticed multiple patients who were treated at the rehabilitation facility coming back with new injuries or reinjuries. While Audrey may not have had the most direct introduction into STEM, it was her curious nature and passion for understanding and preventing injuries that have made her a successful epidemiologist at NIOSH. In her current role, Audrey works with surveillance data that is predominantly focused on occupational injuries. Surveillance is the foundation of the public health model that helps to define a problem, identify risk factors, and provide justification for the development and evaluation of interventions.
There is no doubt that Audrey takes great pride in her work to establish support for worker safety interventions that can help reduce injuries and deaths. "Audrey's commitment to worker safety, strong work ethic, attention to detail, and keen ability to understand data are what make her such an asset to the division," said Dawn Castillo, DSR division director. "Her work has advanced the prevention of worker injuries."
Heidi Sewchok, MPH / Physical Scientist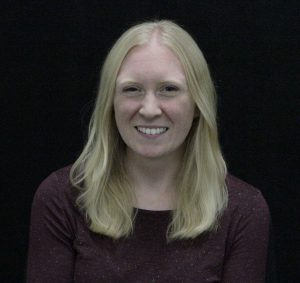 Heidi Sewchok is a Physical Scientist in the Conformity Verification and Standards Development Branch (CVSDB). She joined the NIOSH National Personal Protective Technology Laboratory (NPPTL) in 2011 as a summer student, continued working while going to school full time, and was hired on permanently after graduation. Sewchok earned a Bachelor's Degree in Biology from the California University of Pennsylvania followed by a Master of Public Health Degree from the George Washington University. Her area of expertise is the certification of air-purifying respirators to the standards of 42 CFR Part 84. She is also the Secretary/Treasurer of the Americas Section of the International Society for Respiratory Protection and is an active member of several National Fire Protection Association technical committees that focus on respiratory protection.
Heidi's STEM career came about naturally. Growing up on a farm and being involved in animal care, Sewchok remembers being drawn to all living things. She decided to go to college to study veterinary science, but ultimately changed majors when she realized she was more interested in being in the lab. Sewchok had no clear path in mind after changing her major to microbiology and chemistry. She ultimately joined the NPPTL team the summer of her freshman year of college "on a fluke" and hasn't looked back. Sewchok explains, "I never considered myself a woman in STEM, just a scientist. I have the women who have come before me to thank for that."
LCDR Catherine Beaucham, MPH, CIH, RS/REHS /Industrial Hygienist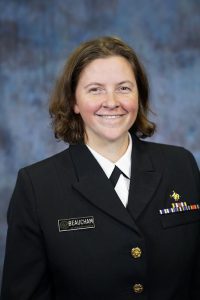 LCDR Catherine Beaucham, MPH, CIH, RS/REHS is an industrial hygienist for the Health Hazard Evaluation (HHE) Program. Her interest in industrial hygiene was sparked early during her freshman year at Ohio University. Although she started as an environmental biology major, she switched majors after an industrial hygiene presentation. Her professor brought sampling pumps, flow meters, and direct reading instruments for the students to try. The presentation showed Catherine the hands-on nature of industrial hygiene. "I learned that I could be a scientist and not be stuck in a lab all the time. I could do research, help protect people's health, learn about new occupations and hazards, and interact with all sorts of people. Industrial hygiene seemed perfect for me." Catherine also received a master's degree in public health with an international focus. As an avid traveler and Spanish speaker, her MPH helped her bring more aspects of her personality into her career.
Catherine loves the variety of work she does at NIOSH. She has participated in multiple emergency responses and travels widely for her work with the HHE Program. Being able to improve the health and safety for workers at many different workplaces is rewarding. She also enjoys learning from her peers. "I enjoy working with experts in so many different fields and learning a bit more with each interaction." She thinks her biggest impact so far has been her work on lead. As she describes, "lead exposure can occur in many different workplaces and can negatively impact the health of workers and their children. I think any recommendations we can make to reduce exposures and prevent take home contamination is essential." You can hear Catherine talk more about her work for the HHE Program in this video.
Rachel Bailey, DO, MPH/ Medical Officer, Captain, U.S. Public Health Service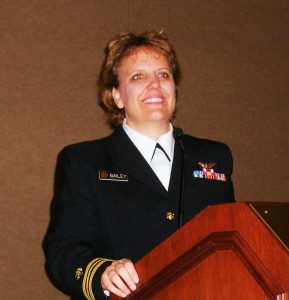 Prior to coming to NIOSH, Rachel served as an active duty physician in the U.S. Army providing medical care to active duty service members, family members, and retirees. As an Army flight surgeon, she also provided medical services for Army aviation personnel. Rachel had always been interested in STEM and medicine. Her mother was a certified occupational health nurse and introduced Rachel to workplace safety and health. While on active duty, Rachel earned a Master's of Public Health during her occupational and environmental medicine residency at the Uniformed Services University of the Health Sciences. After her military service, she practiced clinical occupational medicine in her hometown of Tucson, Arizona. However, because of her interest in STEM, she joined the U.S. Public Health Service and completed a 2-year fellowship in the CDC Epidemic Intelligence Service (EIS) at NIOSH. EIS is a post-doctoral training program for health professionals interested in the practice of applied epidemiology. During her fellowship, she primarily conducted workplace health hazard evaluations. These evaluations often involved designing and conducting medical and environmental surveys and using epidemiological methods to analyze the aggregate data to assist in providing recommendations to reduce workplace hazards and prevent work-related injuries and illnesses.
Following her EIS fellowship, she continued her career at NIOSH. During a 6-month detail with the World Trade Center (WTC) Health Program, she assisted in the development of guidelines for medical monitoring and treatment for emergency responders, recovery and cleanup workers, and residents adversely affected by the September 11, 2001 terrorist attacks. Rachel responded to the Ebola pandemic in West Africa and the Deepwater Horizon Oil Spill on the Gulf Coast. She has authored peer-reviewed articles on work-related lung diseases and helped create NIOSH webpages on work-related coccidioidmycosis, asthma, and flavoring-related lung disease. She currently serves as the Health Hazard Evaluation coordinator in the NIOSH Respiratory Health Division. She enjoys working with a multi-disciplinary team including physicians, medical technicians, industrial hygienists, engineers, environmental scientists, statisticians, epidemiologists, and administrative support staff. Rachel communicates with other federal agencies, health departments, other state and local agencies, academic institutions, employers, employees, unions, and news media. Her work in work-related lung disease results in changes to workplaces to decrease worker exposures to respiratory hazards and prevent lung disease.
Cassie Hoebbel, PhD / Research Behavioral Scientist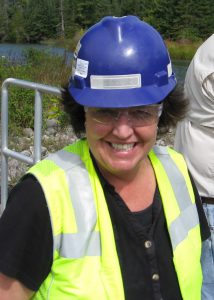 There are people who grow up knowing exactly what they want to do for their career. Cassie Hoebbel was not one of those people. For Cassie, a restless spirit and a winding road brought her to public health. In college, Cassie took Psychology 101 and something clicked. She went on to earn a BA in psychology from Buffalo State College—part of the State University of New York (SUNY) system—but was unsure how to put her degree to best use. After a few different jobs, Cassie accepted a job as a vocational counselor for patients with dual diagnoses, typically people experiencing mental illness and substance use disorders. While the work was rewarding, Cassie felt she could do more to reach people before they hit a crisis. She went back to school and earned a master's degree.
During her involvement in a study on behavioral therapy, the study's PI gave Cassie the encouragement she needed to pursue a PhD. Cassie completed her coursework while also working in the School of Public Health and Health Professions at SUNY Buffalo. It was her work on a regional worksite wellness project on health culture and individual health behavior involving the workforce of western New York that first introduced her to occupational safety and health. Cassie completed her PhD in Counselor Education with an emphasis on Health Psychology, and the worksite project one year later. Shortly thereafter, she joined the NIOSH Mining Program, eager to put her skills and training to work. Since arriving at NIOSH, she has worked on mine rescue emergency response, health and safety management systems, and training and development. She will soon examine training climate in the workplace, organizational support for effective emergency management, and ways to improve emergency management systems.
"Keep striving until you find a place to make a difference," Cassie says. "I've finally found something that brings it all together for me. Prevention in the public health sphere is just the right fit."
Christine Whittaker, PhD/ Toxicologist, Branch Chief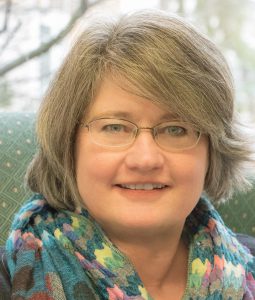 Dr. Christine Whittaker received her B.S. in Biology from Rensselaer Polytechnic Institute and her Ph.D. in Environmental Toxicology from the University of California Irvine. Chris worked in the Directorate of Health Standards in the Occupational Safety and Health Administration (OSHA) where she conducted occupational risk assessment to support chemical regulations. She worked primarily on the 1,3-butadiene and methylene chloride standards and was quickly promoted to project officer for methylene chloride. During her time at OSHA, Chris served on several interagency committees, coordinated an interagency training in physiologically-based pharmacokinetics for more than 50 people across the federal government, and responded to Congressional inquiries and questions from the press and public. After the final methylene chloride standard was published in 1997, Chris moved to the NIOSH Office of the Director in Washington, DC, where she served as a senior scientist. When Chris left the government she worked as a freelance writer and a toxicology contractor (primarily for OSHA and NIOSH) until she rejoined NIOSH as Chief of the Risk Evaluation Branch in the Education and Information Division (EID).  Throughout her career, Chris's focus has been assessing chemical hazards to workers and determining how those hazards can be most effectively mitigated through science policy. In her time in EID, Chris has taken an active role in the development of NIOSH science policy, including thinking around the utility and processes in systematic review, the NIOSH Chemical Carcinogen Policy, the NIOSH Practices in Occupational Risk Assessment, the NIOSH Occupational Exposure Banding Process for Chemical Risk Management, as well as several documents on occupational exposure to various workplace chemicals.
"I knew from the time I was nine that I wanted to be a scientist – but figuring out what kind of scientist took much longer. I knew I was in the right place when I took a toxicology class in graduate school (before I was a toxicology major) and found myself reading ahead in the textbook because it was so interesting. My advice to young people is to be open to new experiences and opportunities. Find a field that engages your mind and your passion. Oh, and take statistics! Understanding how and why statistics are used is much more important than you would imagine!"
NIOSH is fortunate to have these talented researchers in our organization but this is only the tip of the iceberg. Additional profiles highlighting women in science are included below. We hope that highlighting our female researchers will help inspire the next generation.
Asha Brogan; Valerie Coughanour, MA, MFA; Debbie Hornback, MS; Michelle Martin, MS; Katie Shahan, JD; Theodore D. Teske, MA; Julie Tisdale-Pardi, MA; Jennifer Tyrawski, PhD; Sydney Webb, PhD; and Rachel Wilson, MA
More info on NIOSH Women in STEM
Women's History Month: NIOSH Recognizes Female Leaders
Black History Month: Recognizing Two Young NIOSH Researchers
Christine M. Branche, PhD, Protecting America's Construction Workers
Amy Chambers, MS, and Lauren Chubb, DrPH: Advancing Safety and Health for Miners
Chia-Chia Chang, MBA, MPH; Adele Childress, PhD; and Sara Tamers, PhD: Advancing Total Worker Health initiatives through Partnerships, Workforce Development, and Research
HeeSun Choi, PhD, and Christina Socias-Morales, DrPh: Creating Safer Workplaces
Lee Greenawald, PhD: An up and coming leader in PPE
Naomi Swanson, PhD: Advancing Worker Health Through Improved Organization of Work and Ergonomic Design
Posted on

by
---
Page last reviewed:
March 21, 2019
Page last updated:
March 21, 2019