Amy Chambers, MS, and Lauren Chubb, DrPH: Advancing Safety and Health for Miners
Posted on

by
During Women's History Month, NIOSH will highlight several female researchers and their contributions to NIOSH and America's workers.
Amy Chambers, MS
Amy Chambers, MS, is a research engineer working in the NIOSH Spokane Mining Research Division. She joined NIOSH in July 2015.
Ms. Chambers seeks to ensure underground miners have a stable roof to work under. With a background in metallurgy, she is the lead engineer for corrosion research as part of a project to examine ground control (i.e., controlling the ground above an underground mine workspace) in metal mines.Her results could also have application to coal mines, as they too use supportive roof bolts to hold up the ground above workers.
Roof bolts, which are drilled into both the mine ceiling and the walls, are a substantial player in ground control. However, these metal bolts are subject to corrosion and failure—an event which can occur as quickly as two to three months in some places—depending on the moisture and geochemistry in the rock and the stresses placed on the bolts while they hold up the roof. These combined factors can corrode bolts to the point that they break and fall out, which may lead to an unsupported roof—a major hazard in an underground mine.
In her work, Ms. Chambers seeks to prevent ground falls by finding ways to predict how corrosive a mine's conditions could be on roof bolts. Prevention is key, as not only are ground falls dangerous for mine workers, rehabilitating corroded areas is difficult and expensive. Ms. Chambers is researching ways sensors may help alert mines that roof bolts are in danger of failure. In addition to conducting research in the lab, Ms. Chambers works collaboratively with multiple mine companies, ground control equipment suppliers, and academia.
Ms. Chambers earned a Bachelor of Science degree in Chemistry in 2012, and her Master of Science in Metallurgical Engineering in 2014, both from the University of Utah. Her graduate work investigated corrosion in electrowinning, a process step in refining gold.
Lauren Chubb, DrPH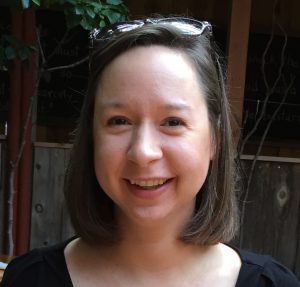 Lauren Chubb, DrPH, is a physical scientist and public health researcher working in the NIOSH Pittsburgh Mining Research Division. After getting her start at NIOSH in 2013 as an unpaid student intern and returning the following year through the Pathways Program for Students and Recent Graduates, she was then hired full-time in 2016.
Dr. Chubb's current work examines airborne particulates in mining, and she devotes most of her time to researching how to help the mining industry address respirable crystalline silica (RCS), a dust found not only in mining, but also in construction, oil and gas, and general industry. Overexposure to this particular dust can cause silicosis, an incurable, often progressive, and potentially fatal lung disease.
For the last several years, Dr. Chubb has worked with team members to develop a method for field-based analysis of RCS that can be performed with a portable instrument and traditional dust sampling cassettes. The current method to learn how much RCS is present in a mine environment involves sending sampling cassettes away to a lab, with results available days or even weeks later. This sort of time delay can lead to workers continuing to work in similar conditions with high RCS concentrations. Having an on-the-spot analysis will instead allow mines to better assess how their dust control measures are working, and make changes accordingly.
Dr. Chubb and her team members are further refining the RCS analysis process to make it as accurate as possible for miners and industrial hygienists, as limiting silica exposure is crucial to preventing silicosis.
Dr. Chubb earned a Bachelor of Science in Chemistry, as well as a Master and Doctorate in Public Health, all from the University of Pittsburgh.
Valerie Coughanour, MA, MFA, is a Health Communication Specialist in the NIOSH Mining Program.
Posted on

by
---
Page last reviewed:
March 22, 2018
Page last updated:
March 22, 2018