Naomi Swanson, PhD: Advancing Worker Health Through Improved Organization of Work and Ergonomic Design
Posted on

by
During Women's History Month, NIOSH will highlight several female researchers and their contributions to NIOSH and America's workers.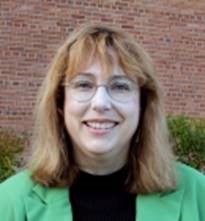 Naomi Swanson has served as the Chief of the Organizational Science and Human Factors Branch (OSHFB) in the NIOSH Division of Applied Research and Technology since May 2008. She received her M.A. in Experimental Psychology (specializing in perception, cognition and memory) and her Ph.D. in Industrial Engineering (specializing in sociotechnical systems and office ergonomics) from the University of Wisconsin-Madison. She began her career at NIOSH in 1987 as a Research Psychologist in the Motivation and Stress Research Section within the Division of Biomedical and Behavioral Sciences. During her 30-year tenure, Dr. Swanson has designed, conducted and overseen laboratory and field research in the areas of office ergonomics, work organization, and occupational stress. She also assisted in establishing the area of Occupational Health Psychology in the U.S., serving on the American Psychological Association's Occupational Health Psychology Advisory Board from 1992-2004, and serving on the Editorial Review Board of the Journal of Occupational Health Psychology from its beginning in 1994 through 2001. She has played an active role in the inception and planning of the Work, Stress, and Health international conference series, which began in 1990, and is co-sponsored with the American Psychological Association and the Society for Occupational Psychology. She currently serves as the NIOSH Co-Chair of the conference series.
As OSHFB Branch Chief, she oversees studies on upper extremity and low back musculoskeletal disorders and on aspects of work and organizational design that are linked to job stressors and the health problems associated with those exposures. Dr. Swanson is honored to work with the branch's national and international experts in the areas of ergonomics and work organization and stress and is extremely proud of their creative, influential, and award-winning work.
Currently, Dr. Swanson serves as a co-manager of the National Occupational Research Agenda Healthy Work Design and Well-Being cross-sector program. This new program combines elements of work organization, economics, and Total Worker Health® "…to protect and advance worker safety, health, and well-being by improving the design of work, management practices, and the physical and psychosocial work environment." Dr. Swanson is excited about the opportunity to work with her co-managers on this new program of research for the Institute.
Julie Tisdale-Pardi, MA, is the coordinator of the NIOSH Science Blog
Posted on

by
---
Page last reviewed:
March 28, 2018
Page last updated:
March 28, 2018