Mad as a Hatter: Mercury and Other Occupational Hazards at the Movies
Posted on

by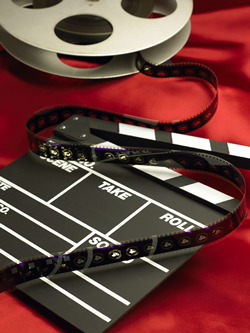 By day, I conduct occupational safety and health research at NIOSH. But on Tuesday nights, I join my friends from NIOSH and the outside world as we head for one of Cincinnati's local art cinema houses to watch and then discuss movies. Most the time we seek out smaller foreign or independent films. But we made an exception when we recently saw Tim Burton's Alice In Wonderland. We were drawn, not only to the promise of sumptuously creative visuals and evaporating cats, but also, in a small way, a reference to our vocation in the movie.
Why is the Mad Hatter mad? His erratic agitated behavior in this classic story refers to a real industrial hazard in Lewis Carroll's Britain of 1865 (hat-making was the main trade in Stockport, near where Carroll grew up). In those days, hatters commonly exhibited slurred speech, tremors, irritability, shyness, depression, and other neurological symptoms; ergo the expression "mad as a hatter." (Clearly, Carroll's Mad Hatter does not express all these symptoms; he is not shy.) The symptoms were caused by chronic occupational exposure to mercury. Hatters toiled in poorly ventilated rooms, using hot solutions of mercuric nitrate to shape and convert fur into felt hats.
In a 24 December 2009 interview with the Los Angeles Times, Johnny Depp, who portrays Burton's Mad Hatter, is quoted as saying that he was aware of the implications of the Hatter's behavior: "I think [the Mad Hatter] was poisoned—very, very poisoned. And I think it just took [e]ffect in all his nerves. It was coming out through his hair and through his fingernails, through his eyes." In the new movie, Depp's Hatter has flamboyantly red hair. This presumably reflects the character's chronic exposure to an orange-colored solution containing mercuric nitrate that was used in a process called "carroting."
While the process of using mercury in hat manufacturing ended nearly 70 years ago, mercury continues to be used in many industries such as the production of chlorine and caustic soda, manufacture and repair of industrial and medical apparatus, and in manufacturing fluorescent lights. Information on preventing hazardous exposures to mercury on the job can be found on the NIOSH Mercury topic page.
Those of us in occupational safety and health continue to work to protect workers and their families exposed to known and emerging workplace hazards. While we strive for a system of protections that will prevent a modern-day hatter infliction, workers in the U.S and around the world continue to face daily hazards in the workplace. In 2007, a total of 5,488 U.S. workers died from occupational injuries and another 49,000 annual deaths are attributed to work-related diseases each year. About 4 million private-sector workers had a nonfatal occupational injury or illness in 2007. Direct and indirect costs of medical care and lost productivity for American workers is estimated to exceed $225 billion annually, for afflictions ranging from injuries to hearing loss to respiratory impairment to reduced fertility (my specialty).
Occupational Safety & Health in the Movies
The Mad Hatter and his illness are one example of how the real problems faced by working people find their way into the movies as either the main story line (Norma Rae), a secondary theme (The Yearling), or as a real life outcome of making the movie (The Wizard of Oz)—a favorite example of NIOSH Director, John Howard. During the making of that movie, Buddy Ebsen, originally cast as the Tin Man, had to be replaced after coming down with severe shortness of breath which was diagnosed at the time to be an "allergy" to the aerosol (powder) application of his tin oxide makeup. Ebsen was replaced by actor Jack Haley whose "tin" makeup was then applied as a paste.
Movies have the power to bring the plight of a few before the eyes of many. Through this blog we are collecting favorite occupational safety and health-related movies. Our goal is to post a Top 10 list. One of my personal favorite OSH movies is Modern Times, in which Charlie Chaplin's Tramp contends with the hazards in his workplace, as Chaplin the actor undoubtedly did while making the movie. Indeed, Chaplin was injured while making Easy Street when he was hit across the bridge of his nose by a streetlamp when struggling with the lamp and the Bully.
Another film that I love, but which also unknowingly has a potential OSH connection is Breaking Away, the story of a love-sick competitive bicycler. Our NIOSH group has demonstrated the perils to sexual function in men and women who are bicycle patrol police as well as to competitive and recreational bicycle riders using saddles with a nose.
Mary Poppins highlights the very first occupational cancer attributed to a chemical. In 1775, "scrotal cancer of chimney sweeps" was attributed to soot. The intervention of the time, better bathing requirements, was strikingly effective. The causative agent was shown, 150 years later, to be 3:4-benzpyrene in coal tar.
You get the idea. So, please add your favorite movie or show support for one already mentioned in the comment section below. Many thanks.
See the sequel OSH in the Movies: This Time It's Personal  and the full list of movies including the user feedback here.
Dr. Kesner is a research biologist in the NIOSH Reproductive Health Assessment Team in the Division of Applied Research and Technology.
Posted on

by
---
Page last reviewed:
April 30, 2021
Page last updated:
April 30, 2021