OSH in the Movies: This Time It's Personal
Posted on

by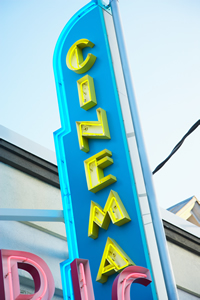 If our original blog entry on Alice in Wonderland's Mad Hatter has demonstrated anything, it is that OSH-related issues permeate the movies—whether they are from Hollywood or Bollywood, blockbusters or independent films, foreign flicks or documentaries—and whether the OSH issues are portrayed on screen or occurred while making the movies. A recent release from Peru, "The Milk of Sorrow" [La teta asustada], describes a young woman exploited by her employer while working as a maid. Another recent release, "Last Train Home," portrays the devastating impact of occupational stress on migrant workers in present-day China caught between its rural past and industrial future. And lest the reader be lulled into thinking occupational hazards are relegated to America's past, "The Company Men," opening in October, describes the stress and disruption of workplace downsizing on the lives of three workers (Ben Affleck, Tommy Lee Jones and Chris Cooper), their families and their communities.
As promised, we're posting a tabulation of the films we have all forwarded that directly or otherwise relate to occupational hazards—past, present and future. You might consider this entry as a sequel to the original blog: "OSH in the Movies: This Time It's Personal." Your suggestions are fabulous in their variety and quality. Many brought back wonderful memories. Many provoked me to think about the workplace threats described in these movies, whether presented as screwball comedies or in deadly seriousness. And of the films I have not seen or didn't know, I have added several to my "to see" list. So, thank you, all.
And, as promised, I am foolishly wading into the waters of contriving "Best Of" lists. Foolish because opinions about which movies are the best or which movies best represent OSH issues are inherently subjective. So why make the lists? To provoke you to consider these movies and the array of qualities each brings with it and, in this case, the different ways that issues of OHS are communicated, and their effectiveness.
I have derived three lists, ordered alphabetically: (1) films I think best portray OSH issues within the movie, (2) films that were associated with occupational hazards during production, and (3) films I felt deserved mention due to their eclectic nature. But make sure you look at the others not on these lists. There are some marvelous movies that depict OSH issues very well. And while your submissions include several Sci-Fi flicks, please don't let that plant a subliminal seed that workplace hazards are a thing of the past or future, fictional, or no longer encountered in the "developed" countries such as the U.S.
See the full movie list (A new list based on reader input and new films was posted on 12/18/2015).
I encourage you to consider my choices, to spiritedly express your disagreements with my choices, and to go through all 82 movies to select your favorites. What should your criteria be for "Best"? Whatever you want them to be. Mine were that they depict occupational (versus environmental) risks, and that they are original, clever, poignant and good movies. Please provide your favorites (up to five) in the comment section below. We would also like to hear your comments about your choices, how you made them, and whatever you would like us to consider.
Also, the 10th Annual DC Labor Filmfest will be 12-18 October 2010, with an impressive schedule of diverse films. Read more about the Filmfest including some of the films to be presented and films shown in years past. And for those of you who can't travel to DC for the Filmfest, the Filmfest will come to you. Their "Working Lunch: 6 Short Films About Labor" program was so popular last year, that they've put together another collection of great labor shorts for free noontime screenings. Times are available for October 12-19. All you need to provide is a conference room, equipment to play a DVD, and interested colleagues. The compilation runs 30 minutes. And, the same good folks who organize the DC Labor Filmfest have compiled a list of thousands and thousands of labor-related movies. That website is currently being reconstructed, but we'll let you know when it comes back online.
Dr. Kesner is a research biologist in the NIOSH Reproductive Health Assessment Team in the Division of Applied Research and Technology
Posted on

by
---
Page last reviewed:
December 7, 2016
Page last updated:
December 7, 2016