Protecting Workers and the Public from Wildfire Smoke
Posted on

by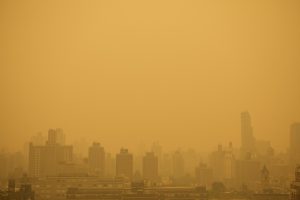 The Canadian wildfires highlight the hazard of wildfire smoke, an issue faced annually by many communities across the United States. In this blog, the Centers for Disease Control and Prevention's National Institute for Occupational Safety and Health (NIOSH) and National Center for Environmental Health teamed up with the Environmental Protection Agency (EPA) to provide employers, workers, and the general public information to help stay protected from wildfire smoke. Wildfire smoke is a mixture of gases, vapors, and particles, some so small they can only be seen with a microscope, that can irritate your eyes, nose, throat, and lungs, causing coughing, wheezing and difficulty breathing. Some people, such as children, people with asthma, chronic obstructive pulmonary disease (COPD), or heart disease, and people who are pregnant are at higher risk for health problems from wildfire smoke.
Staying indoors is recommended when air quality is at unhealthy levels, but for outdoor workers, this may not be possible. Employers should be aware of the various ways they can limit worker exposure to wildfire smoke in and around their work environment.
Ways to Protect Workers
If workers must do their jobs in areas with high levels of wildfire smoke, employers should frequently monitor air quality conditions in their area and take steps to help reduce their smoke exposure including, relocating or rescheduling work tasks to smoke-free or less smoky areas and taking frequent breaks in smoke-free areas.
While NIOSH recommends that employers implement the hierarchy of controls, in certain situations, such as wildfires, eliminating or substituting the hazard or implementing engineering and administrative controls may not be feasible. In these circumstances, respirators can be used to limit a worker's exposure.
A NIOSH Approved® respirator (e.g., N95® or P100®) can provide workers protection from breathing in harmful substances, including wildfire smoke, ash, and very small particles. Most people refer to these as masks. While they may resemble other masks, these respirators are designed to form a seal to the face and have filter material with an electrostatic charge. Because of their design, they can filter out PM2.5 particles (particulate matter with a diameter of less than 2.5 micrometers), smoke, or ash particles before workers breathe them in.
When correctly worn and with the proper fit, the respirator can reduce your exposure by a minimum of 10 times. Both straps must be positioned properly, the noseclip must be formed firmly, and the worker should be clean-shaven.
If employers require workers to wear respiratory protection to reduce their exposures on the job, the respirators must be NIOSH Approved and used in an Occupational Safety and Health Administration (OSHA) compliant respiratory protection program. Employers (including those of wildland firefighters) should also consider providing respirators to workers under a voluntary use scenario to protect their workers. In this case, employers must ensure the respirator does not present a health hazard to the worker and that the worker receives the required training. Note that California, Oregon, and Washington state OSHA regulate on-the-job wildfire smoke exposure. It is important to review both national and state regulations for workers.
Employers and outdoor workers who don't typically require or use respirators on the job should follow the tips below for selecting and using them. Some outdoor workers do not typically wear respirators and may need to be enrolled in a respiratory protection program to do so. Other workers, such as wildland firefighters, may be accustomed to wearing respirators, but employers should confirm that the respirators available are the appropriate selection for the type and level of exposure.
Tips for the General Public
Staying indoors is the best option to protect yourself during wildfire smoke episodes. Your indoor environment can be improved by changing ventilation settings (for example, operating air conditioning units on the re-circulate setting) and adding more efficient filters to reduce exposure to wildfire smoke. Portable filtration devices, including some do-it-yourself devices, can help reduce indoor particulates. While indoors, you can create a clean room in your home to help protect your health and improve your indoor air quality to keep levels of smoke and other particles as low as possible. Avoid using candles, gas, propane, wood-burning stoves, fireplaces, or aerosol sprays and don't fry or broil meat, smoke tobacco products, or vacuum.
If you must go outside, first check the Air Quality Index or forecasted smoke levels for your area at AirNow.gov and, if possible, go out when air quality is in the Good or Moderate categories. If air quality is in an unhealthy category that could impact you, or it seems smoky outside to you, wear a properly fitting respirator – one that forms an effective seal around the perimeter of your nose and mouth – to help reduce your exposure.
In the United States, no agency has the primary authority for non-occupational respirator use, but NIOSH oversees the approval of respirators in the United States. When correctly worn with the proper fit, the respirator can reduce your exposure by a minimum of 10 times. If you must be outdoors for extended periods of time in smoky air or in an ash-covered area, wearing a NIOSH Approved N95 or P100 respirator can help greatly in reducing your exposures. NIOSH provides information on non-occupational uses of respiratory protection in a NIOSH Science Blog including an infographic about correct procedures for wearing a respirator and tips on respirator use by the public.
How to Choose the Right Respirator
Choosing the correct respirator is crucial to staying protected. Even though they may look similar to masks, N95 and P100 respirators are designed to fit tightly to your face and protect you by forcing particles through a filter material when you breathe in. Unlike an N95 or other tight-fitting respirator, masks (e.g., cloth masks, surgical masks), bandanas (wet or dry), tissues, and other devices that cover the mouth or nose are not designed to seal to your face and do not have the type of filter media that will filter out the smoke particles. You should understand that these methods are not designed to prevent small particles from being inhaled and may provide limited or no protection from breathing in very small airborne particles. For information designed for public use, see the recently published CDC webpage, "Community Respirators and Masks."
NIOSH Approved respirators will only provide the expected level of protection if they fit properly and are worn and used correctly. The four tips below will help you select and find the respirator that is right for you.
Select a NIOSH Approved N95 or P100 respirator. You can search for these respirators on NIOSH's Certified Equipment List or list of NIOSH-Approved filtering facepiece respirators. The words "NIOSH" and either "N95" or "P100" will be printed on the filter material.
Choose a model and size that fits over your nose and under your chin and seals tightly to your face. If you cannot get a good face seal, try a different model or size. In the workplace, supervised fit testing is the best way to determine if a respirator fits you, but even without a fit test, a NIOSH Approved respirator (e.g., N95) will provide you some protection. If fit testing is not possible, assess how well the device fits by performing a user seal check every time you put on the respirator.
Disposable respirators are sold at many hardware and home repair stores and pharmacies. Understand that these respirators only filter out particles. They do not protect against gases or vapors, and they do not provide oxygen. Again, choose a NIOSH Approved N95 or P100 respirator when considering a disposable respirator.
Children ages 2 years and older can wear respirators.
Choose a comfortable respirator that your child can wear properly. If a respirator fits poorly or is uncomfortable, a child might take it off or wear it incorrectly (for example, pulling it down from their nose). This reduces the intended benefits.
When selecting a respirator for a child, choose a size that fits over the child's nose and under the chin, but does not impair vision. Follow the user instructions for the respirator. These instructions may show how to make sure it fits properly.
NIOSH Approved respirators and international respirators may be available in smaller sizes that fit children. However, manufacturers typically design them to be used by adults in workplaces. They may not have been tested for broad use in children.
Masks and respirators should not be worn by children younger than 2 years old.
How to Use Your Respirator
Below are six best practices for using your respirator correctly.
Place the respirator over your nose and under your chin with one strap at the base of your neck and the other at the crown of your head. If you're wearing a hat, the hat should go over the straps.
If the respirator has a nose piece bar, you should use both hands to press down on both sides of the bar firmly and mold the respirator to the shape of your nose.
Make sure you follow the manufacturer's instructions for conducting a user seal check every time you put the respirator on.
Facial hair can cause tight-fitting respirators to leak, so you should be clean shaven to get the greatest benefit from your respirator.
Discard the respirator if it becomes difficult to breathe through, the inside becomes dirty, or it becomes damaged. If necessary, use a new respirator each day.
Keep the respirator clean and dry. Be sure to read and follow the manufacturer's recommendations on use and storage.
Possible Risks
There are a few potential risks when wearing a respirator. Respirators can make it harder to breathe, so if you have a heart or lung problem, you should talk to your doctor before wearing a respirator. If you experience any difficulty breathing, become dizzy, or have other troubling symptoms while wearing a respirator, you should go to a place with cleaner air, remove your respirator, and get medical attention.
Respirators might also increase the risk of heat-related illness, especially if it's hot or you are physically active. Remember to take breaks often and drink plenty of water. Selecting a respirator with an exhalation valve may help if you find that respirators are uncomfortably hot or difficult to breathe through.
For younger children whose parents choose to have them wear respirators during poor air quality or smoke events, it is important to remember that respirators are designed primarily to be used by adults in workplaces. The risks and benefits of children using them are not yet fully known. Additionally, for a respirator to be most effective, it must form a seal to the face. If a respirator does not form a seal to the face, particles may leak around the edges. Some respirators may be too big for younger children's faces. CDC provides Considerations for Children on the COVID-19 Types of Masks and Respirators website.
Maryann M. D'Alessandro, PhD, is the Director of the NIOSH National Personal Protective Technology Laboratory.
Meghan Kiederer, BA, is a Health Communication Specialist for the NIOSH National Personal Protective Technology Laboratory.
Joseph Schall, MA, is a Contractor for the NIOSH National Personal Protective Technology Laboratory and NIOSH Pittsburgh Mining Research Division.
Maria Mirabelli, PhD, MPH, is a Senior Service Fellow with the CDC National Center for Environmental Health.
Susan Stone, MS, is a Senior Environmental Health Scientist with the Environmental Protection Agency.
CAPT Lisa Delaney, MS, CIH, is the NIOSH Associate Director for Emergency Preparedness and Response.
CAPT Christa Hale, DVM, MPH, DACVPM (Epi), is a Senior Epidemiologist and Veterinarian for the NIOSH Western States Division.
Lew Radonovich, MD, is the Deputy Director of the NIOSH Respiratory Health Division.
P100 is a certification mark of the U.S. Department of Health and Human Services (HHS) registered in the United States.
NIOSH Approved and N95 are certification marks of the U.S. Department of Health and Human Services (HHS) registered in the United States and several international jurisdictions.
Other Resources
Protect Yourself from Wildfire Smoke | Air | CDC
Wildfires – Introduction | Occupational Safety and Health Administration (osha.gov)
The Effectiveness of DIY Air Filtration Units | Blogs | CDC
Posted on

by
---
Page last reviewed:
July 24, 2023
Page last updated:
July 24, 2023