To Beard or not to Beard? That's a good Question!
Posted on

by
This blog and infographic from 2017 are intended for workers who wear respirators at work.
For the most up-to-date information on Coronavirus Disease 2019 (COVID-19), please visit CDC's COVID-19 website.
The month of November is full of fun, interesting, and thought-provoking observances. November is National Raisin Bread Month, Historic Bridge Awareness Month, and Inspirational Role Models Month among so much more. November is also the host month to campaigns like No-Shave November and Movember. Campaigns such as these are working hard to raise money for important causes such as cancer research, education, and awareness. These increasingly popular campaigns are a great way to demonstrate your support … unless you need to wear a tight-fitting respirator for your job.
Don't despair! We will not completely ruin your plans to compete for facial hair bragging rights. But we're going to have to get creative about it…
It's about to get a bit "hairy"…
So, you want to grow out your beard, but wear a tight-fitting respirator at work? Ensuring the respirator seal is a vital part of respiratory protection practices. Facial hair that lies along the sealing area of a respirator, such as beards, sideburns, or some mustaches, will interfere with respirators that rely on a tight facepiece seal to achieve maximum protection. Facial hair is a common reason that someone cannot be fit tested.
The reason for this is simple – gases, vapors, and particles in the air will take the path of least resistance and bypass the part of the respirator that captures or filters hazards out. So then, why can't facial hair act as a crude filter to capture particles that pass between the respirator sealing area and the skin?  While human hair appears to be very thin to the naked eye, hair is much larger in size than the particles inhaled. Facial hair is just not dense enough and the individual hairs are too large to capture particles like an air filter does; nor will a beard trap gases and vapors like the carbon bed in a respirator cartridge.  Therefore, the vast majority of particles, gases, and vapors follow the air stream right through the facial hair and into respiratory tract of the wearer.  In fact, some studies have shown that even a day or two of stubble can begin to reduce protection.  Research tells us that the presence of facial hair under the sealing surface causes 20 to 1000 times more leakage compared to clean-shaven individuals.
So then, how are you going to participate? Luckily, the rules of No Shave November state, "Strict dress-code at work? Don't worry about it! We encourage participation of any kind; grooming and trimming are perfectly acceptable." And Movember is all about the mustaches.
Ok. Now we can have some fun. Instead of gunning for the title of "most hairy", how about being the "most creative" this November?
Halloween is over. So put away those werewolf, Forrest Gump, and Rubeus Hagrid costumes. Instead, if you are going to participate in one of these facial-hair frenzied campaigns, channel your inner Frank Zappa, Rhett Butler, or Zorro. When's the last time you rocked a good soul patch? (The official NIOSH recommendation is to listen to some classic jazz while trimming this particular style.) Not sure what kinds of facial hairstyles will work with a tight-sealing respirator? We've provided a chart below with our best guesses, complete with a line representing a typical sealing surface.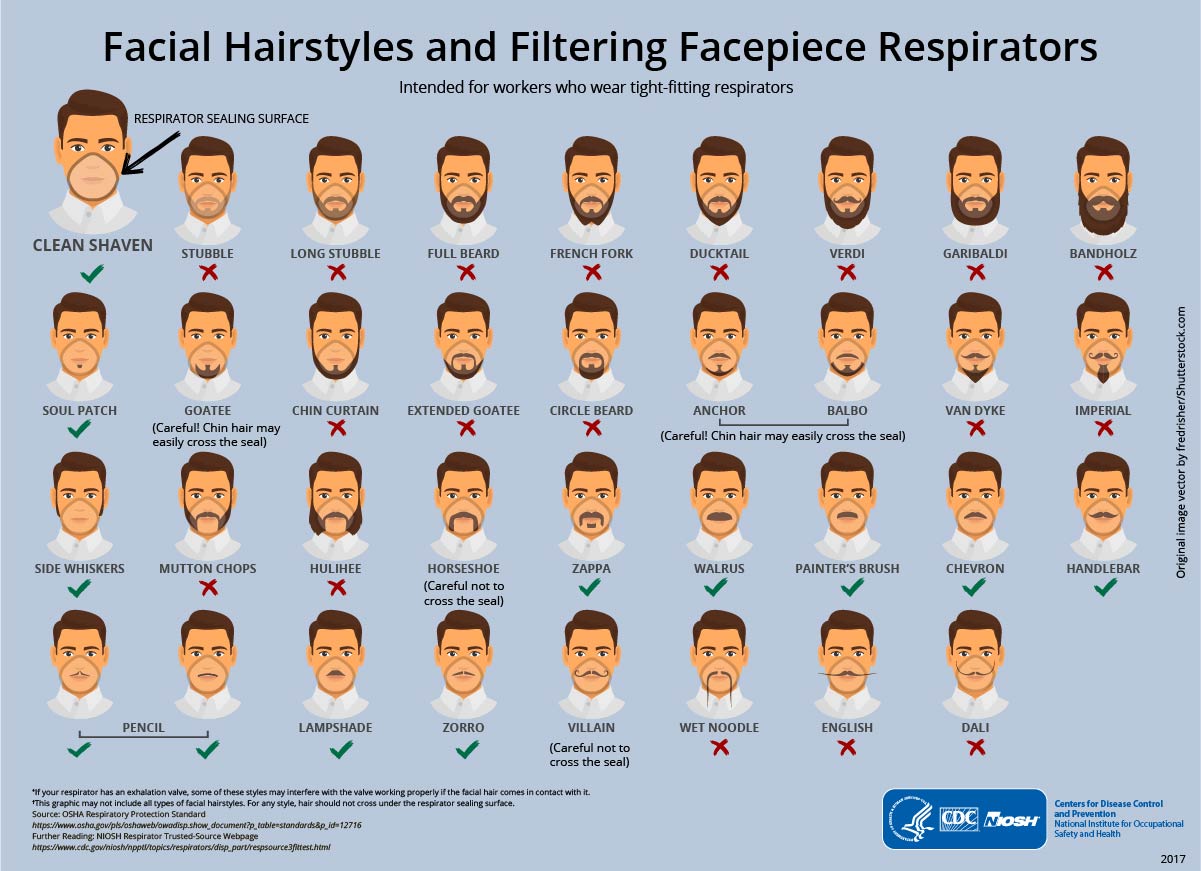 Image updated 6/1/21.  Download here.
A second option is to consult with your Respiratory Protection Program Manager about respirator selection options. In some work environments, a loose-fitting respirator, such as a powered air-purifying respirator (PAPR), is an option. As we mentioned in another recent NIOSH Science Blog, Understanding respiratory protection options in Healthcare: The Overlooked Elastomeric, loose-fitting PAPRs may be used when fit testing fails or when facial hair is present. However, this may not be a feasible option for all beard-eager professionals out there.
Finally, we must stress the importance of the user seal check. The user seal check can be either  a positive pressure or negative pressure check. During a positive pressure user seal check, the respirator user exhales gently while blocking the paths for exhaled breath to exit the facepiece. If the check is successful, the facepiece will be slightly pressurized before increased pressure causes outward leakage. During a negative pressure user seal check, the respirator user inhales sharply while blocking the paths for inhaled breath to enter the facepiece. If this version of the check is successful, the facepiece will collapse slightly under the negative pressure that is created with this procedure. A user seal check is sometimes referred to as a fit check. Once a fit test has been done to determine the best model and size of respirator for a particular user, a user seal check should be done by the user every time the respirator is to be worn to ensure an adequate seal is achieved, regardless of your facial hair status. Check out the OSHA/NIOSH video on donning/doffing and how to conduct a proper user seal check.
For anyone participating in one of these campaigns, we wish you best of luck with your creative facial hair endeavors!
Jaclyn Krah Cichowicz, MA, is a  Health Communications Specialist in the in the NIOSH National Personal Protective Technology Laboratory.
Ronald Shaffer, PhD, is the Research Branch Chief at NIOSH's National Personal Protective Technology Laboratory.
Markee Shamblin is a Health Communication intern in NIOSH's National Personal Protective Technology Laboratory .
Reference:
Stobbe, T.J., daRoza, R.A. and Watkins, M.A., 1988. Facial hair and respirator fit: a review of the literature. The American Industrial Hygiene Association Journal, 49(4), pp.199-204.
The Centers for Disease Control and Prevention is addressing questions related to the Coronavirus Disease 2019 through CDC-INFO and on their webpage. As such, this blog has been closed to comments.  Please visit https://www.cdc.gov/coronavirus/2019-ncov/index.html. You can find the most up-to-date information on the outbreak and get the latest answers to frequently asked questions. If you have specific inquiries, please contact CDC-INFO at https://wwwn.cdc.gov/dcs/contactus/form or by calling 800-232-4636. If you have questions about PPE that are not related to Coronavirus Disease 2019, please contact us at PPEConcerns@cdc.gov.
Posted on

by
---
Page last reviewed:
January 17, 2023
Page last updated:
January 17, 2023