Staying Safe Up on the Rooftop and in Extreme Temperatures
Posted on

by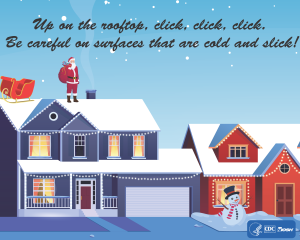 As Santa prepares to head out for the big night, we have a few last-minute bits of advice to keep him safe in the elements and while working at heights.
Fall Prevention
With the amount of time Santa spends "up on the rooftop" a review of the NIOSH falls prevention materials is an essential item on his to-do list.  Santa could benefit by participating in a Safety Stand-down for all of his helpers or hosting a tool box talk on roof safety.  It appears that a little Christmas magic may have helped keep Santa safe all these years but for the rest of us, we need to remain vigilant and take actions to prevent fall-related injuries.
Santa must watch out for those snow-covered skylights.  If he needs to get creative when there is not a chimney or when visiting apartment buildings, NIOSH information on Aerial Lifts and our Ladder Safety Mobile App can help him improvise safely.
Roofs can be slippery, especially in winter months. Santa should read the infographic Roofing Safety: Walk This Way! for tips on safely walking across roofs and selecting the proper footwear for his rooftop adventures. Santa should be sure to inspect his boots for signs of wear and tear before taking flight.
Working in the dark can be a challenge, especially in the winter when there is less daylight. Using LED lights can help illuminate large areas and can increase awareness of slip-trip-fall hazards, like strands of Christmas lights strung across the roofline.
Braving the Cold and the Heat
Santa knows how to dress appropriately for the cold weather, but temperatures can change rapidly when flying around the world in one night. When outdoor temperatures drop substantially and wind speed increases (like on a sleigh ride), heat leaves the body more rapidly.  Cold-related conditions can also worsen musculoskeletal injuries (see holiday ergo blog) and vascular disorders. Cold-related illnesses and injuries include chilblains, trench foot, frostbite, and hypothermia. NIOSH's resources on cold stress can help Santa's rosy cheeks from getting frostbitten mid-flight.
Santa must be prepared to work in all environmental conditions. As he crosses the hemispheres, Santa may be exposed to both cold and heat extremes. His Santa suit will not do him any favors as he delivers presents to children in warm or hot climates.  Extreme heat can affect balance and slow reaction time increasing the risk of falls. Workers at greater risk of heat-related illness include those who are 65 years of age or older, are overweight, and lack acclimatization to working in the hot environment (sound like anyone we know). As Santa spends most of the year in the North Pole, he will not be acclimatized to going up and down chimneys while carrying heavy gifts in the more hot and humid destinations of his annual route.
We know Santa loves his hot cocoa (which is great for cold environments), but we recommend he stay hydrated with cool liquids, review the NIOSH Heat Stress website and download the OSHA-NIOSH Heat Safety Tool App before making deliveries in warmer locations.
With all these health and safety tips in mind, we know Santa and his elves will have a safe and successful holiday season! Wishing you and your employees a safe, healthy, and happy holiday season from all of us at NIOSH!
Julie Tisdale-Pardi, MA, is the NIOSH Science Blog Coordinator and a Health Communication Specialist in the NIOSH Communication and Research to Practice Office.
Katie Shahan, JD, is the NIOSH Social Media Manager and a Health Communication Specialist in the NIOSH Communication and Research to Practice Office.
Thank you to the NIOSH staff who contributed to this blog.
See also:
Ergonomics Tips for the North Pole 
And to All a Safe Flight: Transportation Safety Tips for Santa
Driving Safety Tips to Keep Your Employees Safe this Holiday Season
Protecting Temporary Workers: Best Practices for Host Employers
Posted on

by
---
Page last reviewed:
December 19, 2022
Page last updated:
December 19, 2022