And to All a Safe Flight: Transportation Safety Tips for Santa
Posted on

by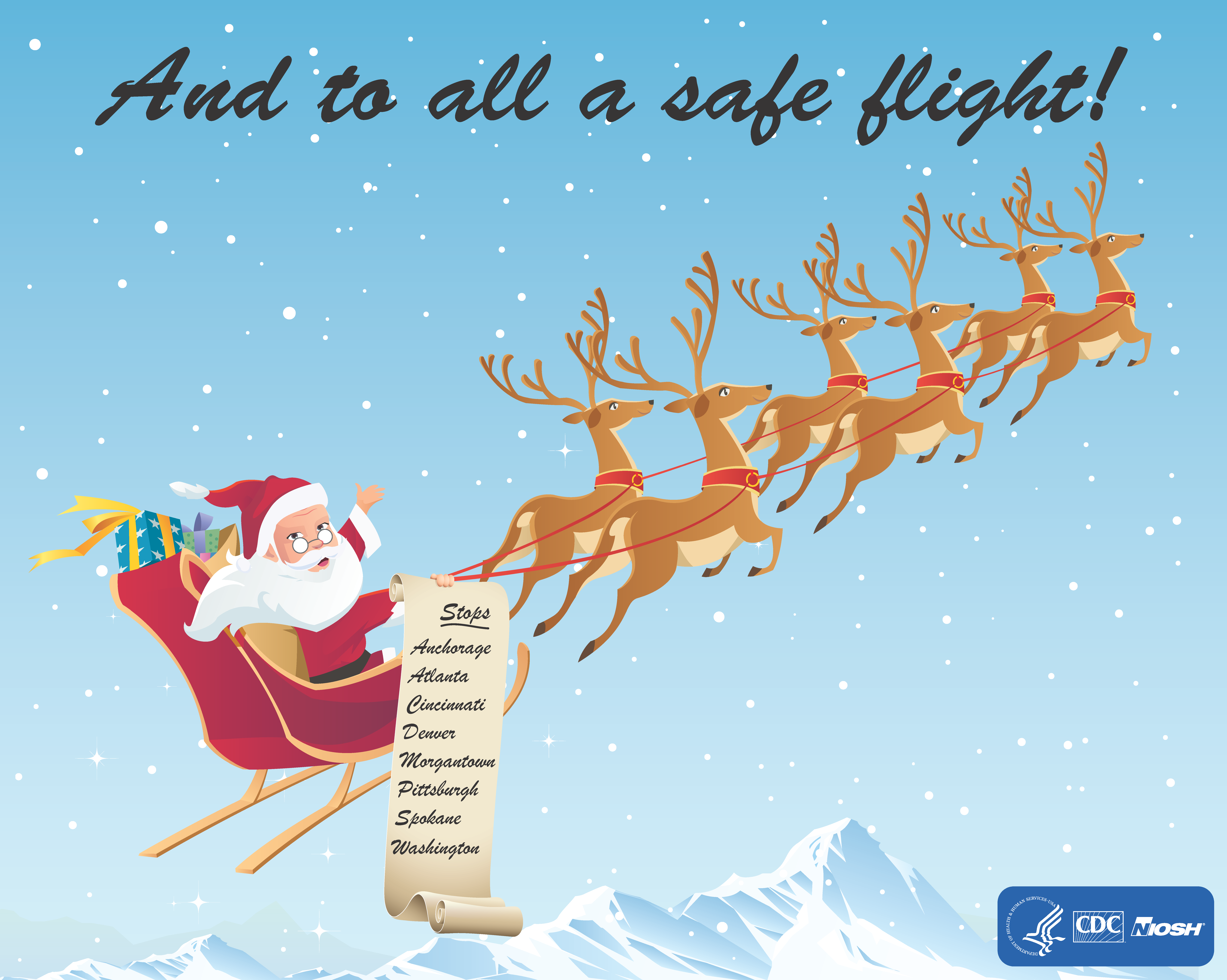 As we continue our work at the North Pole, we are ready to help Santa take flight! Flying around the world in one night is a difficult task, but Santa is up to the challenge. With a few tips from our researchers, we guarantee it will be a safe and successful night!
Being out all night can make Santa pretty tired! As he gets ready for the big day, Santa should take the NIOSH online course Fatigue Prevention for Pilots: A Training Program for Commercial Pilots in Alaska. There are also several new fatigue detection technologies available. The NIOSH blog series can help Santa select the one that will work best for him. It's a long night and in addition to fatigue considerations, Santa will need a bathroom break after drinking a glass of milk at every stop.
Santa should also visit the NIOSH webpages on Aircrew Safety & Health which include information on circadian rhythm disruption and cosmic ionizing radiation and noise and hearing loss.
Given that Santa's aircraft is reindeer powered, the NIOSH research on working safely with animals could come in handy. The elves with asthma should not be assigned to reindeer duty and no one should ever try to ride or race a reindeer.
If a cell phone can lead to distracted driving, what about a mile-long naughty and nice list? Checking that list at 30,000 feet can certainly be distracting. Maybe Santa could consider an electronic list and using other technology like GPS, ear buds, smart glasses, and advanced vehicle safety technology so he can keep his eyes on the sky.
However, research shows that advanced vehicle safety features can be daunting at first for older drivers like Santa. The NIOSH blogs How Employers Can Keep Older Drivers Safe at Work and How to Make Safer, More Knowledgeable Drivers—On and Off the Job explain safety features such as automatic emergency braking and adaptive cruise control for drivers of all ages. We don't know exactly how old Santa is, but aging comes with both challenges (e.g., increased vulnerability to chronic health conditions and musculoskeletal disorders) and benefits (e.g., greater wisdom and maturity). NIOSH resources on productive aging and work can help Santa be proactive and successfully navigate the multidimensional changes that come with growing older.
A sleigh full of toys has plenty of blind spots. Our construction equipment visibility blog might be helpful in preventing unintended impacts. With all of those presents, the sleigh can be an unstable load. Maybe we should help Santa equip his sleigh with a roll-over protection device?
While we know Santa's sleigh is not motorized, many of the tips we have for keeping workers safe on the road can help him stay safe in flight. With a quick review of the NIOSH information on Motor Vehicle Safety at Work we are confident he can have another safe and successful night delivering presents around the world.
Julie Tisdale-Pardi, MA, is the NIOSH Science Blog Coordinator and a Health Communication Specialist in the NIOSH Communication and Research to Practice Office.
Katie Shahan, JD, is the NIOSH Social Media Manager and a Health Communication Specialist in the NIOSH Communication and Research to Practice Office.
Thank you to the NIOSH staff who contributed to this blog.
See also
Ergonomics Tips for the North Pole 
Staying Safe Up on the Rooftop and in Extreme Temperatures 
Driving Safety Tips to Keep Your Employees Safe this Holiday Season
Protecting Temporary Workers: Best Practices for Host Employers
Posted on

by
---
Page last reviewed:
December 19, 2022
Page last updated:
December 19, 2022