COVID-19 Poses Big Challenges for Small Construction Firms
Posted on

by
Occupational safety and health (OSH) professionals can help small construction firms build safety into their worksites, even during the COVID-19 pandemic.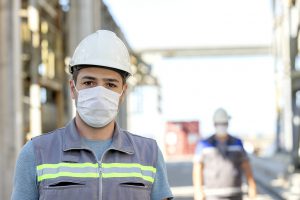 Small construction firms, with 20 or fewer employees, face constant challenges obtaining safety information and resources. They are less likely to belong to trade associations or be connected to unions, which are common sources for this information [1]. In some cases, these companies employ crews that do not speak English as their first language. This makes sharing information even tougher. OSH professionals can help small construction firms maintain their footing during the COVID-19 pandemic by:
Sharing information written simply and without jargon—especially medical jargon. (See CDC COVID-19 Construction info)
Providing information in Spanish and any other languages used by construction workers in the community.
Posting information on company or partner websites, social media, and intermediary bulletin boards (for example, construction in-store cork boards as well as online, insurance companies, contractors, local grocery stores, local in-language newspapers) that are accessible and trusted.
Engaging local health departments—while not traditional partners for construction firms, local health departments have information and resources, often in many languages, to help with COVID-19. Find your health department here.
Construction is essential—and dominated by small construction firms
Over 90% of construction firms in the United States employ 20 or fewer employees [2]. Construction work has been deemed essential, and work continues "in-person," putting workers at greater risk of becoming infected with SARS-CoV-2, the virus that causes COVID-19 [3,4-6].
Construction workers may be at greater risk for severe COVID-19 illness
In a study examining COVID-19 disparities in the construction workforce, roughly 60% were found to have at least one underlying condition or risk factor, such as heart or lung disease, diabetes, or being 65 and older, that increased their risk for severe illness from COVID-19 [4]. Additionally, a report on people who died from COVID-19 in the U.S. from May through August of 2020 found that Black and Hispanic people were disproportionately represented among COVID-19–associated deaths [7]. Hispanic workers account for over 30% of the construction workforce, about 72% higher than the proportion of Hispanic workers in all industries [4].
Construction worksites present challenges for protecting workers from SARS-CoV-2 exposures
Construction work often requires person-to-person interaction, making social distancing impractical or impossible [8]. While many construction projects are outside, work commonly takes place in indoor areas where ventilation may be inadequate [9]. Additionally, small construction firms, like many small businesses, have unique issues to address in effectively implementing OSH programs such as limited financial resources, lack of OSH staff, and lower unionization rates [10].
A best practice: sharing information through networks
In the past few decades, we've seen that a networking approach works best for sharing information with small construction firms [11-13]. This is called the initiator to intermediary model. In this model, an "initiator" develops occupational safety and health-focused interventions for small businesses. For example, an initiator, such as NIOSH, CPWR–The Center for Construction Research and Training (the NIOSH National Construction Center), or a trade union reaches out to an "intermediary" organization, such as an insurance company, contractor association, or an equipment or material supplier with prevention information. These groups, in turn, pass this information on to small construction firms during their interactions. This optimizes the relationships that already exist among the small construction firms and their preferred information sources.
During the COVID-19 pandemic, local health departments have engaged with construction firms to support COVID-19 prevention initiatives at worksites, including contact tracing. Given their proximity to smaller firms, whether geographically or through overlapping networks, these health department intermediaries are positioned to make personal and direct contact with the smaller firm, which has been found to increase receptivity to OSH messaging [11].
Are you an initiator, intermediary, or small construction firm? Please pass it on!
Given the urgent need to reach small construction firms with information about how to prevent the spread of COVID-19, it is important for initiators to engage intermediaries to share simple, clear, and in-language resources that small construction firm employers can easily adopt and use[12]. Tips include:
Keep it positive: Messages should focus on positive outcomes that result from activities to improve health, safety, and well-being at a worksite [14] and build on core elements of Total Worker Health® that have been applied in small enterprises [15] especially during COVID-19 [16,17].
Translate where necessary: The language used for OSH messages might be different based on the audience. Depending on the message, it should be delivered in the primary language used by construction firm leadership, supervisors, and workers [18-21,14].
We can see light at the end of the tunnel, which you might be working on right now! Let's all get through this together by using best practices for sharing COVID-19 OSH resources (see the resource list below). Stay safe out there!
Claudia Parvanta, PhD, is a professor and director of the Florida Prevention Research Center, College of Public Health, University of South Florida.
Tessa Bonney, MPH, PhD, is a research assistant professor in the Division of Environmental and Occupational Health Sciences, School of Public Health at University of Illinois at Chicago.
Lee Newman, MD, MA, is the director of the Center for Health, Work, & Environment and a distinguished professor at the Colorado School of Public Health.
Eileen Betit, is the former Research to Practice Director, CPWR—The Center for Construction Research and Training.
CDR Elizabeth Garza, MPH, CPH, is Assistant Coordinator for the Construction Sector in the NIOSH Office of Construction Safety and Health.
Resources
COVID-19 Construction Resources
CDC What Construction Workers Need to Know about COVID-19 -Includes COVID-19 Safety Checklists for Construction Employers and Employees (English & Spanish)
CPWR COVID-19 Construction Clearinghouse
CPWR COVID-19 Exposure Control Planning Tool
OSHA COVID-19 Control and Prevention – Construction Work
OSHA COVID-19 Guidance for the Construction Workforce
Other Construction OSH Resources
Work Safely with Silica and Planning Tool
Best Built Plans – Planning and training tools and resources to prevent strain & sprain injuries
Safety Climate Assessment Tool for Small Employers
Small Contractors: Plan. Provide. Train. – Planning , training and other resources to prevent falls
NIOSH Workplace Safety & Health Topics: Small Businesses
NIOSH Construction Safety and Health Resources
References
NIOSH, A. (2015). Overlapping vulnerabilities: the occupational safety and health of young workers in small construction firms. By Flynn MA (No. 2015-178). Cunningham TR, Guerin RJ, Keller B, Chapman LJ, Hudson D, Salgado C. Cincinnati, OH: US Department of Health and Human Services, Centers for Disease Control and Prevention, National Institute for Occupational Safety and Health, DHHS (NIOSH) Publication.
Dong, X. S., Wang, X., Katz, R., Trahan Cain, C., Rinehart, R. (2018). Fatal injuries among small construction establishments. Available at: publications_Quarter3-QDR-2018_0.pdf (cpwr.com)
Pasco RF, Fox SJ, Johnston SC, Pignone M, Meyers LA. Estimated Association of Construction Work With Risks of COVID-19 Infection and Hospitalization in Texas. JAMA Netw Open. 2020 Oct 1;3(10):e2026373. doi: 10.1001/jamanetworkopen.2020.26373. PMID: 33119111; PMCID: PMC7596583.
Brown, S., Brooks, R. D., & Dong, X. S. (2020). Coronavirus and health disparities in construction. Available at: DataBulletin-May2020.pdf (cpwr.com)
Baker MG, Peckham TK, Seixas NS. Estimating the burden of United States workers exposed to infection or disease: A key factor in containing risk of COVID-19 infection. PLoS One. 2020 Apr 28;15(4):e0232452. doi: 10.1371/journal.pone.0232452. PMID: 32343747; PMCID: PMC7188235.
Lan FY, Wei CF, Hsu YT, Christiani DC, Kales SN. Work-related COVID-19 transmission in six Asian countries/areas: A follow-up study. PLoS One. 2020 May 19;15(5):e0233588. doi: 10.1371/journal.pone.0233588. PMID: 32428031; PMCID: PMC7237000.
Gold JA, Rossen LM, Ahmad FB, et al. Race, Ethnicity, and Age Trends in Persons Who Died from COVID-19 — United States, May–August 2020. MMWR Morb Mortal Wkly Rep 2020;69:1517–1521. DOI: http://dx.doi.org/10.15585/mmwr.mm6942e1external icon
Araya F. Modeling the spread of COVID-19 on construction workers: An agent-based approach. Saf Sci. 2021;133:105022. doi:10.1016/j.ssci.2020.105022
CPWR Quick Tips to Increase Ventilation at Indoor Construction Sites Without Operating HVAC Systems." https://www.cpwr.com/wp-content/uploads/CPWR-COVID-19-ventilation-guidance-1-14-21.pdf. Accessed 2/28/21.
Barbeau, E., Roelofs, C., Youngstrom, R., Sorensen, G., Stoddard, A., & LaMontagne, A. D. (2004). Assessment of occupational safety and health programs in small businesses. American journal of industrial medicine, 45(4), 371-379.
Hasle, P., & Limborg, H. J. (2006). A review of the literature on preventive occupational health and safety activities in small enterprises. Industrial health, 44(1), 6-12.
Sinclair, R. C., Cunningham, T. R., & Schulte, P. A. (2013). A model for occupational safety and health intervention diffusion to small businesses. American journal of industrial medicine, 56(12), 1442-1451.
CPWR Summary Report: Research to Practice (r2p) in Construction: Science, Strategies & Partnerships to Advance Safety & Health, June 2016-June 2019. Part I – Reaching Target Audiences & Engaging Intermediaries. https://www.cpwr.com/wp-content/uploads/publications/2015-2019-r2p-Seminar-Partnership-Workshop-Summary-Report-2019-Final.pdf
Brosseau, L. M., & Li, S. Y. (2005). Small business owners' health and safety intentions: A cross-sectional survey. Environmental Health, 4(1), 1-9.
Schwatka, NV, Tenney, L, Dally, M, Scott, J, Brown, C, Weitzenkamp, D, Shore, E, Newman, L. (2018). Small business Total Worker Health: A conceptual and methodological approach to facilitating organizational change. Occupational Health Sciences. 2(1): 25-41. PMCID: PMC6363124
Dennerlein JT, Burke L, Sabbath EL, Williams JAR, Peters SE, Wallace L, Karapanos M, Sorensen G. An Integrative Total Worker Health Framework for Keeping Workers Safe and Healthy During the COVID-19 Pandemic. Hum Factors. 2020 Aug;62(5):689-696. doi: 10.1177/0018720820932699. Epub 2020 Jun 9. PMID: 32515231; PMCID: PMC7346710.
Brown, C, Schwatka, NV, Dexter, L, Dally, M, Shore, E, Tenney, Liliana, Newman, LS (2020). The Importance of Small Business Safety and Health Climates during COVID-19. Journal of Environmental and Occupational Medicine. 62(2): 156-162.
Schulte, P. A., Cunningham, T. R., Guerin, R. J., Hennigan, B., & Jacklitsch, B. (2018). Components of an occupational safety and health communication research strategy for small-and medium-sized enterprises. Annals of work exposures and health, 62(Supplement_1), S12-S24.
Schwatka, NV, Goldenhar, LM, Johnson, S, Beldon, M, Tessler, J, Dennerlein, J, Fullen, M, Treu, H. (2019). A training intervention to improve frontline construction leaders' safety leadership practices and overall jobsite safety climate. Journal of Safety Research. 70: 253-262. PMCID: PMC7076738
Goldenhar, LM, Schwatka, NV, & Johnson, S. (2019). Leadership Skills for Strengthening Jobsite Safety Climate. Journal of Safety Research. 70: 263-271. PMC7778734
Schwatka, NV, Rosecrance, J. (2016). Safety climate and safety behaviors in the construction industry: The importance of co-workers commitment to safety. Work: A Journal of Prevention, Assessment & Rehabilitation, 54(2), 401-413. PMC7778733
Posted on

by
---
Page last reviewed:
March 9, 2021
Page last updated:
March 9, 2021