Year of the Nurse
Posted on

by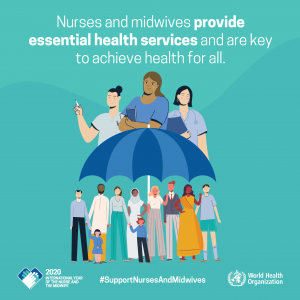 The World Health Organization has designated 2020 the Year of the Nurse and the Midwife. Nurses play a critical role in our healthcare system and in the lives of the  patients they care for. The very act of caring for and serving others can place nurses at risk for many workplaces injuries and illnesses including those related to: lifting and repetitive tasks, long hours, changing shifts, violence, stress, falls due to slippery or uneven walking surfaces, and exposure to infectious diseases and hazardous chemicals. As of 2017, there are an estimated 3,272,872 licensed registered nurses employed in the United States. [1]
To celebrate nurses, we are hosting a series of blogs focusing on issues related to the workplace safety and health issues they face. Blog authors will include NIOSH researchers and partners from the National Occupational Research Agenda(NORA) Healthcare and Social Assistance Sector Council. This blog kicks off the series with an overview of NIOSH research and products for improving nurses' safety and health. Keep an eye out for future blogs and thank the nurses you know for their important roll in keeping us healthy!
Healthcare and Social Assistance Program
At NIOSH, workplace safety and health issues surrounding nurses fall under the Healthcare and Social Assistance Program (HCSA). Over 21 million workers were employed in private and public sector industries covered by the HCSA program in 2017. While employing 13.8% of the workforce, these industries experienced more than 679,900 occupational injuries and illnesses, 19.9% of the total for all industries.[2] Although injuries and illnesses are challenging to track and are frequently undercounted, this is the best estimate available at this time. [3]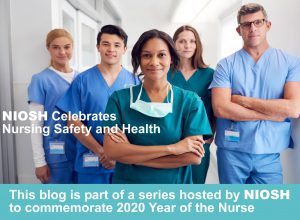 Employment growth in the healthcare industries is expected to account for nearly a third of the projected job growth for all industries from 2016 to 2026 – adding 4.0 million jobs during this period.[4] Total employment is anticipated to reach 23 million (13.8% of U.S. workforce) by 2026. [4]
The HCSA Program works with partners in industry, labor, trade associations, professional organizations, and academia. The program focuses on reducing work-related injuries in priority areas, such as injuries caused by patients, and among high risk populations, such as workers in home health care, nursing homes and veterinary medicine. Additionally, the program focuses on reducing work-related illnesses and associated risk factors, including infectious, respiratory, dermal, and cardiovascular diseases, as well as cancer and adverse reproductive outcomes.
Practical Solutions
NIOSH has created numerous practical solutions to the complex problems that cause occupational diseases, injuries, and fatalities among nurses.
Healthcare and Social Assistance Sector Council
The NORA Healthcare and Social Assistance Council brings together individuals and organizations to share information, form partnerships, and promote adoption and dissemination of solutions that work. It was formed in 2006 for the second decade of NORA. Now in the third decade (2016-2026) the council seeks to facilitate the most important research, understand the most effective intervention strategies, and learn how to implement those strategies to achieve sustained improvements in workplace practice. In February 2019, the NORA Healthcare and Social Assistance Council published a national research agenda, identifying critical research needs in the industry. Contact the sector coordinator with any questions, comments, or to volunteer.
Nurses play a vital role in our healthcare system. NIOSH and our partners are committed to conducting research and creating products to help keep nurses safe. During the Year of the Nurse, take time to reflect on the role of nurses in our society. Please share with us how you will honor nurses this year and ideas for further improving safety and health for nurses.
LCDR Megan Casey, RN, BSN, MPH, is a Nurse Epidemiologist in the NIOSH National Personal Protective Technology Laboratory.
Other blogs in this series include:
Managing Fatigue During Times of Crisis: Guidance for Nurses, Managers, and Other Healthcare Workers
Nurses' and Other Health Professionals' Wellness and Safety Resource Update
Surgical Smoke Inhalation: Dangerous Consequences for the Surgical Team
Safety Culture and Health Care
Work Ability among Older Nurses
The Unique Occupational Environment of the Home Healthcare Worker
Can Exoskeletons Reduce Musculoskeletal Disorders in Healthcare Workers?
Preventing Needlesticks and Sharps Injuries: Reflecting on the 20th Anniversary of the Needlestick Safety and Prevention Act
See other NIOSH Healthcare-related blogs.
References
1.HRSA 2018 National Sample Survey of Registered Nurses . U.S Department of Health and Human Services Health Resources and Services Administration Bureau of Health Workforce National Center for Health Workforce Analysis https://data.hrsa.gov/DataDownload/NSSRN/GeneralPUF18/2018_NSSRN_Summary_Report-508.pdf
2. BLS [2018]. Labor force statistics from the current population survey. Characteristics of the employed. Household data annual averages. Table 18. Employed persons by detailed industry, sex, race, and Hispanic or Latino ethnicity. Washington, DC: U.S. Department of Labor, Bureau of Labor Statistics, https://www.bls.gov/cps/cpsaat18.pdfpdf
3. BLS [2017] Numbers of nonfatal occupational injuries and illnesses by industry and case types, 2017. Table 2. Washington, DC: U.S. Department of Labor, Bureau of Labor Statistics, https://www.bls.gov/iif/oshwc/osh/os/summ2_00_2017.htm
4. BLS [2019] Current employment statistics – CES (National). Establishment data. Table B-1a. Employees on nonfarm payrolls by industry sector and selected industry detail, seasonally adjusted. Washington, DC: U.S. Department of Labor, Bureau of Labor Statistics, https://www.bls.gov/web/empsit/ceseeb1a.htm
Posted on

by
---
Page last reviewed:
December 15, 2020
Page last updated:
December 15, 2020