Construction Fall Fatalities Still Highest Among All Industries: What more can we do?
Posted on

by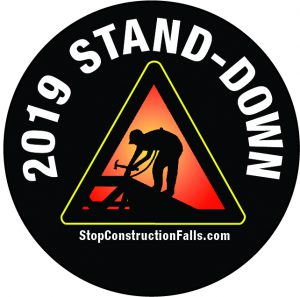 Falls are the leading cause of construction-worker fatalities, accounting for one-third of on-the-job deaths in the industry. In 2017, there were 366 fall fatalities out of 971 total fatalities in construction. According to the CPWR, from 2011-2015, 61% of fatal falls in construction occurred in small businesses with fewer than 10 employees. Almost two-thirds of fatal falls were from roofs, scaffolds, and ladders. Hispanics are 29% of the US construction workforce yet account for 39% of fatal falls to a lower level.
To address the toll of construction falls, the National Institute for Occupational Safety and Health (NIOSH), CPWR – the Center for Construction Research and Training, and the Occupational Safety and Health Administration (OSHA) along with the NORA Construction Sector Council launched a National Campaign to Prevent Falls in Construction in 2012. The 2019 Campaign kicked off with a webinar on March 20th. The webinar recording is available on YouTube, and the related slides can be downloaded here.
The National Stand-Down to Prevent Falls in Construction is a cornerstone of this campaign. The 2019 Stand-Down will occur May 6-10th (#StandDown4Safety). Over the last few years, thousands of companies have participated in the Stand-Down reaching millions of construction workers across all 50 states and internationally. The campaign encourages and educates construction contractors on how to prevent falls from heights on their worksites by:
Planning ahead to do the job safely before starting each and every job.
Providing the right equipment for working at heights.
Training workers to use their equipment properly and to work safely on roofs, ladders, and scaffolds.
A recent review found that Campaign partners identified the following benefits of their participation in the Stand-Down:
Being part of a national campaign;
Access to training resources and campaign materials;
Increased opportunities to share resources;
Motivation to focus on fall safety; and
Improved relationships with other stakeholders
For the 2019 campaign, NIOSH created four new videos to highlight motivational stories of those involved in the Stand-Down. Watch these inspirational testimonials highlighting OSHA, the Kentucky FACE program,  the business perspective from BrandSafway as well as the insurance and small business perspective.* The new infographics (see one example at right) are valuable tools for succinctly communicating the messages of fall prevention. Another new resource from NIOSH is the aerial boom lift simulator which allows workers to navigate multiple hazards while gaining safety knowledge in a realistic workplace setting.
What Can You Do to Prevent Falls in Construction? Participate in the Campaign:
Order your free 2019 Stand-Down hard hat stickers and fall-related Hazard Alert Cards here
We encourage you to get involved in this year's National Campaign to Prevent Falls in Construction and the National Stand-Down. Your involvement can be as simple as accessing some of the resources highlighted here or becoming an official partner in our efforts to prevent falls in construction. Please help us make this year's Stand-Down a success!
It is also important to note that four of the top 10 most frequently cited OSHA standards in 2018 directly relate to falls in construction: #1 Fall protection; #3 Scaffolds; #6 Ladders, and #8 Fall protection—training requirements. As we plan for this year's Stand-Down in May, we encourage you to consider what we can all do to protect our workers against construction falls and reduce the number of fall-related OSHA violations.   Please share your thoughts in the comment section below.
CDR Elizabeth Garza, MPH, CPH, is Assistant Coordinator for the Construction Sector in the NIOSH Office of Construction Safety and Health.
This work is a product of the NORA Construction Council.
*Text edited to include an additional video.
NIOSH Resources
Website
The NIOSH National Campaign to Prevent Falls in Construction website offers detailed information on the campaign and preventing construction falls. A Spanish version of this website is also available.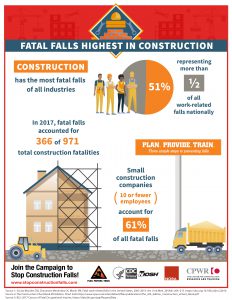 Infographics
NIOSH and CPWR have developed a new series of infographics both in English and Spanish. View and download the infographics as PDFs or JPEGs for use in social media, presentations, and print materials.
Videos
NIOSH developed a video series to highlight stories of those involved in the Stand-Down. Three new videos were released for this year's campaign.
Other NIOSH construction falls-related videos are available here.
Updated Aerial Lift Simulator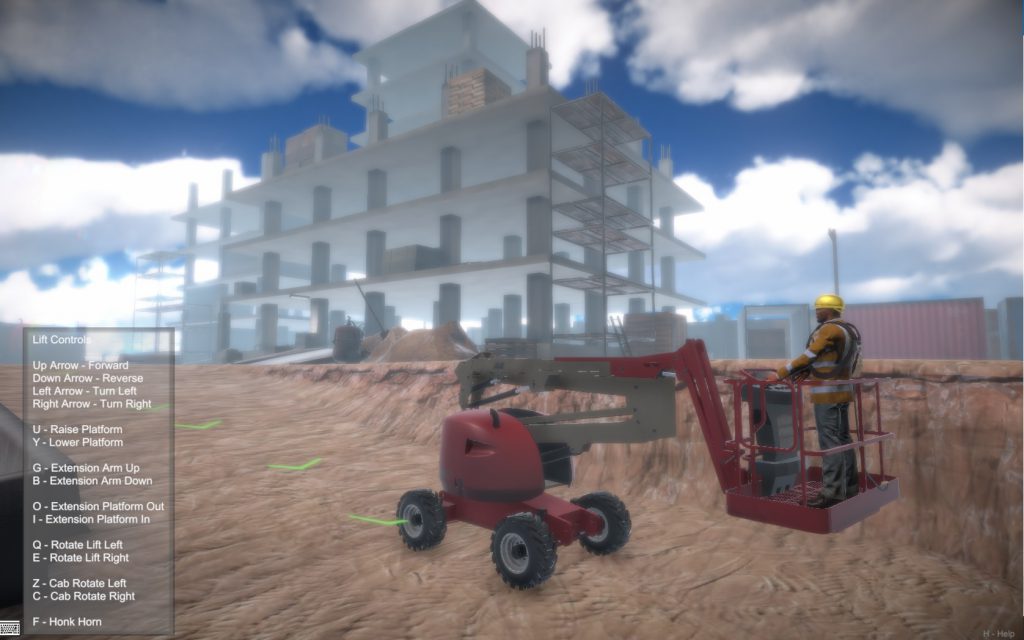 Aerial lifts are powered and mobile platforms used for elevating workers to various heights, which expose workers to fall hazards. Training is necessary for anyone using aerial work platforms and equipment. To create awareness about common workplace hazards when using aerial lifts, NIOSH developed the Aerial Lift Hazard Recognition Simulator. The Simulator, available on the NIOSH website at no cost, provides a realistic workplace with multiple, dangerous hazards that users must navigate. Experienced aerial lift operators can refresh their knowledge, and new operators can familiarize themselves with hazards they may encounter on the job. Using the Simulator is not a substitute for required training to operate an aerial lift, but it is a great training tool where workers can learn from their mistakes in a safe environment. The simulator was just updated with improved graphics and user controls. In addition, at the request of industry professionals, manufacturers, stakeholder groups, and trainers NIOSH has added an articulated boom lift simulator to this training.
Ladder Safety App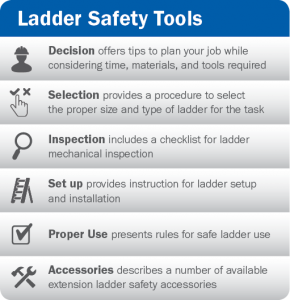 Fatal falls from ladders account for 24% of all deaths from falls in construction. Recognizing that set-up angle is a significant risk factor for falls, NIOSH designed the Ladder Safety app. The app has an angle of inclination indicator which uses visual and audible signals making it easier for workers and other users to set an extension ladder at the proper angle of 75.5 degrees. The app can help workers prevent falls and is also a tool for employers who want to ensure a safe workplace. The app is available through the NIOSH website, the Apple App-store, and Android Apps on Google Play.
The Construction FACE Database
The Construction FACE Database (CFD) created by CPWR provides access to information from NIOSH Fatality Assessment and Control Evaluation (FACE) Reports. NIOSH has conducted investigations of selected fatal occupational injuries through the FACE program since 1982. The investigation results presented through FACE reports include important information on the circumstances surrounding work-related fatalities, such as Personal Protective Equipment (PPE) use, safety training, and recommendations from the FACE investigators that are crucial for injury prevention, but may not be available in other information sources. A total of 768 construction fatalities from NIOSH FACE reports were included in this database (including 325 fatalities from falls).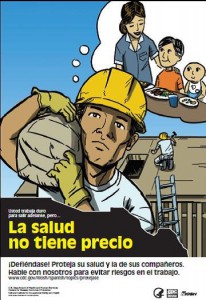 Protéjase en el trabajo
Protéjase en el trabajo (Protect yourself at work) is a series of multi-media communication products for organizations that serve Spanish-speaking immigrant workers. The purpose of these materials is to provide evidence-based information to raise awareness about potential occupational safety and health issues and encourage workers to seek assistance for work-related questions or concerns.
More Information
Posted on

by
---
Page last reviewed:
May 2, 2019
Page last updated:
May 2, 2019