NIOSH Info: What was hot in 2018
Posted on

by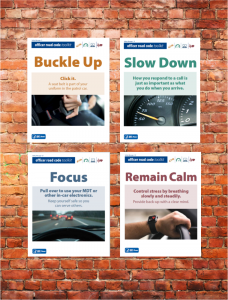 It's the season of reflection and of lists. We've looked back at 2018 to see what NIOSH information was most popular and compiled lists of the 2018 top five most accessed NIOSH blogs, tweets, web pages, search terms, publications and Facebook posts.
Instagram is our fastest growing social media platform. In 2018, we gained over 1,200 followers bringing our total followers to 2,287. We began sharing short animated clips on our platform highlighting our research, as well as the photos Instagramers are used to seeing. Our post with the most impressions as well as most engagement highlighted our Office Road Code Toolkit. Increased usage of hashtags, eye-catching images, and incorporating short animated videos helped grow our Instagram account in 2018.
The other NIOSH Instagram posts with the highest engagement in 2018include: 
To date, the NIOSH Science Blog has 514 unique posts with over 8,000 comments. In 2018 the blog was viewed nearly 422,000 times. The most viewed blogs are listed below.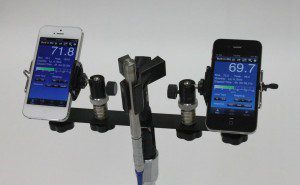 So How Accurate Are These Smartphone Sound Measurement Apps?
Dangers of Bathtub Refinishing
New NIOSH Sound Level Meter App
Understanding Noise Exposure Limits: Occupational vs. General Environmental Noise
Keeping Workers Hydrated and Cool Despite the Heat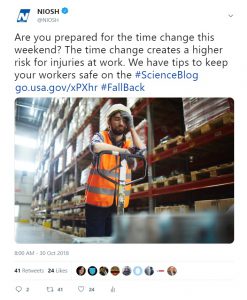 The NIOSH Twitter accounts have nearly 390,000 followers (the @NIOSH account alone has 307,000 followers).  In 2018, tweets from @NIOSH had more than 2.5 million impressions. Here are the tweets with the most likes and retweets in 2018.
Are you prepared for the time change this weekend? The time change creates a higher risk for injuries at work. We have tips to keep your workers safe on the #ScienceBlog https://t.co/pXBxkrkJmD #FallBack https://t.co/jxCjO0QsoC
Road conditions may change unexpectedly. Do not speed or drive through floods, mudslides, or washed out roadways. Expect the unexpected. #Florence https://t.co/waKvpOdBrH 
Help protect #workers this winter. #WorkingInCold https://t.co/akx6Y1JGt1 https://t.co/BrNgsKSCUu
Your car can be swept away by fast-moving water just a few inches deep. Remember, if you drive into shallow standing water, you don't know how much deeper the water might be further on–there may be dips in the road or washed-out pavement below. #Florence https://t.co/Afryf4v4Ik 
It's #NationalNanoDay! Learn more about the NIOSH's #Nanotechnology Research https://t.co/glnheNvBnB https://t.co/r2P8A54BYY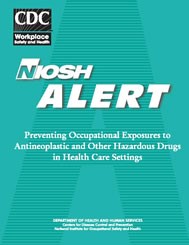 NIOSH List of Antineoplastic and Other Hazardous Drugs in Healthcare Settings, 2016
NIOSH Pocket Guide to Chemical Hazards
NIOSH Manual of Analytical Methods
Preventing Occupational Exposures to Antineoplastic and Other Hazardous Drugs in Health Care Settings
In 2018, the NIOSH website was viewed about 16 million times. The top viewed pages on the NIOSH website in 2018 were: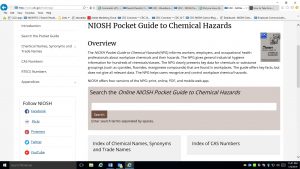 NIOSH Pocket Guide to Chemical Hazards (NPG)
Bloodborne Infectious Diseases – Emergency Needlestick Information
NIOSH List of Antineoplastic and Other Hazardous Drugs
NIOSH-Approved N95 Particulate Filtering Facepiece Respirators
World Trade Center Health Program
Search Terms
The top search engine words or phrases that directed readers to the NIOSH website include:
NIOSH
NIOSH pocket guide
NIOSH hazardous drug list
WTC health program
Heat stress
In 2018, we gained over 4,000 new likes of our Facebook page. More than 43,000 users engaged with NIOSH Facebook posts. The most viewed NIOSH Facebook Posts include: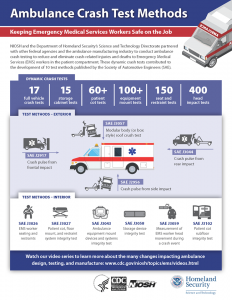 Did you know that there are 10 new SAE crash test methods for ambulances? Learn more about these test methods and other changes to improve the safety of the ambulance patient compartment for EMS workers and their patients. https://go.usa.gov/xQrB8 #NationalEMSWeek
 Falls to a lower level killed 4,439 construction workers in the United States during 2003 to 2015, about 341 deaths annually. Join the 2018 National Stand-Down to Prevent Falls in Construction May 7-11. Let's work together to #StandDown4Safety! www.stopconstructionfalls.com
Commit time in your schedule May 7-11 to join the 2018 National Stand-Down to Prevent Falls in Construction. Falls are the number one cause of death in construction. Help keep your workers safe and join us! www.stopconstructionfalls.com
It's International Firefighters' Day. The NIOSH Fire Fighter Fatality Investigation and Prevention Program recognizes the dedication of the men and women in the fire service, and strives to improve fire fighter safety and health. Learn more about our program: https://go.usa.gov/xnJZH
Accidents involving ladders are a leading cause of injury. NIOSH Mining has tips and best practices for ladder safety. https://go.usa.gov/xnhYe
If you missed any of this information the first time around, now is the perfect time to catch up. Have a happy, safe and productive 2019!
Julie Tisdale-Pardi, MA, is the NIOSH Science Blog Coordinator.
Garrett Burnett, MS, MBA, is a technology transfer specialist in NIOSH's Research to Practice Office and an assistant coordinator for NIOSH's Small Business Assistance Program.
Katie Shahan, JD, is the NIOSH Social Media Manager and a Health Communication Specialist in the NIOSH Office of the Director.
Posted on

by
---
Page last reviewed:
January 5, 2023
Page last updated:
January 5, 2023