A Perfect Romance: A Valentine's Day Guide to the Necessary Considerations of CBRN APR Use
Posted on

by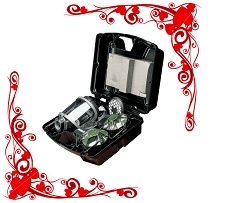 Chemical, Biological, Radiological, and Nuclear … no, we're not talking about our plans for Valentine's Day. For the last few years NIOSH has celebrated this romantic holiday by showing a little love for respirators. This year we are highlighting the special considerations necessary for the use of CBRN APRs (Chemical, Biological, Radiological, and Nuclear Air-Purifying Respirators). Please note that a respiratory protection program administrator should always ensure that manufacturer recommendations are being addressed and applicable regulations are followed in addition to the NIOSH Cautions and Limitations of use. APR wearers should also be trained to fully understand and appreciate the unique characteristics of the CBRN APRs in order to obtain optimal protection during use.
A NIOSH-approved CBRN APR must not be used in oxygen­ deficient atmospheres or to enter an atmosphere immediately dangerous to life or health (IDLH). These respirators are only to be used for escape from hazardous environments – and we're not talking about a bad date. OSHA defines an IDLH atmosphere as: An Atmospheric concentration of any toxic, corrosive, or asphyxiant substance that poses and immediate threat to life or would interfere with an individual's ability to escape from a dangerous atmosphere (29 CFR 1910.120(a) (3)).
How do you know it's "the one"
When dealing with such conditions, you want to trust that you are wearing the right protection. Therefore it's important to determine that the APR in use is NIOSH-approved for CBRN protection. You can do this by referring to the full NIOSH approval label, which is a paper included with the facepiece and/or canister. This label (example below) contains important information to assist users in understanding the respirator, the level of protection it provides (e.g. canister capacity level, the cautions and limitations of use, as well as the approved assembly of components). Take care to identify the components of the APR with CBRN protection. Your respiratory protection program administrator should assure that the respirator system is assembled with the correct components for the required protection.
You should also find a condensed label on the canister itself that includes everything from the full label, minus the approved assembly components. Canister labels are color coded olive to mark the status as a CBRN. The color marking will either be on the label or the canister itself will be olive. Once you check the label, you can begin to give your CBRN olive your love and attention.
Never Cheat on your Assembly of Components
NIOSH evaluates fully assembled APRs in their chemical agent permeation and penetration resistance tests in order to assure that all components (facepiece, valves, lens, gaskets, etc.) work together seamlessly to keep a user safe. Only components with specific part numbers as listed in the NIOSH approval can be a component of the NIOSH-approved CBRN APR assembly. Some NIOSH-approved CBRN APR require special components to be in place for the respirator to provide CBRN protection. An example of this would be the eyepiece outserts and the top skin/cover. Failure to use these parts when required may result in permeation of CBRN agents through the facepiece.
A common question arises concerning CBRN assembly: are CBRN APR components interchangeable regardless of manufacturer? Unlike industrial APR, CBRN APR are evaluated by NIOSH to assure that each CBRN canister is able to provide the specified level of protection on all facepieces that are approved as part of a CBRN APR assembly, regardless of manufacturer. However, when assembled in a configuration containing different manufacturers, the respirator is no longer in its approved state and may not provide the same performance features (e.g. breathing resistance). Therefore OSHA may permit interoperable use of CBRN APR facepieces and canisters during emergencies only. Mixing the brands of facepieces and canisters during non-emergency operations is not permitted.
Making the Relationship Last
The minimum packaging configuration (MPC) is the protective packaging in which the end user will store the CBRN and required components. Failure to store this type of respirator in accordance to the manufacturer's recommendations may cause damage to occur that could affect the ability of the CBRN to provide the expected level of protection. There are several types of common MPC's such as plastic carriers, clamshell containers, drawstring plastic bags, and hermetically sealed canister bags. Be sure to use the unique packaging required by the manufacturer and store at the instructed storage conditions.
Additionally, you should see a shelf life date on the canister packaging that indicates the expiration date of the component. The canister can be used up to the expiration date if it has been maintained as specified by the manufacturer.
Feeling confident in your CBRN relies on three steps; be sure to understand the label, check that you are using the correct assembly of approved components, and store your respirator according to the manufacturer's instruction. You can breathe easy this Valentine's Day knowing that your CBRN is performing at the level required to keep you safe … that is, unless you haven't picked up those last minute chocolates and flowers yet.
Jaclyn Krah, MA
Ms. Krah is a Health Communication Specialist in the NIOSH National Personal Protective Technology Laboratory.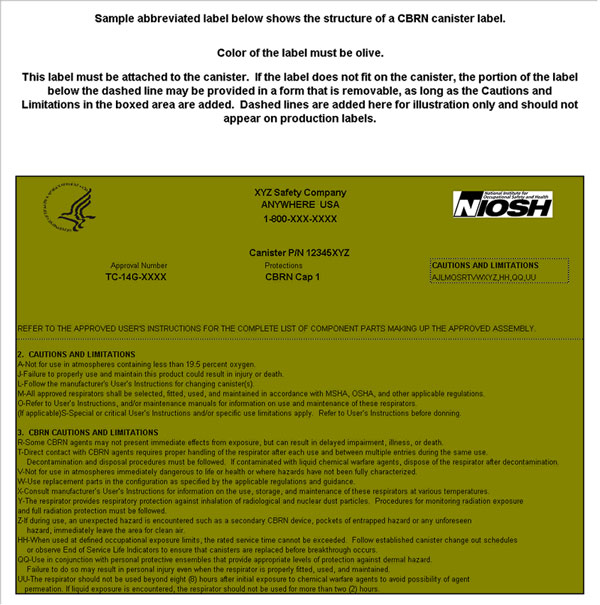 Posted on

by
---
Page last reviewed:
April 8, 2019
Page last updated:
April 8, 2019