Improving Respirator Use and Compliance in Healthcare – An Invitation
Posted on

by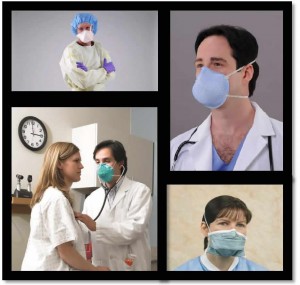 Poor compliance with respiratory protection requirements and proper use recommendations in healthcare settings remains a vexing problem. Given the many possible methods to improve compliance, and the constraints of limited budgets and resources available for research, we are asking the question: where should NIOSH conduct research to address this issue?
There are many reasons to focus attention on healthcare workplaces.  There are more than 14 million workers in the United States employed in the healthcare field.  Healthcare personnel are sometimes exposed to a variety of potential airborne respiratory hazards (e.g., Mycobacterium tuberculosis, hazardous chemicals, influenza etc.).  In some of these situations the patient is the source of the exposure, but still requires medical care. Not surprisingly, some studies have found that compared to non-healthcare settings, healthcare personnel could be at a higher risk of exposure to infectious respiratory diseases.  Preferred methods of reducing exposure (elimination, substitution, administrative, and engineering controls) are often not possible or practical to implement, especially during an emerging infectious disease outbreak or pandemic. 
During these events, respirators are often the only option that can be implemented widely, quickly, and seamlessly in the healthcare setting.  Respiratory protection is often recommended for use until the transmission characteristics of the pathogen are understood and vaccines are available.  Many organizations stockpile respirators as part of their emergency response plans.
Like many other public health or occupational safety and health interventions (e.g., the use of seat belts, hand hygiene, vaccines, personal flotation devices, etc.), respiratory protection requires the user to comply with various state or federal requirements and recommended best practices to receive the full benefits of the intervention.  Studies have shown that failure to implement all aspects of a respiratory protection program can result in inhalation of higher than anticipated airborne hazards. A respiratory protection program has many recommended components including initial and annual fit testing and training on proper use practices. Examples of proper use procedures may include using the recommended sequence of taking off gloves, gowns, and respirators; correct technique for putting on a respirator; and wearing the respirator during all periods of exposure.
The best practice for ensuring respirator compliance among healthcare professionals during a pandemic or outbreak is to demonstrate compliance day to day.  However, observational studies and surveys of healthcare professionals demonstrate that users often put on or take off their respirators incorrectly or, even worse, fail to use them at all. The reasons for poor compliance are complex and multifaceted, but have been linked to poor safety culture, workload issues, time constraints, risk perception, concerns that the equipment is not effective, lack of understanding of proper use, availability, interference with patient care, communication difficulties, and discomfort (e.g., heat, sweating, facial pressure, breathing resistance).
We value your input as we move forward with our research agenda.  If you would like to become involved in creating solutions to address selection, care, and proper use of respiratory protective devices in healthcare, then please consider attending our 2013 NIOSH Personal Protective Technology (PPT) Program Healthcare Stakeholder Meeting on June 18, 2013. Agenda, abstracts, and registration information for the meeting can be found at the following link: http://www.cdc.gov/niosh/npptl/resources/certpgmspt/meetings/06182013/HealthcareInvitationLttr06182013.html
This meeting will take place in Atlanta, Georgia as well as virtually at multiple CDC facilities. If you can't make it to the meeting in person please consider providing your ideas, thoughts, and concerns in the comments section below.  Thank you in advance for your assistance steering this important research agenda.
Ronald E. Shaffer, Ph.D.; Debra Novak, DSN, RN; Jaclyn Krah, MA
Dr. Shaffer is a Senior Scientist in the Office of the Director of NIOSH's National Personal Protective Technology Laboratory
Dr. Novak is currently a Senior Service Fellow at NIOSH's National Personal Protective Technology Laboratory
Ms. Krah is a Health Communication Specialist in the NIOSH National Personal Protective Technology Laboratory. 
Posted on

by
---
Page last reviewed:
December 7, 2016
Page last updated:
December 7, 2016