El trabajo con vehículos todo-terreno
Posted on

by
This blog post is also available in English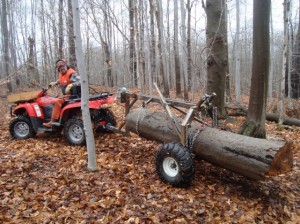 Durante los últimos treinta años, los vehículos todo-terreno (VTT) se han vuelto cada vez más populares a nivel recreativo y se han convertido en una herramienta importante en el trabajo.   Con unos 11 millones en uso en el 2010, tanto en actividades laborales como recreativas, los VTT se han vuelto un medio de transporte común.
Los VTT se empezaron a fabricar a fines de la década de 1960 como vehículos para el traslado del campo a la ciudad, en áreas aisladas y montañosas de Japón. Se comenzaron a usar en los Estados Unidos a principios de los años ochenta para la agricultura. Los VTT tienen muchas características únicas que les permiten operar en una variedad de ambientes hostiles donde otros vehículos más grandes y más difíciles de maniobrar no se pueden usar. Esas características los hacen muy útiles en el lugar de trabajo.  Sus neumáticos grandes y de baja presión (4-5 libras por pulgada cuadrada), su peso ligero (600 a 1000 libras) y el que se pueda manejar fácilmente hacen del VTT un vehículo ideal en muchos ambientes de trabajo. Los VTT son usados comúnmente por trabajadores de la construcción, personal de la patrulla fronteriza y seguridad, respuesta médica a emergencias, búsqueda y rescate, orden público, manejo de tierras y topografía, operaciones militares, exploración minera y petrolera, mantención de oleoductos, ganadería y agricultura, actividades forestales a pequeña escala, y control de incendios forestales, entre otras actividades. Los agricultores y otros dueños de tierras han descrito los VTT como vehículos que ocupan un nicho valioso entre un camión y un tractor.  Como los requisitos para obtener licencias y capacitación varían mucho de un estado a otro, muchas compañías realizan su propio entrenamiento o usan los recursos disponibles para el público y las organizaciones privadas del Instituto de Seguridad de VTT (ATV Safety Institute), una división sin fines de lucro del Instituto de Vehículos Especializados de los Estados Unidos (Specialty Vehicle Institute of America).
Lo que nos dicen los datos
Muertes y grupos de alto riesgo
Entre 1992 y el 2007, ocurrieron cerca de 300 muertes relacionadas con los VTT en ambientes de trabajo.   Las muertes han aumentado constantemente de 11 en 1992 a 41 en el 2007; la mayoría de los trabajadores afectados (61%) estaban empleados en el sector de la producción agrícola. Más de la mitad de los accidentes mortales ocurrieron en granjas, mientras que el 20% sucedieron en carreteras. En la mitad de los accidentes mortales, los vehículos se dieron vuelta y volcaron.
Víctimas mortales en accidentes de VTT
93% hombres
92% de raza blanca
81% no hispanos
23% tenía de 18 a 34 años
35% tenía de 35 a 54 años
42% tenía 55 años o más
La gran mayoría de las víctimas mortales eran hombres de raza blanca y mayores de 55 años.   Los trabajadores del sector de la industria agrícola, forestal, pesquera y de la caza tenían 100 veces más probabilidades de tener un accidente mortal que los trabajadores de otras industrias.  Además, la probabilidad de que los trabajadores de mayor edad de la industria de producción agrícola tuvieran un accidente mortal era más del doble comparada con todos los trabajadores del sector de la industria agrícola, forestal, pesquera y de la caza, en general.
Es posible que los operadores de VTT de 65 años y más tengan un riesgo mayor de sufrir lesiones.   Estos trabajadores pueden presentar varias limitaciones físicas y sensoriales que pueden intensificar los peligros inherentes a los VTT. Estas limitaciones pueden incluir tiempos de reacción más lentos, limitaciones visuales y auditivas, menor circulación, menos fuerza y rango de movimiento que afecta la movilidad, el equilibrio, el tiempo de reacción y la resistencia.  El uso de múltiples medicamentos, con distintos efectos secundarios, también puede influir en la capacidad de un conductor de mayor edad para operar un VTT de manera segura.  Los trabajadores de más edad deben tener en cuenta estos posibles riesgos mayores y tener más precaución al operar un VTT.
El costo económico de las muertes
Un estudio de 129 muertes en el trabajo asociadas a los VTT, desde el 2003 al 2006, indicó que el costo social colectivo de por vida de estas muertes fue de $103.6 millones, con un costo promedio de $803,100 por muerte. Once estados, todos en el oeste de los Estados Unidos, presentaron más del 60% de las muertes con cuatro estados (Montana, Texas, Colorado, y Dakota del Sur) con casi un tercio de todas las muertes asociadas al trabajo con los VTT durante el período de cuatro años. Cerca de dos tercios de las muertes ocurrieron en trabajadores de la producción agrícola, con un costo de $62.3 millones.
Lo que pueden hacer los trabajadores y empleadores para que el uso de los VTT en el lugar de trabajo sea más seguro
Los VTT se pueden usar de manera segura en el lugar de trabajo si se operan adecuadamente, se entienden los riesgos y se toman precauciones para reducir las probabilidades de sufrir lesiones.  Se deben seguir las recomendaciones que aparecen a continuación para asegurar la operación segura de los VTT:
Prácticas de seguridad recomendadas para empleadores
Proporcione a los trabajadores un casco y protección para los ojos, y fomente el uso de otros artículos del equipo de protección personal como botas resistentes, guantes, camisas de manga larga y pantalones.
Identifique, marque y cuando sea posible elimine los peligros como excavaciones, zanjas y cables de retención, que puedan estar presentes en ambientes de trabajo específicos, para que los empleados los puedan ver y evitar fácilmente durante sus labores.
Establezca normas de operación y mantenimiento que sigan las directrices de los fabricantes con respecto al tipo de terreno sobre el cual operan, así como sobre la capacidad de jalar y remolcar, y las restricciones sobre pasajeros.
Proporcione a los empleados capacitación práctica con un instructor del Instituto de Seguridad de VTT (ATV Safety Institute) o un instructor con calificaciones similares.
 Comparta con los empleados la responsabilidad de respetar las siguientes medidas.
Prácticas de seguridad recomendadas para trabajadores de todas las edades
Use un casco, protección para los ojos, camisas de mangas largas y pantalones, botas resistentes y guantes.
 Participe en la capacitación práctica sobre el uso y la operación segura de un VTT.
 Antes de conducir el vehículo, inspeccione los neumáticos, los frenos, los faros de luz etc., y siga las recomendaciones del fabricante del VTT.
 Entienda cómo la estabilidad y operación del VTT puede verse afectada por los implementos y accesorios.
 Nunca sobrepase los límites de la capacidad para jalar y remolcar, ni los límites de peso indicados por el fabricante; asegúrese de que la carga esté balanceada, asegurada y colocada de manera correcta sobre las parrillas instaladas.
 Esté al tanto de posibles peligros como árboles, surcos, piedras, arroyos y barrancos, y obedezca las advertencias de peligro.
 Conduzca a una velocidad segura según el estado del tiempo y del terreno, y nunca opere un VTT en superficies que no estén diseñadas para estos vehículos, como calles o carreteras pavimentadas.
 Nunca permita pasajeros en el VTT a menos que el vehículo tenga un asiento adicional diseñado específicamente para ellos.
 Nunca opere un VTT bajo los efectos de las drogas o el alcohol.
Para más información acerca de la seguridad de los VTT en el trabajo, descargue una copia de la hoja informativa de NIOSH sobre la seguridad de los vehículos todo-terreno en el trabajo (NIOSH All-terrain Vehicle [ATV] Safety at Work).
A medida que aumenta la popularidad de los VTT, es importante entender los peligros asociados a esos vehículos. Poco se sabe acerca de cuántos VTT se usan en el trabajo y con qué frecuencia. Nos gustaría saber más sobre cómo se utilizan, cuántos trabajadores los usan habitualmente, y las estrategias de seguridad adicionales que usted cree han sido exitosas para reducir las lesiones. Por favor, cuéntenos sobre eso.
Para más información y publicaciones sobre temas de salud y seguridad, visite el sitio Web de NIOSH en Español.
Para noticias, investigaciones y recomendaciones en español, favor de seguirnos en NIOSH en Español (@NIOSHespanol).  http://www.twitter.com/nioshespanol
Jim Helmkamp, PhD, MS
El Dr. Helmkamp es un epidemiólogo sénior en la oficina de NIOSH de los estados del Oeste.
Referencias
Medidas de seguridad en el trabajo con vehículos todo-terreno (VTT).  Departamento de Salud y Servicios Humanos de los Estados Unidos (DHHS). Centros para el Control y la Prevención de Enfermedades  (CDC), Instituto Nacional para la Seguridad y Salud Ocupacional (NIOSH).  Publicación del DHHS (NIOSH) núm. 2012-167.
NIOSH. All-terrain Vehicle (ATV) Safety at Work.  U.S. Department of Health and Human Services (DHHS), Centers for Disease Control and Prevention, National Institute for Occupational Safety and Health (NIOSH), DHHS (NIOSH) Publication Number 2012-167.
Specialty Vehicle Institute of America. State All-terrain Vehicle Requirements. Arlington (VA): SVIA Government Relations Office, 2011.
Helmkamp JC, Aitken ME, Graham J, Campbell CR.  State-specific ATV-related Fatality Rates: An Update in the New Millennium.  Pub Health Rpts 2012; 127:364-374.
Helmkamp JC, Biddle E, Marsh SM, Campbell CR. The Economic Burden of All-terrain Vehicle-related Adult Deaths in the U.S. Workplace, 2003-2006.  J Ag Safety and Health 2012; 18(3):233-243.
Helmkamp JC, Marsh SM, Aitken ME.  Occupational All-terrain Vehicle Deaths among Workers 18 Years and Older in the United States, 1992-2007.  J Ag Safety and Health 2011; 17(2):147-155.
Helmkamp JC.  All-terrain Vehicle-related Deaths among the West Virginia Elderly, 1985 to 1998.  Am J Pub Health 1999; 89(8):1263-1264.
Helmkamp JC and Carter MW.  ATV Deaths among Older Adults in West Virginia: Evidence Suggesting that "60 is the New 40!"  Southern Med J 2009; 102(5):465-469.
Recursos en línea
Comentarios del público
Los comentarios a continuación son publicados por personas que no están vinculadas a los CDC, a menos que se indique lo contrario. Estos comentarios no representan los puntos de vista oficiales de los CDC y los CDC no garantizan que la información publicada por las personas en este sitio sea correcta, por lo que niegan toda responsabilidad por cualquier pérdida o daño que resulte de confiar en tal información. Lea más acerca de nuestra política sobre comentarios ».
Posted on

by
---
Page last reviewed:
August 14, 2019
Page last updated:
August 14, 2019