Safety for Santa
Posted on

by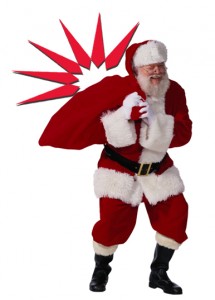 Our recent blog on Superhero personal protective equipment got us thinking: What about Santa?  He certainly faces a number of occupational hazards. Maybe we can help him out.  Let's start with the chimney. Talk about a confined space and what about the cancer risk?  Are those pants fire retardant?  Santa may want to follow our research on fire fighter boots.  Up on the rooftop?  Sounds like a recipe for disaster. Santa should check out our recent Falls Cost /Safety Pays campaign or our document on preventing falls through skylights.
Fortunately for Santa, Christmas Eve comes only once a year but it's one long shift for the man with the bag.  The elves who toil away during this busy season might want to read our blogs on sleep and shiftwork and maybe the child labor page as well. How many elves work in the North Pole anyway?  Is the Workshop now part of a conglomerate with in-house safety and health expertise or is Santa a small business employer? There must be bears at the North Pole right?  Either way, he might enjoy our blog How to Avoid Bear Attacks (and other small business concerns).
Speaking of animals, the reindeer seem friendly but working with animals can be dangerous.  The elves with asthma should not be assigned to reindeer duty and no one should ever try to ride or race a reindeer.
We can think of a number of suggestions for preventing back injuries and other painful stresses and strains.   We hope Santa's lifting that big bag of toys from his legs and would be happy to help him navigate the NIOSH  Lifting Equation.   The elves might want to try a sit/stand work station and the blog on joint pain in the workplace might help them all.  Come to think of it, Santa could afford to lose a few pounds.  A Total Worker Health program can help him incorporate occupational health protection with health promotion in Santa's Workshop.
The hazards related to cold stress might seem obvious but Santa and heat stress?   His Santa Suit probably feels quite comfortable as he hitches up his reindeer at the North Pole or cruises at 30,000 feet, but not so much as he delivers presents in Honolulu,  the Caribbean or Africa.  There are effective ways for Santa to avoid heat stress before he heads back to colder climes.
While we are on the topic of stress, the jobs at the North Pole have the makings of a pretty stressful work environment.  Santa and the elves might want to implement a little organizational change and stress management.  The details can be fond on the Workplace Stress blog.  Global warming and the threat of competing holidays might also contribute to Santa's stress level.  We know N-95 day is a new holiday but Santa needs to watch his back.
What about all that Christmas music?  Santa and the elves may be at risk for music-induced- hearing loss.  For that matter, the toy factory could use  a hearing conservation program.   We have to say it, all those cookies touched by so many little fingers.  It's that time of year and he's exposed to so many households… we hope Santa has had his flu shot.   A respirator might scare the kids, (and probably isn't necessary) but we hope Santa is taking flu prevention precautions.
Luckily Santa doesn't share the skies on Christmas Eve.  If a cell phone can lead to distracted driving, what about a mile-long naughty and nice list?  It can't be easy to back up the sleigh either.  Our construction equipment visibility blog might be helpful.  And all of those presents make for an unstable load.  Maybe we should help Santa equip his sleigh with a roll-over protection device?
Well, the point is NIOSH has a lot of resources– for Santa, the elves and anyone interested in workplace safety and health.  Happy Holidays from NIOSH and warm wishes for a safe 2013! We are happy to have brought you 33 blogs this year and over 130 since we started blogging in November 2007 (many mentioned above).  Keep reading and commenting.  Topic ideas are always welcome!
Julie Tisdale-Pardi, MA
Ms. Tisdale-Pardi is the NIOSH Science Blog Coordinator
P.S. If you are looking for a last minute gift for the safety and health type, consider any movie mentioned in our blog Mad as a Hatter: Mercury and Other Occupational Hazards at the Movies or its sequel.
Posted on

by
---
Page last reviewed:
November 14, 2022
Page last updated:
November 14, 2022