The Research Compendium: The NIOSH Total Worker Health™ Program: Seminal Research Papers 2012
Posted on

by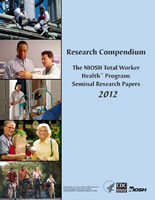 In October of 2004, together with our partners, NIOSH sponsored the Steps to a Healthier US Workforce Symposium to mark the launch of a new initiative based on a comprehensive view of worker safety and health. The symposium brought leaders together from the occupational safety and health community and the health promotion community.  We commissioned three white papers for research, practice and policy to examine the state of the science, stimulate discussion, and improve communication between researchers and practitioners. These formative papers established the rationale for expanding research on the benefits of integrated programs to improve the health of workers and workplaces. 
Eight years after  their original publication, the white papers are widely cited and considered to be seminal writings on the science and practice of integrating health protection and health promotion. During those intervening seven years, the Steps to a Healthier US Workforce Initiative evolved to become WorkLife, and then in 2011, Total Worker Health™, reflecting experience and stakeholder input gained along the way. Total Worker Health™ is a strategy integrating occupational safety and health protection with health promotion to prevent worker injury and illness and to advance health and well-being. This holistic concept represents an investment in eliminating or minimizing health and safety hazards in the workplace while using the workplace as a forum for improving personal health that will result in greater health benefits for workers, businesses, and the nation than does either approach taken separately. Because of the growing interest in integrated approaches to worker health and safety and the wide appeal of the Total Worker Health™ concept, we asked the authors to update their papers as a service to NIOSH stakeholders.  We have combined the three papers  into a single publication, The Research Compendium: The NIOSH Total Worker Health™ Program: Seminal Research Papers 2012, now available electronically.  A summary of each paper follows:
Steps to a Healthier US Workforce: Integrating Occupational Health and Safety and Worksite Health Promotion: State of the Science
Glorian Sorensen, PhD, MPH; Elizabeth Barbeau, ScD, MPH
This paper presents the rationale and scientific evidence for coordinating and integrating worksite health promotion (WHP) and occupational health and safety (OSH) as a means of enhancing the effectiveness of efforts to promote and protect worker health.  As we move forward with an agenda for integrating OSH and WHP, it is critical that rigorous scientific evidence be the cornerstone of our planning. Advancing knowledge in this area requires that we attend to barriers for scientists, including the real work of assembling multi-disciplinary teams and identifying funding sources to support integrated studies. Research to develop and test effective intervention strategies integrating OSH and WHP requires an interdisciplinary approach.
This paper provides an organizing framework that advances five overarching research directions.  First, social epidemiological research is needed to identify key work-related factors associated with hazardous occupational exposures and risk-related behaviors, and to identify the underlying causes of social disparities in worker health. Second, there is a need for methods development research aimed at developing both appropriate measurement tools and new intervention approaches to integrating WHP and OSH. The paper presents key directions for testing integrated OSH/WHP interventions, focusing, third, on efficacy studies examining the effects of integrated interventions on both occupational health and safety outcomes as well as health behavior changes, and fourth, on effectiveness studies aimed at evaluating the generalizability of tested interventions to new settings or with new populations. Fifth, there is a need for research to assess the process of intervention implementation, including intervention implementation evaluation, cost assessments, and process-to-outcome assessments. Finally, research might also assess the long-term applicability of these intervention approaches through dissemination and durability research, that is, testing methods to promote the sustainability or dissemination of programs where sufficient evidence is available to indicate that an integrated intervention is efficacious, and to promote maintenance of changes in health behaviors and the work environment resulting from interventions.
Despite addressing differing subject matter and aims, occupational health and safety and worksite health promotion clearly share the common goal of promoting worker health, with complementary functions in protecting and enhancing the health of workers, and thereby provide an important opportunity for coordinated and integrated efforts.  Overcoming the segmentation of these fields ultimately will require an inclusive, comprehensive model of work and health, providing for resolution – or at least understanding – of our differences assumptions, vocabulary, research methods, and intervention approaches.  It is possible to expand communication streams across disciplines to support transdisciplinary/inter-disciplinary strategies, for example, through shared journals or further shared symposiums such as the NIOSH symposium for which this document was created. One vehicle to promote this requisite collaboration may be through the creation of multi-disciplinary centers of excellence, bringing together researchers across disciplines and with diverse perspectives, yet with a shared focus on a common endpoint: the health of workers.
Examining the Value of Integrating Occupational Health and Safety and Health Promotion Programs in the Workplace
Ron Z. Goetzel, Ph.D.
This paper examines the role of worker health as a key contributing factor to increases in workplace productivity, and the emergence of organizational practices that support the integration of occupational health, safety, and productivity management programs.
We conclude that employers gain efficiencies and achieve greater health and financial impacts by integrating health, safety, and worker productivity management programs. Over the past decade, and often lacking conclusive evidence that programs work, employers have put in place several innovative integrative health safety and productivity management programs. We review these efforts and call for research to discern which program elements are most effective and whether common themes can be surmised by examining these initiatives. Research is therefore needed to learn more about what works, and why.
It is important for government agencies to fund "real-world" research on the science underlying in-situ worksite health, safety and productivity management programs, and the effectiveness of these programs in improving health, lowering costs and increasing worker productivity. It is recommended that researchers in charge of these studies be encouraged to use the most rigorous scientific methods so that conclusions drawn from the research have a strong theoretical and scientific base and are not reliant on conjecture, anecdote, or belief.
The Economics of Integrating Injury and Illness Prevention and Health Promotion Programs
Seth A. Seabury, PhD; Darius Lakdawalla, PhD; Robert T. Reville, PhD
This paper uses an economic model to explore the conditions under which coordinated efforts by employers to promote health and prevent injuries and illnesses lead to superior health outcomes for workers. The model suggests that improved outcomes can result if there are "spillovers" between non-occupational and occupational risk factors. In other words, if factors that influence individual health at home and work combine to influence health in a synergistic fashion, then there will be a gain to coordinating health promotion and injury prevention programs.
Using data from the Health and Retirement Survey (HRS), we search for evidence of health spillovers for two important risk factors that are generally thought to jointly contribute to negative health consequences: smoking and exposure to harmful substances at work (e.g., asbestos). We confirm past evidence that these two factors do combine to worsen health outcomes beyond what would occur if individuals were exposed to either in isolation.  These results suggest that workplace conditions and health habits both influence individual health, and that the effect appears more than additive for some health conditions (suggesting a positive spillover). However, we also identify other, unobservable factors that could be affecting our analysis, and so we highlight the need for caution when designing or interpreting an empirical study of spillovers.
Our work has implications for the policy goal of expanding the use of integrated health promotion and injury prevention activities.  Our findings argue in favor of integrating occupational injury and illness programs with health promotion programs to have the biggest and most cost-effective impact on worker health, at least under some conditions.  In a system dominated by employer-provided health insurance we expect that employers should directly benefit from this approach, since they bear at least some of the cost of employee ill health.  But if the costs of poor health are born by some third party, such as a public provider of health insurance like Medicare or Medicaid, then employers would have fewer incentives to participate in these efforts.  This could be a problem for health conditions that arise after long latency periods, when workers' are more likely to be covered by Medicare, or if change to the health care system lead to an increasing market share of public health insurance.  If the benefits of an integrated approach fell primarily to taxpayers rather than employers, some kind of public policy intervention might be required in order to unlock the full benefits of the integrated approach.
Note from NIOSH TWH™
As we work together to confront the challenges facing the American workforce, NIOSH believes that integrating the protection of worker health and safety with evidence-based health promotion will be a key strategy for establishing a strong economy built on safe jobs and healthy workers.  All of us at NIOSH working in Total Worker Health™ hope you find this document informative and that it inspires you to be creative in your efforts to pursue new research, implement new prevention practices and policies, and celebrate success stories illustrating the benefits of integrated approaches to total worker health.
For more information on the Total Worker Health™ Program, visit our website. To stay up to date on TWH, sign up for the quarterly e-newsletter TWH™ in Action!
To learn more about the NIOSH-funded Centers of Excellence dedicated to ground-breaking research, translation and best practices of integrative approaches to protecting and promoting health in the workplace, visit:  http://www.cdc.gov/niosh/TWH/centers.html.
—Glorian Sorensen, PhD, MPH; Ron Z. Goetzel, PhD; Seth A. Seabury, PhD; Anita L. Schill, PhD, MPH, MA; and L. Casey Chosewood, MD
Dr. Sorensen is Professor of Society, Human Development and Health at the Harvard School of Public Health and Faculty Vice President for Faculty Development at the Dana-Farber Cancer Institute, where she also directs the Center for Community-Based Research.
Dr. Goetzel is Research Professor and Director of the Institute for Health and Productivity Studies at the Rollins School of Public Health at Emory University and Vice President of Consulting and Applied Research for Thomson Reuters.
Dr. Seabury is Associate Director, Center for Health and Safety in the Workplace at the RAND Corporation.
Dr. Schill is Senior Science Advisor in the NIOSH Office of the Director.
Dr. Chosewood is Senior Medical Officer for Total Worker Health™ at NIOSH.
Posted on

by
---
Page last reviewed:
December 7, 2016
Page last updated:
December 7, 2016