Puncture: Exposure for Bloodborne Pathogen Exposure
Posted on

by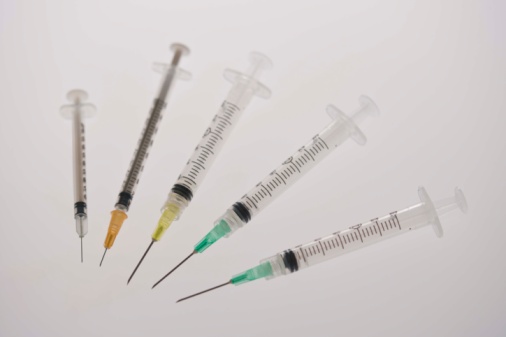 A dedicated and hard-working nurse is going through a normal shift. Checking vital signs, updating medical records, administering medications, comforting patients, drawing blood samples, inserting IVs, and then OUCH! What just happened? Is that a red dot underneath the glove? This can't be right…
This scenario has unfolded thousands of times among health care workers, often with tragic results. The CDC estimates that about 385,000 sharps-related injuries occur annually among health care workers in hospitals—with nurses the most affected healthcare occupation. The average risk of bloodborne infection following one of these all-too-common injuries is approximately 1.8%. While the numbers are appalling, the most harrowing costs emerge in the stories of the individuals affected.
One such story has been protrayed in the film Puncture. According to Roger Ebert's review, "Puncture dramatizes this dilemma with its based-on-life story about two low-rent Houston lawyers who take on the personal injury case of Vicky (Vinessa Shaw), a nurse who contracts AIDS after an accidental stick." The lawsuit brought by Mike Weiss (Chris Evans of Captain America fame) and Paul Danziger (Mark Kassen) centers around a safety device that could have prevented Vicky's injury and consequent infection.
A good movie can do a lot to move an important cause. Philadelphia brought attention to workplace discrimination due to sexual orientation, and Erin Brokovich shed light on the issue of groundwater quality. We hope that Puncture will raise awareness about sharps-related injuries. And just as Raquel Welch's famous wardrobe in One Million Years B.C. memorably illustrated the difficulties of prehistoric tribal life, a shirtless Chris Evans probably won't hurt the cause of sharps safety awareness.
Though we at NIOSH initially considered the shirtless route, after some discussion we opted instead to develop a plan for health care workers to take control of sharps injury prevention. We call it the Stop Sticks Campaign. It is a community-based information and education program aimed at raising awareness about the risk of exposure to bloodborne pathogens such as HIV, hepatitis B, and hepatitis C from needlesticks and other sharps-related injuries. The target audience includes clinical and nonclinical health care workers and health care administrators in hospitals, doctor's offices, nursing homes, and home health care agencies. The campaign provides tools for influencing an organization's safety culture, promoting consistent use of safer sharps devices and practices, and enlisting management support in the effort. We designed the Stop Sticks Campaign materials to prepare and motivate health care workers and administrators to make the changes needed to reduce sharps injuries within their organizations.
With the 11th anniversary of the Needlestick Safety and Prevention Act (signed 11/6/2000), many would likely agree that sharps safety awareness could use a shot in the arm. The Stop Sticks Campaign provides the tools to do just that. In addition, we expect Puncture will further the cause by bringing to light the tragedy of accidental infection that so many health care workers have faced and are facing. Feel free to share your thoughts and experiences in the comments.
Dr. Cunningham is a behavioral scientist in the NIOSH Education and Information Division.
Mr. Burnett is a health communications fellow in the NIOSH Education and Information Division.
Further reading
Cunningham, T. R., Sinclair, R., Harney, A. G., Smallwood, S. L., & Christianson, A. (2010). A safety information blitz to reduce sharps injuries: Results from the stop sticks campaign. Journal of Communication in Healthcare, 3(3-4), 134-184.
Posted on

by
---
Page last reviewed:
March 2, 2021
Page last updated:
March 2, 2021