NIOSH's Role in the Deepwater Horizon Response
Posted on

by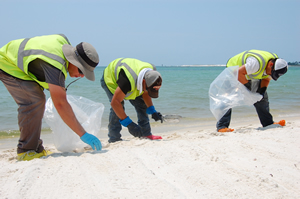 Following the explosion on the Deepwater Horizon and the resulting and ongoing oil spill, occupational health specialists from the National Institute for Occupational Safety and Health (NIOSH) arrived on site in the Gulf on May 2, 2010, as part of the federal interagency effort to anticipate and address occupational and environmental health and safety needs in the Gulf Coast. The Occupational Safety and Health Administration (OSHA) and the National Institute of Environmental Health Sciences (NIEHS) requested NIOSH's on-site technical assistance including input on worker health hazard risk assessment tools and personal protective equipment (PPE) selection tools used to train workers. NIOSH quickly responded and posted the NIOSH Deepwater Horizon Response Resources topic page that is updated as additional information becomes available.
Since early May, the NIOSH role has expanded to meet evolving needs that our stakeholders and we have identified. The unprecedented magnitude of the disaster involves challenging complexities for NIOSH and its federal, state, and local partners. These include complex exposures to heat, physical stress, fatigue, and toxic chemical and physical agents in several different work tasks on the water and on the shore. Several of NIOSH's key activities to protect worker safety and health in the Gulf are highlighted below.
NIOSH is developing a voluntary roster containing information about thousands of response workers who are participating in the recovery efforts to create a record of those who have participated in cleanup activities and a mechanism to contact them about possible work-related symptoms of illness or injury, as needed. The information collected in this roster would be vital for possible future studies to determine whether health conditions that may develop are associated with occupational exposures during the cleanup. In an attempt to reach all cleanup workers, a rostering program is being administered in English, Spanish, and Vietnamese. NIOSH has also extended the rostering effort to include federal workers and state and county workers who have received the required safety training and who are responding in the event. Through our rostering efforts to date, we have already captured information from more than 20,357 workers responding to this event. More information including copies of the rostering form are available on the NIOSH website.
NIOSH is conducting surveillance to monitor for health symptoms of acute injury, illness, or job stress by workers involved in this large-scale (across four states) response to the oil spill.
NIOSH is conducting a Health Hazard Evaluation (HHE) of reported illnesses among workers involved in offshore cleanup operations, as requested by BP on May 28, 2010. Dozens of NIOSH staff members have been deployed to the Gulf Coast to work on this evaluation, including industrial hygienists and medical officers with expertise in assessing safety and health risks in the workplace. Once the HHE is completed, NIOSH will compile the findings and recommendations in a report that will be provided to employer and employee representatives, and it will be released publicly. On June 18, BP requested a second, broader HHE for additional workers, including those involved in shoreline and marsh cleanup, decontamination of vessels and equipment, and waste oil processing. Once this HHE is completed, NIOSH also will release findings and recommendations in a similar reporting manner. For more information including the interim report see NIOSH Ongoing Health Hazard Evaluation: Deepwater Horizon Response.
NIOSH is initiating laboratory toxicity studies of both crude oil and chemical dispersant mixtures to address reports of workers with dermal, respiratory symptoms or headaches. This research will seek to determine the acute dermal, pulmonary, central nervous system, and cardiovascular responses to inhalation or dermal absorption of dispersants, oil constituents, and the combination of the two, and the results will help inform the development of prevention strategies.
NIOSH Director, John Howard, M.D., presented at the Institute of Medicine Gulf of Mexico Oil Spill Workshop: Response of the Federal Government to Health Issues June 22, 2010, in New Orleans and at a House Education and Labor Committee hearing June 23, 2010, on activities by NIOSH and CDC to address health and safety concerns facing workers and others in the Deepwater Horizon Response.
NIOSH and OSHA have posted Interim Guidance for Protecting Deepwater Horizon Response Workers and Volunteers.The spill event and the federal response are continually changing. That is why the new guidance material is an "interim" guideline. The guideline can be continually revised and updated with new information about either work conditions or health exposures as they are learned. The federal government will continue to change its efforts to prevent and reduce injury and illness.
Much public and media attention is focused on the environmental and economic aspects of this disaster. NIOSH continues to do its part to help ensure that the workers and volunteers who are containing and cleaning up the oil are protected from injury and illness.
CAPT Spahr is the Associate Director of the NIOSH Office for Emergency Preparedness & Response.
Posted on

by
---
Page last reviewed:
May 24, 2017
Page last updated:
May 24, 2017