Skin…Exposed!
Posted on

by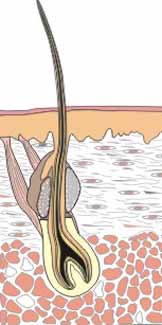 Take a postage stamp. Stick it to your arm. You've just covered 16 million cells, 55 hairs, 8 meters of nerves, 17,000 nerve endings, 5 meters of blood vessels, 500 sweat glands, and 83 oil glands. You've also just wasted 44 cents. Your skin is marvelously complex. It is your largest organ, accounting for 10% of your body's mass. And it is the site of 15 to 20 percent of all reported work-related illnesses according to the US Bureau of Labor Statistics.
Skin can suffer direct, sensitizing, or systemic effects when exposed to hazardous chemicals. Direct exposure can corrode, irritate, bleach, or stain skin. Dermal exposure to chemicals such as nickel, glutaraldehyde, and chromium may sensitize the skin, causing or contributing to the onset of allergic contact dermatitis (ACD) or other immune-mediated responses, such as airway hyper reactivity (asthma). Many commonly used chemicals in the workplace—pesticides, organic solvents—can be absorbed through the skin and potentially result in systemic toxicity. These agents enter the blood stream and cause health problems away from the site of entry. While our skin is marvelous, clearly it's no suit of armor.
But dermal exposures in occupational settings are frequently overlooked. Traditionally inhalation has been perceived as the most "important" route of entry when addressing chemical exposures within the workplace. Inhalation exposures—fumes, noxious gases—tend to be more obvious threats than their dermal counterparts. As a result, sampling methods have been developed, personal protective equipment has improved, and occupational exposure limits have been established for numerous chemicals. These, however, are almost exclusively intended to protect workers from inhalation hazards, while skin contact is often seen as a secondary exposure route. In reality, occupational skin diseases are among the most frequently reported workplace maladies, more so even than respiratory cases, both in the United States and Europe.
Occupational skin diseases cause employee impairment, lost time and productivity, medical diagnoses and treatment, and administrative costs that impact the economy to the tune of $1 billion annually in the United States. This estimate doesn't even include the costs of systemic diseases related to skin because those become too difficult to untangle from toxicity caused by inhalation or ingestion.
Research in this area is progressing. NIOSH has proposed a new strategy for the assignment of more effective skin notations. (Notations provide a system for identifying and documenting any ill effects of skin contact with a given chemical). However, because of the breadth of the problem, more research needs to be done. Workers, managers, and occupational safety and health professionals need to be aware of the significance of dermal risks. We need to fill data gaps, improve chemical protective clothing, and focus on performing comprehensive exposure and risk assessments that evaluate chemical exposures beyond what a worker may potentially inhale. Please share your thoughts or questions on dermal exposures, skin notation, use of engineering controls, or control banding. This is an emerging area with a lot of work to be done.
Dr. Dotson is an Industrial Hygienist in the NIOSH Education and Information Division.
Mr. Burnett is a health communications specialist in the NIOSH Education and Information Division.
You may also be interested in the blog 1-BP: A Potential Occupational Hazard by Scott Dotson and Charles Geraci.
Posted on

by
---
Page last reviewed:
May 24, 2017
Page last updated:
May 24, 2017