Safety and Health for Younger Workers
Posted on

by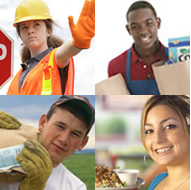 This is the time of year that many young people begin thinking about summer jobs. For some teenagers, these jobs might be viewed as elective—that is, opportunities to gain work experience, spend time productively, or earn some spending money. For others, however, especially those in their late teens and early adulthood, these jobs pay the rent and buy groceries. New research from NIOSH illustrates that more needs to be done to ensure that as young people join the workforce they are better protected from hazards. On average each year from 1998 to 2007, about 800,000 workers 15 to 24 years of age were treated in emergency departments and nearly 600 died from work-related injuries. Younger workers were twice as likely as their older counterparts to be treated in hospital emergency departments for work-related injuries.
Previous research suggests that the increased risk for injuries among younger workers is related to increased hazards in their workplaces such as the use of ladders and knives as well as a perceived work overload or pressure to complete work more quickly. Minority status has also been identified as a contributing factor.1 Additionally, younger workers may lack knowledge, training, and skills about the work they perform. And, they may be less likely to speak up about safety, to recognize hazards, or to know their legal rights as workers.
The new NIOSH research examined emergency-department-treated injuries and deaths among workers 15 to 24 years of age for the 10-year period, 1998 to 2007. The most frequent cause of death for younger workers was transportation-related fatalities (this also holds true for older populations). "Contact with objects or equipment" was responsible for the highest number of emergency-department-treated injuries. This means these workers were struck by equipment, caught in tools, or crushed by machinery.
As in older populations, males in the younger workforce are more frequently injured or killed than their female counterparts. Also of note is that young Hispanic workers suffer a fatality rate that is significantly higher than the rate for non-Hispanic white workers and non-Hispanic black workers (5.6 versus 3.3 and 2.3 per 100,000 FTE).
Table 1: Industries with the greatest percentage of fatal injuries among younger workers
| Industry | Percentage |
| --- | --- |
| Services | 32% |
| Construction | 28% |
| Wholesale and retail trade | 10% |
| Agriculture | 10% |
Table 2: Industries with the highest rate of fatal injuries among younger workers
| Industry | Rate |
| --- | --- |
| Mining | 36.5 per 100,000 FTE |
| Agriculture | 21.3 per 100,000 FTE |
| Construction | 10.9 per 100,000 FTE |
The primary responsibility for workplace safety lies with employers. Thus, reductions in younger worker injuries and deaths will require employers to make changes in work environments and workplace practices. Workers also have responsibilities for complying with employer policies and practices for safe work, and ideally they can help identify unsafe conditions and help develop safe solutions. Public health and safety practitioners, trade and labor organizations, and researchers also can contribute to younger worker safety by providing recommendations to employers on avoiding risks to these less-experienced workers.
To aid young workers and their employers, NIOSH recently introduced school curricula Talking Safety, which can help students identify workplace health and safety hazards, take measures to reduce risk for injury, and understand their rights as workers. The curricula would ensure that younger persons possess basic safety knowledge when they begin their work lives, and increase the potential for them to play active roles in workplace efforts to identify injury hazards and effective control strategies. The curricula are currently being updated with new content reflecting recent changes in youth labor laws. A new video is also available that is suitable for use in classes, workplaces, and at parent-teacher meetings. NIOSH is encouraging widespread use of these free curricula in the nation's schools.
While the reports of injuries and fatalities may sound harrowing, there are many positive aspects of work for young people. There are success stories of how states (such as Massachusetts [see pp. 177-179], California, and Washington); communities (see also MassCOSH and EDC) and industry-focused groups (such as agriculture) have worked to improve safety for young workers. The NIOSH young worker topic page contains resources for young workers, parents, and employers. We invite you to share your experiences and suggestions for keeping our young workers safe.
Dawn Castillo is Chief of the Surveillance and Field Investigations Branch in the NIOSH Division of Safety Research
References
Posted on

by
---
Page last reviewed:
November 25, 2016
Page last updated:
November 25, 2016