Strains, Sprains, and Pains in Home Healthcare: Working in an Uncontrolled Environment
Posted on

by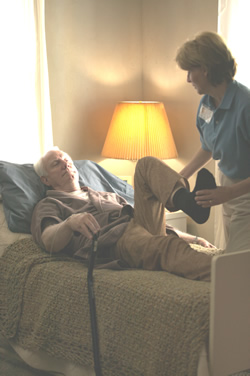 You hope the discharge planner was a good one. You hope the doors aren't too narrow for the wheelchair and the bed is higher than knee-level. Even then, as likely as not, your work area will be the size of a crawlspace and strewn with clutter and medical equipment.
Welcome to life as a home healthcare provider. In 2007, America's 896,800 home healthcare workers reported a staggering 27,400 injuries.1 Some of these resulted from unintentional needlesticks, latex allergies, and violence against providers. However, the most common injuries were sprains, strains, and other musculoskeletal injuries related to lifting and moving patients.
The rate of patient lifting injuries in 2007 was 20.5 per 10,000 healthcare workers.2 In homes, the lifting equipment and adjustable beds that are often available in hospitals are conspicuously absent. Also, nurses, aides, hospice care workers, and other in-home care providers tend to work alone. Moving a patient without help, in cramped quarters, and without assistive equipment is a recipe for injury. In fact, research indicates that if any caregiver is required to lift more than 35 pounds of a patient's weight, assistive devices should be used for the transfer.3
Ergonomic Assistive Devices
Here are just a few examples of equipment that can be used to improve safety for workers and patients:
A hoist should be used for lifting patients who don't have enough strength to stand and walk on their own.
A rolling toileting and showering chair can reduce six transfers (from bed to wheelchair to toilet to wheelchair to bathtub to wheelchair to bed) to two (from bed to chair and back to bed).
Grab bars, adjustable beds, and raised toilet seats can improve leverage and prevent the need for awkward and unsafe postures.
Slip sheets and other friction-reducing devices cut back on the effort needed to move a patient.
Recommendations
The work environment shifts drastically from home to home and conditions fall outside the control of both employer and worker. However, there are methods for reducing musculoskeletal injuries. The best of these is prevention through ergonomics designing work tasks so that they aren't beyond workers' strength and abilities. In healthcare, ergonomics involves using equipment and methods to decrease strain and increase safety when lifting and moving patients.
Employers
Consult with a professional in patient-care ergonomics to determine when assistive devices are necessary and to provide training on proper use of the equipment.
Provide ergonomics training for workers.
Evaluate each patient-care plan to determine whether ergonomic assistive devices or more than one care provider are needed.
Reassess the training, the care plan, and the assistive devices once installed and in use by the caregiver.
Workers
Use ergonomic assistive devices if they are available.
When it's not possible to avoid manual patient handling:

Stand as close to the patient as possible to avoid reaching, bending and twisting. To avoid rotating the spine, make sure one foot is in the direction of the move.
Keep your knees bent and feet apart.
Use gentle rocking motions to move a patient.
When pulling a patient up from an adjustable bed, lower the head of the bed until it is flat or down. Raise the patient's knees and encourage the patient to push.
Don't stand in one place. Move around the patient's bed so you can position yourself in a safe posture rather than stretching, bending, and reaching.
In applying these recommendations, keep in mind that workers can be injured from lifting too much weight, regardless of whether they use proper body mechanics.
Nurses and other home healthcare providers should not have to fear becoming patients themselves; however, many safeguards may appear prohibitive because of cost, organizational inertia, lack of training, the difficulty of using devices, resistance from families, and so forth. It is important for employers, workers, patients and families to work together to try to overcome these problems.
Resources – Ergonomics in Home Healthcare
Employers and workers should gather as much information as they can about ergonomics in home healthcare, starting with the resources listed below:
Please share the information in this blog with any home healthcare providers you know, including friends and family members who provide care for their loved ones. As always, leave your comments, safety tips, and thoughts on safety roadblocks.
Look for future home healthcare blog entries on latex allergies, bloodborne pathogens and needlestick injuries, stress, and violence.
Dr. Galinsky (Captain, U.S. Public Health Service) is a research psychologist in the NIOSH Division of Applied Research and Technology.
Mr. Burnett is a health communications specialist in NIOSH's Education and Information Dissemination Division.
References
1, 2. NIOSH Hazard Review: Occupational Hazards in Home Healthcare, NIOSH Publication No. 2010-125. January 2010.
3. Waters TR, When is it safe to manually lift a patient, American Journal of Nursing, 2007.
Posted on

by
---
Page last reviewed:
July 5, 2019
Page last updated:
July 5, 2019