Using Digital Chest Images to Monitor the Health of Coal Miners and Other Workers
Posted on

by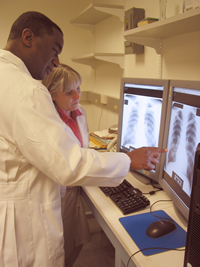 Under the Federal Coal Mine Health and Safety Act of 1969, as amended by the Federal Mine Safety and Health Act of 1977, NIOSH administers a long-standing chest radiographic (x-ray) monitoring program for underground coal miners (The Coal Workers X-ray Surveillance Program [CWXSP]). Conventional screen-film chest radiographic imaging has been an indispensable tool for monitoring the lung health of miners and other dust-exposed workers. In these surveillance programs, trained readers assess a worker's chest radiograph for the presence and severity of occupational lung disease (parenchymal a, pleural b, and other abnormalities) using a classification system developed by the International Labour Office (ILO). The ILO classification system was designed to systematically record the abnormalities seen on standard screen-film chest radiographs that occur as a result of dust inhalation. It requires the reader to compare any abnormalities observed on the worker's radiograph to a set of standard radiographs exemplifying various types and severity of dust diseases, provided as hard copy films by the ILO.
NIOSH is also involved in the training and certification of physicians to use the ILO system through the B Reader Program. The B Reader Program aims to ensure competency by testing the ability of applicant readers to classify a test-set of radiographs. NIOSH has long experience with the B Reader Program and with employing the ILO system for monitoring, research, and other activities using radiographic assessment. NIOSH continues to have an extensive impact on national and international practices in using chest imaging for workforce medical screening, research, hazard evaluations, clinical practice, compensation, and standard setting in occupational respiratory disease.
Increasingly, medical imaging and patient information systems are utilizing digital approaches for data acquisition, transmission, storage, display, and interpretation. Over the next decade, conventional film-based radiography will be completely replaced by digital radiography systems in the United States and elsewhere. NIOSH is in the process of adopting and enabling the application of digital chest imaging to surveillance for occupational lung disorders. This will benefit programs assessing occupational lung disease both nationally and internationally. NIOSH is working together with partner organizations such as the American College of Radiology and the International Labour Office.
There are many advantages to using modern digital imaging systems for monitoring miners' lung health, including:
More consistent image quality
Faster results
Increased ability to share images with multiple readers
Simplified storage of images
Reduced risk for technicians and the environment due to the elimination of chemicals for developing film
Digital diagnostic imaging is rapidly being adopted world-wide, including by many developing countries. Thus, there is international demand for adaptation of the ILO classification system to a digital format. Peer-reviewed research findings indicate that digital images can be used in the classification of work-related parenchymal disorders, providing results equivalent to conventional film-based radiographs.1 Further information on the science and application of digital imaging to assessing occupational respiratory disease is available from a NIOSH workshop. Until the ILO endorses the use of digital standards, however, readers must continue to use the current ILO reference films and conventional chest radiographs for classifying using the ILO system.
As we move forward with this conversion, NIOSH would like to hear from you on aspects of the transition to digital imaging that concern you, or about which you have questions or comments. Particular issues might include:
How digital and film-based ILO readings compare
Effect of image manipulation on readings and need for standardization
Digital implications for black lung clinics and other medical facilities
Implications for the B Reader Program
Implications for the ILO system
Conversion of x-ray film images to digital media
Ethical practices for classification of digital images
Infrastructure (computer, monitor, etc.) needs for digital classification
Dr. Attfield is a Senior Scientist in the Surveillance Branch of the NIOSH Division of Respiratory Disease Studies.
Dr. Weissman is Director of the NIOSH Division of Respiratory Disease Studies.
Notes
a. The lung parenchyma comprises the main tissue of the lung where gas exchange takes place.
b. The pleura is the membrane that lines the lung.
References
Posted on

by
---
Page last reviewed:
April 27, 2018
Page last updated:
April 27, 2018