Faces of Black Lung
Posted on

by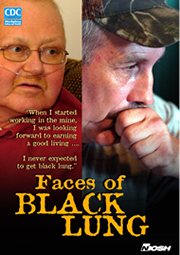 In the last decade, over 10,000 miners have died of coal workers' pneumoconiosis, or what is commonly called black lung disease.
1
Black lung disease, which is caused by inhaling coal mine dust, results in scarring of the lungs and emphysema, shortness of breath, disability, and premature death. While the prevalence of black lung disease had decreased by about 90% from 1969 to 1995 following the enactment of the Coal Mine Health and Safety Act, the downward trend of this disease in coal miners has stopped. Since 1995, the prevalence of black lung cases has more than doubled. Many current underground miners (some as young as in their 30s) are developing severe and advanced cases. Identification of advanced cases among miners under age 50 is of particular concern, as they were exposed to coal-mine dust in the years after implementation of the disease prevention measures mandated by the 1969 federal legislation. An increased risk of pneumoconiosis has also been associated with work in certain mining jobs, in smaller mines, in several geographic areas, and among contract miners.
2
The National Institute for Occupational Safety and Health (NIOSH) reported these findings in July 2007 in a Morbidity and Mortality Weekly Report article titled Advanced Pneumoconiosis Among Working Underground Coal Miners – Eastern Kentucky and Southwestern Virginia, 2006 (MMWR, Vol 56, No 26; pp 652. July 6, 2007). To continue to raise awareness of the resurgence of this deadly but entirely preventable disease, NIOSH recently released an educational DVD titled Faces of Black Lung in which two miners with severe cases of black lung disease share their stories in hopes of helping to protect other miners from this devastating disease. The moving personal accounts of two lives forever changed by black lung disease provide an invaluable training tool. Copies of this DVD may be obtained via email to awolfe@cdc.gov.
While the exact causes for the continued occurrence of black lung disease are not fully understood, possible explanations include: 1) inadequacies in the mandated coal-mine-dust regulations, 2) failure to comply with or adequately enforce those regulations, 3) lack of disease prevention measures to accommodate changes in mining practices (e.g., thin-seam mining with cutting of adjacent silica-containing rock) brought about by depletion of richer coal reserves, 4) the effect of working longer hours in recent years, and 5) missed opportunities by miners to be screened for early disease and take action to reduce dust exposure.
To help recognize early disease in miners and to enable those with black lung to take action to reduce their dust exposures, NIOSH operates the Coal Workers' Health Surveillance Program. Miners who participate in the program receive no cost health evaluations (including a chest x-ray) once every five years. Chest x-rays can detect the early signs of coal workers' pneumoconiosis and can detect lung changes often before the miner is aware of any breathing problems. These programs are meant to protect the health of the miners, but they can only do so if the miners participate. Interviews with miners have indicated that reasons for nonparticipation are manifold, including concerns that a positive finding might be disclosed to their employers and lead to job loss or affect future receipt of compensation for disability. However, under federal law a mine operator can not legally dismiss a miner due to presence of black lung disease (or any other type of disease).
As part of the program, and with the support of the Mine Safety and Health Administration (MSHA), NIOSH also operates a mobile health screening program called the Enhanced Coal Workers Health Surveillance Program. The mobile unit travels to coal mining regions around the United States that are considered hot spots for disease. Miners are notified in advance about the specific locations where the mobile unit will be stationed and are encouraged to make appointments to participate in the health screening process. Participation in this enhanced program is completely confidential and the results are given only to the miner unless he or she requests in writing that they be sent elsewhere.
Many of the hot spot areas have already been visited. The remaining sites to be targeted for fiscal year 2009 include Grant, Brooke, and Marshall counties in West Virginia; Somerset, Greene, Washington, Allegheny, Westmoreland, Armstrong, Indiana, and Cambria counties in Pennsylvania; Garrett county in Maryland; Campbell county in Tennessee; Belmont and Meigs counties in Ohio; and Bell, Union, Webster, and Hopkins counties in Kentucky. The program, while being focused on disease prevention in individual miners, also provides the opportunity to gather information for ongoing surveillance of black lung. The information is used to monitor trends, identify hot spots, guide prevention, and identify risk factors for the disease.
Coal operators are required under the law to adhere to the dust standards. Today's mining industry has the necessary tools to control each miner's exposure to respirable dust and silica. The industry and the miners must both ensure that control measures are conscientiously applied and dust levels accurately monitored. In addition, miners need to reduce their exposure to coal-mine dust when early disease is seen and, when necessary, to exercise their legal right for transfer to a job with reduced exposure, if available. When all of this is achieved we will be one step closer to a time when miners and their families will no longer have to suffer the devastating effects of black lung disease.
—Mike Attfield, Ph.D., Anita L. Wolfe, and Edward L. Petsonk, M.D.
Dr. Attfield is Chief of the Surveillance Branch in NIOSH's Division of Respiratory Disease Studies (DRDS) in Morgantown, WV.
Ms. Wolfe is a Public Health Analyst and serves as the Lead Project Officer and Program Manager for the Coal Workers' Health Surveillance Program as well as the Enhanced Coal Workers' Health Surveillance Program in DRDS.
Dr. Petsonk is team leader for the Worker Screening and Surveillance Team in the Surveillance Branch of DRDS.
References
Work-Related Lung Disease (WoRLD) Surveillance System: Coal Workers' Pneumoconiosis and Related Exposures
Posted on

by
---
Page last reviewed:
April 27, 2018
Page last updated:
April 27, 2018