The "No Fit Test" Respirator Research Workshop
Posted on

by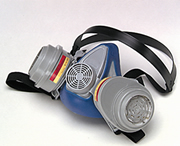 The number and quality of responses to previous NIOSH Science Blog posts on Frequency of Respirator Fit Testing and Influenza Pandemic and the Protection of Healthcare Workers with Personal Protective Equipment was so encouraging and informative that we decided to utilize the blog again as we continue to address the issue of respirator fit testing. To further the discussion, NIOSH is hosting the "No Fit Test" Respirator Research Workshop on November 6, 2008. The workshop aims to examine how the latest material technology (shape-changing polymers, adhesives, etc.) may be leveraged to improve current and future respirator designs including the long-term possibility of moving away from current fit-testing requirements, while preserving user protection. We would like your input as we finalize the workshop agenda.
An estimated 5 million workers wear respirators in 1.3 million U.S. workplaces to provide protection against various airborne hazards. Respiratory protection is critically dependent upon the fit of the respirator to the user's face. A fit test is required to assure that a given respirator fits an individual.1 Reports from the National Academies' Institute of Medicine (IOM) recommend research toward better-fitting respirators, with the ultimate goal of finding a way to obviate the need for initial and annual fit testing.2, 3, 4 In response to the IOM report on "Preparing for an Influenza Pandemic: Personal Protective Equipment for Healthcare Workers," NIOSH prepared an action plan that includes initial steps toward assessing what research needs to be conducted to achieve this goal. The "No Fit Test" Respirator Research Workshop is one element of the action plan.
The workshop will discuss the nature and process of product innovation and development in negative-pressure, half-facepiece respirators. The workshop aims to gauge the current state of the art and to stimulate new designs or approaches for improved respirator fit. The results of this workshop will lead to a better understanding of how future NIOSH research can encourage ongoing development of better fitting respirators without compromising comfort and long-term protection.
NIOSH would appreciate input on the following draft workshop topics and questions, as well as additional areas for discussion. Please provide comments through the NIOSH Science Blog before September 1, 2008.
Draft Workshop Topics
Define Fit
Explore and define fit for half-facepiece respirators:
What anatomical or physiological features affect the fit of half-facepiece respirators?
What role does comfort play in the fit of a respirator?
Historically, what improvements have led to better-fitting respirators?
What role has fit testing played in the development of better-fitting respirators?
What features of current respirator design need further improvement?
What requirements must be met for a no fit test respirator?
Market and User Needs
Identify the incentives and barriers for innovations in respirator design and the role respirator users play in encouraging and motivating design improvements:
How have users been involved in the past and how will they be involved in the future in testing new respirator designs?
Do respirator manufacturers understand the needs of current and future users?
Are there barriers that prevent respirator manufacturers from responding quickly to user needs?
Are users looking for improvements for which technology does not yet exist?
Scientific or Technologic Advances
Determine how scientific findings or new technologies can be encouraged in the future:
What are the deficiencies in current respirator designs or fit testing methods that warrant changes or improved technologies?
What current or new technologies are available for improving the fit of current respirator designs?
What material properties are required to optimize fit and what materials exist today to optimize fit performance?
Are technological improvements from other fields applicable to today's respirators?
Are there research directions (e.g., new materials, anthropometrics, manufacturing techniques), fit test methods, or regulatory approaches that could encourage future scientific or technologic innovation?
The full day-workshop is scheduled for November 6, 2008, at the Embassy Suites Airport in Pittsburgh, PA. More details, including registration information, can be found at the "No Fit Test" Workshop webpage.
—Ed Fries and Ron Shaffer, Ph.D.
Mr. Fries serves as the Assistant Coordinator for the NIOSH PPT Program in the NIOSH National Personal Protective Technology Laboratory (NPPTL) Office of the Director.
Dr. Shaffer is Chief of the Technology Research Branch in the NIOSH National Personal Protective Technology Laboratory (NPPTL).
Posted on

by
---
Page last reviewed:
November 23, 2016
Page last updated:
November 23, 2016