Nanotechnology: Should carbon nanotubes be handled in the workplace like asbestos?
Posted on

by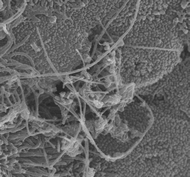 Nanotechnology poses a question for occupational health and safety professionals. Does this technology, and the tiny nanoparticles that are its tools, pose an unintended risk of illness or injury for workers employed in the industry?
The National Institute for Occupational Safety and Health is at the forefront of the effort to understand the health and safety ramifications of working with nanomaterials. There have been an increasing number of scientific publications from the research community at large—including a new study issued just this week—that address one type of nanomaterial in particular, carbon nanotubes, and seek to determine if they biologically behave like asbestos. That is, if inhaled, are carbon nanotubes likely to cause irreparable and fatal effects such as those associated with asbestos exposure? The effects of asbestos include severe lung fibrosis or scarring, lung cancer, including cancer of the lining of the lungs or pleura called mesothelioma.
The question of a comparison between carbon nanotubes and asbestos arises for several reasons. Some varieties of carbon nanotubes are similar in shape to asbestos fibers, and like asbestos, some varieties of carbon nanotubes have been shown in laboratory studies to persist in the lungs of laboratory animals. Some animal studies have even shown effects similar to those of asbestos.
Carbon nanotubes are tiny, cylindrical, manufactured forms of carbon. There is no single type of carbon nanotube. One type can differ from another in terms of shape (single-walled or multi-walled) or in chemical composition (pure carbon or containing metals or other materials). Carbon nanotube exposures can potentially occur not only in the process of manufacturing them, but also at the point of incorporating these materials into polymer composites, medical nanoapplications, and electronics.
The release of two recent reports, one from a research lab in Japan (Takagi et al., J Toxicol Sci 33:105-116, 2008) and one—this week—from the United Kingdom (Poland et al., Nature Nanotechnology advance online publication, 20 May 2008;[DOI10.1038/nnano.2008.111]) contribute to the carbon nanotube/asbestos fiber comparison debate. The publication of the Japanese study contributed to the decision by the Japanese Ministry of Health, Labor and Welfare to issue a notice which instructs those involved in the manufacture, repair and inspection of nanomaterials that the processes should be carried out under either sealed, unattended or automated conditions, or a local exhaust system should be installed.1, 2, 3 The recently published British study adds to the body of work showing an asbestos-like response (more below).
What are the implications of the most recent finding to the risk assessment and risk management of carbon nanotubes in U.S. workplaces?
The question of whether carbon nanotubes pose a toxicological hazard has been investigated since at least 2003. A challenge has been in determining if carbon nanotube materials used in the workplace have the same characteristics as those associated with biological responses in laboratory studies. Earlier studies used materials with high levels of other forms of carbon such as carbon black and high levels of metal catalyst.
Carbon nanotubes can vary widely in diameter, length, number of layers, and structures. They can also vary widely in surface composition, since certain carbon nanotubes may be "coated" with specific metals or other materials in order to perform specific functions. Also, they can clump together or agglomerate, which can affect their potential for settling in the lungs if inhaled, their ability to penetrate the body's membranes and consequently move from the lungs to other organs, and their interaction with cells and tissue. Such variations bring an additional degree of complexity to risk assessment analysis for carbon nanotubes.
In 2005, NIOSH researchers showed that aspiration of single-walled carbon nanotubes in mice caused progressive fibrosis and granuloma formation.4 (Fibrosis and granuloma reduce gas-exchange area in the lung, thus making breathing difficult.) It is estimated that one month of exposure to carbon nanotubes at the airborne concentration of 5 milligrams per cubic meter of air, or mg/m3, would yield an equivalent dose in workers to that causing fibrosis in the mouse.5 The 5 mg/m3 concentration is sometimes reported on material safety data sheets as a manufacturer's suggested exposure limit for carbon nanotubes and is based on the permissible occupational exposure limit (PEL) for graphite, whose most commonly known use is as a powder for manufacturing pencils. However, the findings reported by NIOSH in 2005 suggest that, on the basis of the effects seen in the laboratory studies, it might not be appropriate to use the graphite PEL for carbon nanotubes. In fact, BSI British Standards Published Document PD 6699-2:2007 "Guide to safe handling and disposal of manufactured nanomaterials" suggests setting a benchmark exposure limit for nanoscale fibers longer than 5 µm to one tenth of the PEL for asbestos, that is at 0.01 fiber per cubic centimeter. However, this benchmark exposure limit, described as a "pragmatic guidance level only," was not rigorously developed and is derived "on the assumption that the hazard potential of the nanoparticle form is greater than the large particle form."
This weeks' British study finds that long (that is, longer than 20 micrometer or µm) multi-walled carbon nanotubes exhibit asbestos-like response in the form of injury to the linings of the body cavity in laboratory mice, while short and tangled multi-walled carbon nanotubes do not. A multi-walled carbon nanotube is composed of several nanotubes on a common axis. The Japanese study reports that multi-walled carbon nanotubes were more potent in causing mesothelioma than asbestos in laboratory mice genetically modified to be prone to cancer.
Asbestos-like responses to carbon nanotubes may not be entirely surprising to scientists, given previous toxicological and epidemiological studies of other biopersistent fibers since such studies show that once fibers are deposited in the lung, they stay there.6 However, questions have been raised about using these research findings for risk assessment analysis in the light of study limitations such as use of model animals, artificial administration methods, and sometimes extremely high doses, which are not representative of those exposures usually present in the workplace environment. Such limitations are not unusual for pioneering scientific studies. They simply mean that at this stage of the research, gaps remain that need to be closed by further study before quantitative risk assessment can be conducted.
How do we protect workers today?
In the workplace, developing and implementing a workplace risk management program (including evaluating the hazards, assessing worker exposures, installing and evaluating engineering controls, establishing procedures for personal protective equipment, and providing worker education and training programs) can minimize worker exposure to carbon nanotubes. NIOSH recommends that such prudent practices be used while scientists continue the research that is needed for better risk assessment. (See NIOSH Approaches to Safe Nanotechnology.) Use of basic engineering control systems such as enclosures and local exhaust ventilation was shown to greatly reduce exposure levels, while filters used in HVAC systems and respirators were reported to capture nanoscale particles with stated levels of efficiency.7 In addition, medical screening is part of a complete safety and health management program, and established medical surveillance approaches can help to assess whether control measures are effective and identify new or unrecognized problems and health effects.8
While the mechanisms of biological responses to carbon nanotubes are not yet fully understood, recent studies such as those from Japan and the UK add to the growing body of peer-reviewed scientific literature and remind the occupational safety and health community that carbon nanotubes should be handled prudently to minimize potential exposures in the workplace and to prevent potential adverse health effects in workers.
—Vladimir V. Murashov, Ph.D.
Dr. Murashov is a Special Assistant for Nanotechnology to the NIOSH Director. He is a member of the U.S. Nanoscale Science, Engineering, and Technology subcommittee. He also leads projects for the ISO Technical Committee 229 (Nanotechnologies) and the Organization for Economic Cooperation and Development's Working Party on Manufactured Nanomaterials.
Visit the NIOSH website for more information on nanotechnology research at NIOSH.
Endnotes
External link: http://wwwhourei.mhlw.go.jp/hourei/doc/tsuchi/200207-a00.pdf
External link: http://www.jniosh.go.jp/joho/nano/index.html
Shvedova et al. Am J Physiol Lung Cell Mol Physiol 289(5):L698-708, 2005
Ibid.
Posted on

by
---
Page last reviewed:
November 23, 2016
Page last updated:
November 23, 2016