Influenza Pandemic and the Protection of Healthcare Workers with Personal Protective Equipment
Posted on

by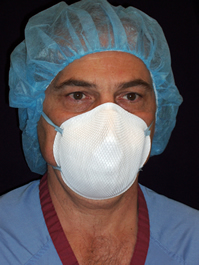 Personal protective technology includes devices such as respirators, chemical-resistant clothing, hearing protectors, and safety goggles and glasses that provide a barrier between the worker and an occupational safety or health risk. NIOSH has a longstanding involvement in this field which was further solidified in 2001 with the formation of the National Personal Protective Technology Laboratory (NPPTL) in Pittsburgh, PA.
NIOSH is committed to ensuring that its research is relevant and making a difference in the lives of workers. As such, in 2005, NIOSH asked the Institute of Medicine (IOM) to form a standing committee to provide strategic guidance in addressing Personal Protective Equipment (PPE) issues for workers. One issue the committee deemed of high importance is PPE for healthcare workers in the event of pandemic influenza.
The IOM committee determined that there is an urgent need to address the lack of preparedness regarding effective PPE for use in an influenza pandemic. In September 2007, three critical areas were identified that require expeditious research and policy action:
Influenza transmission research should become an immediate and short-term research priority so that effective prevention and control strategies can be developed and refined.
Employer and employee commitment to worker safety and appropriate use of PPE should be strengthened.
An integrated effort is needed to understand the PPE requirements of the worker and to develop and utilize innovative materials and technologies to create the next generation of PPE capable of meeting these needs.
Controlling the spread of a potential influenza pandemic is of critical importance to the more than 14 million healthcare workers in the United States (approximately 10 percent of the U.S. workforce) and their patients. Given that health care workers will be on the front lines during an influenza pandemic, protecting them with the best available prevention methods and PPE is imperative to reducing illness and death and preventing the progression of a pandemic. While PPE is the focus of this blog, it is only one way to protect workers and control the spread of the influenza virus. Engineering and administrative controls are an important part of this equation and NIOSH is also conducting research in these areas.
One step NIOSH is taking to address the IOM recommendations is the development of an action plan, which outlines current and future activities that should be considered for both near and long term implementation.
There are many complexities involved in protecting healthcare workers with PPE such as ensuring that workers appreciate the differences between medical masks and respirators. Medical masks are loose-fitting coverings of the nose and mouth designed to protect the patient from the cough or exhaled secretions of the physician, nurse, or other healthcare worker. Medical masks are not designed or certified to protect the wearer from exposure to airborne hazards. They may offer some limited, as yet largely undefined, protection as a barrier to splashes and large droplets. However, because of the loose-fitting design of medical masks and their lack of protective engineering, medical masks are not considered personal protective equipment.
Protection of the healthcare worker against infectious disease can also involve gloves, eye protection, face shields, gowns, and other protection. For the most part, these products are designed to provide a barrier to microbial transfer with particular attention to protecting the wearer's mucous membranes. Yet, they present the healthcare worker with other challenges that include difficulties in verbal communications and interaction with patients and family members, decreased tactile sensitivity through gloves, and physiological burdens such as difficulties in breathing while wearing a respirator. The extent of liquid penetration is a major issue with gowns and gloves. Comfort and wearability issues include the breathability of the fabric or material and biocompatibility or sensitivity to avoid contact dermatitis and other skin irritations.
Questions remain about the reusability of PPE as well as how long viruses survive on contaminated surfaces and what substances provide a protective barrier against viruses. Issues surrounding how best to integrate the various types of protective equipment (e.g., the respirator and eye protection) also need to be explored.
Additional questions addressed in the action plan include:
What are the major modes of influenza transmission?
What are the relevant sizes of aerosols?
What is the infectivity of aerosols?
Is high humidity an issue with wearing respirators?
How does air flow exchange and ventilation affect transmission?
What is the effectiveness of medical masks?
What is the role of fomites (any object or substance capable of absorbing infectious organisms)?
Should PPE other than respirators be certified? If so, who would be responsible for certification?
Comments to the draft action plan would be appreciated before June 1, 2008. NIOSH would also appreciate comments on our approach to addressing the IOM recommendations. The complete IOM report and the draft action plan can be viewed on the NIOSH website.
Edward F. Fries
Mr. Fries works in the Office of the Director of the NIOSH National Personal Protective Technology Laboratory.
Posted on

by
---
Page last reviewed:
April 14, 2020
Page last updated:
April 14, 2020