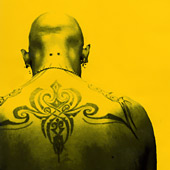 Body art…. This may seem like an odd topic for a science blog, but not when you consider the artists' risk of exposure to bloodborne pathogens. Body art is popular and growing with an estimated 16,000 body artists working in the U.S. today. Body art, which typically consists of tattoos and body piercings, is an art form where the artists' canvas is the human body.
When working on this unique medium, artists may come in contact with a client's blood if they are stuck with the needle that they are using on a client (or stuck with a used needle during disposal), or if the client's blood splashes into the eyes, nose, or mouth. Contact with another person's blood may expose workers to bloodborne pathogens such as hepatitis B virus, hepatitis C virus, or human immunodeficiency virus (HIV). These bloodborne pathogens can be dangerous and may cause permanent illness. If an artist gets one of these viruses, he or she may become ill and be unable to support his or her family. Also, since bloodborne pathogens can be spread through contact with blood and other bodily fluids such as semen and vaginal secretions, sexual partners could also be at risk of getting a bloodborne disease.
In the early 1990s as the body art industry grew, professional associations were formed to promote better business practices in the industry and address safety and health issues. Because of concerns voiced by artists in the industry, NIOSH researchers visited several tattooing and piercing studios and found certain practices used in body piercing and tattooing could increase the chance of an artist coming in contact with blood. NIOSH met with many of the tattooing and piercing professional organizations, other government agencies, scientists and the artists themselves to learn more about body art work practices and what could be done to lower artists' chance of exposure to bloodborne diseases.
To lower exposure to blood, NIOSH recommends using safe work practices and staying informed about problems affecting body artists. Recommendations for protecting tattoo artists and body piercers from bloodborne pathogens can be found on the NIOSH Body Art web page. A few examples include:
Seek emergency medical assistance if an artist is exposed to another person's blood. If a tattooist or piercer is exposed to another person's blood, the artist should notify the shop owner and immediately seek medical attention. If treatment is needed, it is more likely to be effective if it begins soon after the exposure happens.
Use single-use, disposable needles and razors. Disposable piercing needles, tattoo needles, and razors are used on one person and then thrown away. Reusing needles or razors is not safe.
Safely dispose of needles and razors. Used needles and razors should be thrown away in a sharps disposal container to protect both the client and the person changing or handling the trash bag from getting cut. Sharps disposal containers must be closeable, puncture resistant, leak-proof, and labeled.
Wash hands before and after putting on disposable gloves. Gloves are always worn while working with equipment and clients, changed when necessary, and are not reused.
Clean and sterilize reusable tools and equipment. Some tools and equipment can be reused when tattooing or piercing. Reusable tools and equipment should be cleaned and then sterilized to remove viruses and bacteria.
Frequently clean surfaces and work areas. Chairs, tables, work spaces, and counters should be disinfected between procedures to protect both the health of the client and the artist. Cross-contamination (spreading bacteria and viruses from one surface to another) can occur if surfaces are not disinfected frequently and between clients. Any disinfectant that claims to be able to eliminate the tuberculosis germ can also kill HIV, hepatitis B, and hepatitis C viruses. Use a commercial disinfectant, following the manufacturer's instructions, or a mixture of bleach and water (1 part bleach to 9 parts water).
Body artists face unique risks for exposure to bloodborne pathogens, but when proper safety and health practices are followed, these risks can be greatly reduced.
Everett Lehman, M.S., M.B.A., is a supervisory epidemiologist in NIOSH's Industrywide Studies Branch in the Division of Surveillance, Hazard Evaluations & Field Studies.
Amy Mobley, M.S., Health Communications Fellow Industrywide Studies Branch in the Division of Surveillance, Hazard Evaluations & Field Studies.
Posted on

by
---
Page last reviewed:
November 23, 2016
Page last updated:
November 23, 2016