NIOSH Ag Centers Celebrate 10 Years on YouTube
Posted on

by
One hundred years ago, farmers, loggers, and fishermen turned to their families and communities for advice on safety, health, production, and repairs. They may have even consulted the Farmer's Almanac or asked a cooperative extension agent. Although family, friends, print media, and extension agents are still great sources of information, the farmers, loggers, and fishermen of this century also began to use smart phones to find answers. And as these "computers in our pocket" have become faster and more widespread, online "how-to" videos have become a leading source of information.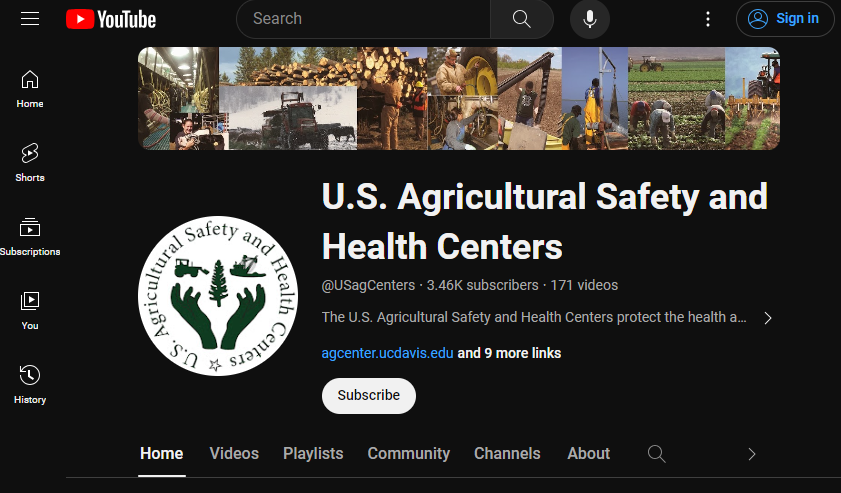 This is why the National Institute for Occupational Safety and Health (NIOSH) Centers for Agriculture Safety and Health (Ag Centers) launched the U.S. Agricultural Centers' YouTube channel in November 2013 and has been providing modern, easily accessible safety and health outreach and training solutions ever since. With over 122 million visitors watching 1 billion hours of videos each day, YouTube has become the primary site for online videos and the second largest social media platform with over 2.7 billion users (Shewale, 2023). YouTube's established presence and convenient accessibility offers a cost-effective option to deliver agricultural occupational health and safety information to a global audience.
Preventing Injury, Illness, and Death in Agriculture, Forestry and Fishing
The Ag Centers were established in 1990 as part of the Centers for Disease Control and Prevention (CDC)/NIOSH Agricultural Safety and Health Initiative. Currently, eleven regional centers and a national children's center conduct outreach and research to reduce injuries, illnesses, and deaths among agriculture, forestry and fishing (AgFF) workers, and their families (NIOSH, 2022). While AgFF worker deaths have declined in recent decades, the rate of fatal work injuries in 2021 was still the highest among all occupations. Estimates of the economic cost of work-related fatalities, injuries and illnesses reached as high as $2.2 trillion in the U.S. from 2007 to 2015 (Felknor, et al. 2019). Although worker populations and agriculture commodities vary in different regions, new ways to reach diverse AgFF audiences with health and safety information is critical to the mission of every Ag Center.
Ten Years of Using Videos to Improve Safety and Health
In 2013, the nine Ag Centers existing at the time and the National Children's Center for Rural and Agricultural Health and Safety formed a committee to modernize AgFF safety and health outreach and training solutions through the development of a YouTube channel. Committee members established inclusion criteria, submission procedures, and a rigorous review process. In November 2013, the U.S. Agricultural Centers' YouTube channel was launched with 48 videos (Wickman, et al. 2021).
Now, 10 years later, the U.S. Agricultural Centers' YouTube channel boasts over 170 videos in three languages on numerous topics including chainsaw safety, pesticides, infectious diseases, mental health, livestock, child development, grain bins, testimonial stories, and much more.  Videos from the channel are used for worker training, classroom instruction, and personal enrichment. The channel has accumulated more than 723,000 views, almost 60,000 watch time hours, and over 3,400 subscribers. The viewers are largely (88%) male between the ages of 25 and 44. Although most viewership is within the U.S. (56%), the channel also reaches audiences from across the world.
Some of the most-viewed videos include:
Each center promotes the channel through their social media, outreach, and training materials.  But the Ag Centers also work together during events like National Farm Safety and Heath Week and Ag Safety Awareness Program Week, to develop media kits highlighting each other's videos and other resources.
As the channel enters a new decade, the focus has expanded from just posting videos to keeping content up to date, evaluating past promotional activities, and replicating successful video production strategies. Analysis has found spikes in viewership during the two annual farm/agricultural safety weeks (Wickman et al.) and increases during the peak U.S. agricultural production seasons (Beseler et al, 2021).
The success of the U.S. Agricultural Centers' YouTube channel over the last decade is a great example of how working together and embracing innovation can help expand the reach of safety and health organizations much more than any one organization can going it alone.  You can join us in celebrating ten years of NIOSH Ag Center partnership on YouTube by checking out the videos on the U.S. Agricultural Centers' YouTube channel and subscribe to stay up to date on the latest releases.
Comment below on your favorite videos from the channel or let us know what topics should be addressed in future videos!
Amanda Wickman, Southwest Center for Agricultural Health, Injury Prevention, and Education, The University of Texas at Tyler Health Science Center.
Ellen Duysen, Central States Center for Agricultural Safety and Health, University of Nebraska Medical Center College of Public Health.
Whitney Pennington, High Plains Intermountain Center for Agricultural Health and Safety, Colorado State University, Environmental & Radiological Health Sciences.
KC Elliott, NIOSH Office of Agriculture Safety and Health.
Posted on

by
---
Page last reviewed:
November 13, 2023
Page last updated:
November 13, 2023