ABLES: A Leader in Public Health Lead Surveillance
Posted on

by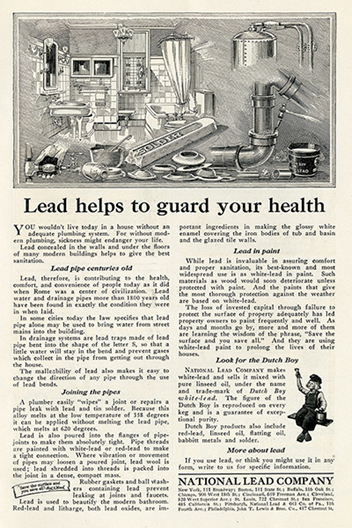 In the early to mid-20th Century, it was becoming increasingly apparent that the metal lead had a Jekyll and Hyde persona. At that time, lead was a common and useful additive to paint and gasoline among other uses. However, evidence mounted, implicating lead as the cause of many health problems (see related blog). In adults, low levels of chronic, non-work-related lead exposure were linked to kidney damage, heart disease, infertility, and neurological disorders.[1] Symptoms of lead poisoning were especially apparent among lead miners and smelters.  [2]
Something Needed to Change
Increasing health concerns eventually led to federal regulations requiring industries to change practices. This meant eliminating or reducing lead exposure by using personal protective equipment and implementing engineering controls.[3]  Agencies focused on changing laws to protect the U.S. population, including workers, and establishing systems for monitoring and tracking blood lead levels (BLLs) in potentially exposed groups. For example:
In 1970, Congress passed the Occupational Safety and Health Act, forming the Occupational Safety and Health Administration (OSHA) and the National Institute for Occupational Safety and Health (NIOSH). One of OSHA's first priorities was to protect workers from lead poisoning.
In 1971, lead-based paint restrictions were put in place among federal or assisted federal housing units.[4]
In addition to regulatory changes, NIOSH researchers started building relationships with state health departments to address common workplace hazards together. In the late 1980s, NIOSH started working with states to develop lead surveillance programs at the state level.[7] By the early 1990s, 15 states had established adult lead registries.
NIOSH wanted to create a national program using data from the state lead registries to assess lead exposures in the workplace.
A National Lead Surveillance Program was Launched
In 1991, NIOSH established a national adult lead surveillance program called the Adult Blood Lead Epidemiology and Surveillance (ABLES) program.  ABLES is a state-based surveillance program, meaning that the lead exposure data are collected by the states and then shared with NIOSH. ABLES was created to reduce elevated BLLs among working adults 16 years and older. It provided funding for states to begin lead surveillance programs and collect data systematically. The intent was to demonstrate the value of collecting BLLs for public health purposes. However, reporting requirements and procedures varied greatly among states.
Some initial challenges faced while developing the ABLES program were:
The BLL data and related information that the states collected were not standardized.
In the early 1990s, enforcement of the OSHA lead standard was minimal due to a lack of resources. Fines were relatively low and BLL data were not always collected or documented for employees. [8]
In September 1992, NIOSH began reporting elevated BLL data collected from the ABLES program. This was the first occupational disease condition reported regularly in the Morbidity and Mortality Weekly Report (MMWR).
The States are the Heart of the ABLES Program
Any state can contribute data to the ABLES program! Learn more about ABLES or contact us to learn how your state can participate.
State health departments choose to participate in the ABLES program by collecting BLL data for their state and providing these data to NIOSH. NIOSH researchers analyze the data to identify trends in adult workplace lead exposure, specifically examining industries and occupations where lead exposures are occurring across the United States. We use this information to guide interventions and prevent work-related lead exposures.
The states are the heart of ABLES. Without their help in collecting and sharing their state's lead exposure data, the program would not exist. As of 2022, 37 states collaborate with NIOSH as part of the ABLES program.  Participating in ABLES helps health departments monitor workplace lead exposure trends within their state and helps them find ways to prevent work-related lead exposure.
How ABLES has Made a Difference
See the Latest Lead Exposure Trends!
ABLES data are assessed regularly to monitor trends in work-related lead exposure. We specifically examine industries and occupations where exposures are occurring across the United States. 
Over the past 30 years, the ABLES program federal and state partners have worked together to reduce lead exposure among workers in the United States.
Since 1994, the prevalence rate of workers with a BLL of ≥ 25 µg/dL in the United States dropped 81% from 14 workers per 100,000 employed workers to fewer than 3 in 2019.
ABLES is a model for other countries to develop their own lead surveillance program. Delegates from Asia and Latin America reached out during the early development of ABLES to learn how we approached adult blood lead surveillance. We also assisted Mexico and Chile with work-related lead surveillance. [8]
As the program evolved, ABLES expanded its focus from surveillance to evaluation and intervention. The program increased awareness of acute and chronic exposures, and the states began to focus on efforts to prevent lead exposure. However, communicating with workers was not easy. Helping them understand the health effects of overexposure to lead was difficult.[8] NIOSH expanded our efforts to explain risks associated with lead through the NIOSH Worker Notification program. 8 NIOSH also worked to improve the risk communication in the NIOSH Health Hazard Evaluations that focused on lead.[8]
How Your State Can Help
Ongoing partnerships are vital for ABLES' continued success. Any state health department can participate in the ABLES program. Contact us to learn more.
We'd like to thank the following for taking the time to provide a historical perspective on the development of the NIOSH ABLES program:
Henry (Andy) Anderson, Barbara Materna, Geoff Calvert, Janie Gittleman, John Sestito, Kathy Leinenkugel, Carol Braun, Ken Rosenman, Kitty Gelberg, Alicia Fletcher, Linda Rudolph, Neil Maizlish, Rick Rabin.
Rebecca Tsai, PhD, is an Epidemiologist in NIOSH's Health Informatics Branch in the Division of Field Studies and Engineering.
Amy Mobley, MEn,is a Health Communications Specialist in NIOSH's Health Informatics Branch in the Division of Field Studies and Engineering.
Kelsie Fox was a summer Collegiate Leaders in Occupational Safety and Health (CLOSH) student in NIOSH's Health Informatics Branch in the Division of Field Studies and Engineering.
References
[1] The protean toxicities of lead: new chapters in a familiar story – PubMed (nih.gov)
[2] Toxic Purity: The Progressive Era Origins of America's Lead Paint Poisoning Epidemic on JSTOR
[3] Lead Poisoning: Historical Aspects of a Paradigmatic "Occupational and Environmental Disease" – PMC (nih.gov)
[5] Braser, M. [1992]. The Development of Registries for Surveillance of Adult Lead Exposure, 1981 to 1992. AJPH 82(8): 1113 – 1118.
[6] Heavy Metals Surveillance: New York State Heavy Metals Registry (ny.gov)
[7] Protecting workers exposed to lead-based paint hazards; a report to Congress (cdc.gov)
[8] Gittleman [2022]. Telephone conversation between J. Gittleman, formerly with the Division of Surveillance, Hazard Evaluation and Field Studies (Now the Division of Field Studies and Engineering), and R. Tsai, Division of Field Studies and Engineering, National Institute for Occupational Safety and Health, Centers for Disease Control, U.S. Department of Health and Human Services, June 26.
Posted on

by
---
Page last reviewed:
October 23, 2023
Page last updated:
October 23, 2023