Safety Culture in Healthcare Settings
Posted on

by
As of 2019, more than 18 million people, 11.5 % of the United States workforce, were employed in healthcare settings. Everyday healthcare workers face hazardous work conditions due to exposures to infectious agents and hazardous drugs and chemicals. Examples include:
Influenza
Severe acute respiratory syndrome coronavirus-2 (SARS-CoV-2)
Mycobacterium tuberculosis
Antineoplastic agents
Surgical smoke
Disinfectants
Physical agents like radiation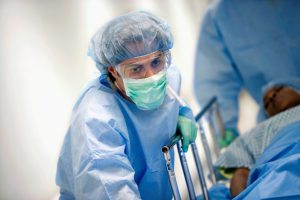 Healthcare workers also perform risky tasks and experience harmful psychosocial conditions such as:
Heavy lifting
Repetitive tasks
Violence and bullying
Shift work with odd hours
Long work hours
Fatigue
These work environments create substantial stress and stress-related adverse outcomes that can result in:
Anxiety
Depression
Suicide
Disruption of work-life balance
The Healthcare and Social Assistance Sector industries reported 806,200 work-related injuries and illness in pandemic year 2020. This was a 40% increase over 2019 representing approximately 30% of the total of 2,654,700 injuries and illnesses for all industries that year. These numbers represent the vital importance of understanding and implementing effective safety practices for healthcare workers in all settings.

Safety culture is not a slogan. Practicing safety must be a joint effort with management and workers to develop policies and procedures to identify, monitor, mitigate, and eliminate work-related hazards. Non-fatal injuries, illnesses, and disabilities continue to go unrecognized within an uneven safety culture. To address this need, a group of clinicians and experts in occupational safety and health developed the Safety Culture in Healthcare Settings training course. Safety and health professionals, labor representatives, educators, and researchers provided extensive input into the course. It provides science and evidence-based information to increase knowledge about work-related hazards and prevention strategies. Safety Culture in Healthcare Settings addresses six competencies:
Describe the importance of safety culture in health care settings.
Identify common work-related risk and hazards.
Explain strategies to prevent/control work-related injury/illness.
Identify leadership strategies that lead to continuous improvement of safety culture for health care workers.
Describe the Occupational Safety and Health Act as legal framework for worker safety and health.
Describe ethical principles of safe working that guide health team members' professional practice.
The course also offers continuing education credits free of charge.
Safety culture should be a priority in all healthcare settings. Recognizing the known risks and taking appropriate action to prevent hazards is a responsible first step. Taking this course can help accomplish this important responsibility.
Bonnie Rogers, DrPH, COHN-S, LNCC, FAAN, is an adjunct professor at the University of North Carolina and Co-Chair of the NORA Healthcare and Social Assistance Sector committee member.
David Weissman, MD, is the Director for the NIOSH Respiratory Health Division and Co-Chair of the NORA Healthcare and Social Assistance Sector committee member.
Posted on

by
---
Page last reviewed:
September 27, 2023
Page last updated:
September 27, 2023