Workers' Memorial Day 2023: Statement by NIOSH Director John Howard, M.D.
Posted on

by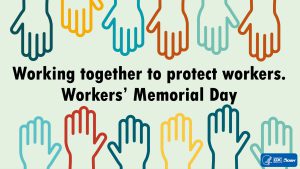 Each year, NIOSH pauses on April 28th, Workers' Memorial Day, to honor those who were killed or injured on the job. While tremendous progress has been made since Congress enacted the Occupational Safety and Health Act on this day in 1970, much still needs to be done. The Bureau of Labor Statistics reports that in 2021 more than 5,100 workers were killed and 2.6 million more were injured on the job. The societal costs—not just economic, but the toll on families and loved ones—is untenable. Several opportunities and resources are available to support the occupational safety and health of workers and raise awareness within several industries.
Dangerous occupations still exist. Commercial fishing, for example, remains one of the most dangerous in the U.S., particularly when vessels are miles away from harbor, characterized by hazardous working conditions, strenuous labor, long work hours and harsh weather conditions. The hazards fishermen face varies widely by type of fishing vessel and fishery, including the associated gear used to catch our seafood. Safety research and training grants are available to address what works best in a specific fleet and/or region and is critical to help prevent injury, or death among U.S. fishermen.
Mining is an age-old occupation, and often runs in families. Coal mine dust causes a range of serious but preventable lung diseases, including chronic obstructive pulmonary disease, coal workers' pneumoconiosis, commonly called black lung, and lung function impairment. New research finds that coal miners are at an increased risk of death from several of these diseases, including lung cancer. The NIOSH Coal Worker's Health Surveillance Program offers free, confidential black lung screenings to coal miners through its mobile unit, with this spring's screenings offered in Indiana and Texas. In recent years, the mining industry has made efforts to increase workforce diversity through the recruitment and retention of women miners. It is critically important to identify occupational safety and health concerns unique to populations that have been understudied to meet the needs of a diverse workforce.
Numerous studies show that firefighters' exposure to smoke and hazardous chemicals released from burning materials may increase the risk of certain types of cancer, but we do not fully understand how firefighters' cancer risk has changed or will change over time. Just this month, NIOSH launched the National Firefighter Registry for Cancer online enrollment system for firefighters across the nation, the largest effort undertaken by the nation to help scientists better understand the link between cancer and firefighting to ultimately improve firefighter health. All U.S. firefighters are encouraged to enroll.
In the construction industry, falls remain the leading cause of death, accounting for almost 40% of all construction fatalities. Next week, NIOSH and several partners, along with thousands of construction companies and workers, will participate in the tenth annual National Safety Stand-Down to Prevent Falls in Construction, a chance to collectively take a break during the workday to focus on fall prevention through safety demonstrations, talks, and trainings. Plan, participate, and send in a success story.
Recently, a blastomycosis outbreak occurred among workers at a paper mill in Escanaba, Michigan. NIOSH was asked by management to conduct a health hazard evaluation of the worksite. The goal of these evaluations is to learn whether workers are exposed to health or safety hazards on the job and to make recommendations to workplaces to prevent work-related injury and illness by controlling hazards. Employees, employee representatives (unions), or employers can ask NIOSH to determine if health hazards are present in their workplace.
Finally, we cannot forget that workplace violence can happen in any workplace. Even public health workers, who are shepherds of community health and safety, can themselves experience an increase in violence, and physical and mental stress. May is Mental Health Awareness Month and NIOSH is actively working to help address the risk millions of U.S. health workers face for mental health problems through its new Health Worker Mental Health Initiative. It is also important to acknowledge that employers, supervisors, and managers can play a vital role in suicide prevention within all industries. NIOSH continues to strive to protect against both visible and invisible workplace injury and illnesses.
We must each do what we can to protect those who show up to work each day to provide goods and services to our Nation and continue to ensure safe and healthful working environments for every worker.  The challenge of generating new research, recommendations, and interventions to protect the safety and health of workers is one that NIOSH staff meet every day. This has been NIOSH's mission since the Institute was created and will continue until every worker comes home each day safe and healthy.
Posted on

by
---
Page last reviewed:
April 28, 2023
Page last updated:
April 28, 2023