Total Worker Health® Symposium: A Closer Look at Keynotes
Posted on

by
We're taking a closer look at the presentations delivered during the 3rd International Symposium to Advance Total Worker Health®. Attendees from across the globe heard from experts in the field during keynote addresses, presentations, workshops, and "bright spots," a new conference feature that highlights successful and innovative interventions in 10-minute presentations. Presentations explored opportunities to improve workers' health and well-being and the safety and quality of work across industries and occupations. Discover the latest strategies emphasizing the Total Worker Health (TWH) approach with this recap of featured sessions (in order of appearance):
Strategic Foresight: A Tool for Advancing Occupational Safety and Health Research and Practice
Work, workers, and workplaces are changing. The symposium theme, "Shaping Work Now and in the Future," suggests that we can take an active role in directing what comes next. In this general session, NIOSH researchers discussed the factors influencing worker safety, health, and well-being. They described a fundamental shift to a more holistic view of the worker and the multifaceted concept of worker well-being. They presented four different possible futures for the field of OSH, focused on mapping and influencing the future. Learn more about this research in Bringing Strategic Foresight to Occupational Safety and Health.
The Black Worker Experience: Through the Lens of Earl Dotter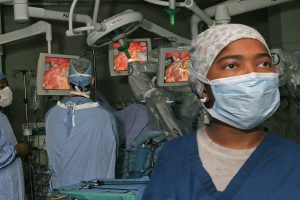 In a moving, inspiring keynote, renowned photojournalist Earl Dotter reviewed the history of the black worker experience, displaying compelling images to depict changes in occupations and industries over the last century. His images told the story of workers in various occupations, like mining and construction, and highlighted disparities and challenges workers faced. He also shared a thought-provoking comparison of imagery of workers in the U.S. during the COVID-19 pandemic, like postal and health care workers, compared to their counterparts working in the 1918 pandemic. Learn more about his work in the article "Black History Month through Earl Dotter's workplace lens."
Participatory Approaches to Improving Working Conditions and Employee Well-being
Dr. Karina Nielsen, chair of work psychology at the University of Sheffield, emphasized the importance of worker participation when changing work policies, practices, and procedures. To change the way work is designed, organized, and managed, participation is key. While participatory approaches can vary, the goal is to create sustainable change and, most importantly, to improve an organizations' ability to manage psychosocial risks. Her presentation identified four focus areas to tackle stressors at the source: work tasks, work content, role clarity, and social relationships. Worker engagement is a defining element of the TWH approach and her presentation highlighted benefits of participation, including giving workers a voice in identifying problems and solutions, and opening dialogue across the workforce. In practice, these approaches led to reduced burnout, increased engagement, and enhanced team functioning. She also shared implications for translating this research to practice:
Participation is not "one size fits all": Tailor interventions to the appropriate culture, sub-culture, and setting
Participation can ensure sensemaking and create a culture of trust and change
Participation can be encouraged and facilitated at all levels, including at the level of top-line organizational leadership down to peer-directed efforts on the frontline
A Historic Moment of Worker Revolt
Saru Jayarama, President of One Fair Wage, presented a timely and passionate keynote on what's happening with low wage workers in the U.S. She reviewed the history of restaurant work in relation to wages. Before the COVID-19 pandemic, the food service industry was one of the largest and fastest growing private sector industries. However, restaurants may now be considered the epitome of low wage work in the U.S. She emphasized occupational health equity issues, going beyond low wage to include issues of discrimination, workplace violence, and sexual harassment. She called upon attendees to analyze the drivers of these issues and to throw out the traditional approaches, opening our minds to new ways of protecting workers' safety and health. Learn more about these challenges and efforts underway in this article from a Center of Excellence for TWH, the Center for Work, Health, and Well-being at the Harvard T.H. Chan School of Public Health: "Using TWH Implementation Guidelines to Design an Organizational Intervention for Low-Wage Food Service Workers: The Workplace Organizational Health Study."
Approaches and Challenges to Improving Conditions of Work Across Industries
Leaders from the Centers of Excellence for TWH shared examples of organizational change interventions during a general session. The interventions focused on the underlying root causes that might influence workers' safety, health, and well-being. This research culminated into the 'All the Right Moves' approach to addressing observed issues. This approach uses worker experiences to drive change within the organization through a four-step process: identify and plan, determine workers experiences, create change, and adapt and sustain. Researchers presented a new channel for worker input and shared leadership, called a Health and Well-being Committee, or HaWC. The HaWC provides a pathway for direct worker input into improving workplace conditions. The panel shared recommendations based on their lessons learned working with the different sectors:
Tailor needs assessment process to the setting to identify priority working conditions
Specify pathway and process for worker input with tools and, if needed, training
Facilitate upper management support and leadership commitment
Ensure resources are available to respond to solutions generated
Anticipate and address contextual barriers that vary across settings
But Wait, There's More!
The symposium featured 8 workshops, 130 sessions, and 23 posters, we wish we could summarize them all! There are many issues relevant to advancing worker well-being and a variety of topics were covered during the symposium. Check out the resources below for background on other topic areas that we couldn't cover:
Are there other topics you want to learn more about? Tell us below!
This blog is the second in a series covering the 3rd International Symposium to Advance TWH. Learn more about the event in the first blog and stay tuned for a summary of the fireside chat with the U.S. Surgeon General.
Emily Kirby, BPH, is a Health Communication Specialist in the NIOSH Office of Communication and Research to Practice.
Posted on

by
---
Page last reviewed:
November 9, 2022
Page last updated:
November 9, 2022