Umbrella Manufacturing
Posted on

by
The blog content comes from the NIOSH Manufacturing Mondays seminar series.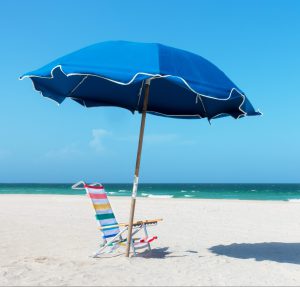 During this time of year many of us will grab an umbrella when walking out the door, a useful device that has been with us for a long time but is seldom thought about until you need one. The umbrella is a vital piece of personal weather protection useful for keeping rain or sunlight off a person. They have also found their way into fashion, popular cocktails, the beach, and our backyards.
Umbrellas were present in some of the oldest civilizations on Earth. Before waterproofed umbrellas were first made, parasols were used in ancient Egypt to protect from the scorching hot environment. However, they never had a need to waterproof these devices. During the 11th century an early form of the umbrella was used by the affluent in China. Umbrellas would not become popular in Europe until trade routes were established during the late 16th century Renaissance. These umbrella canopies were woven out of silk and provided limited water resistance when compared to the rain umbrellas of today, but the distinct canopy shape was unchanged from the earliest documented designs. By the end of the 18th century the rain umbrella was moved towards an everyday item in England and other parts of Europe. The foldable pocket umbrella was invented in 1928 and the folding mechanisms used in most modern umbrellas was introduced in 1969.
The Beehler Umbrella Factory in Baltimore was founded in 1828 and has the distinction of being the location of the very first umbrella factory in the United States. By the 20th century, Baltimore had many successful umbrella factories and became the umbrella capital of the world. Today there are many international companies located in the U.S. and abroad that make umbrella components, parts, assemblies, and whole units.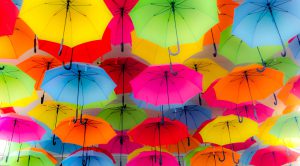 An umbrella has 4 main components: canopy, ribs and stretchers, runner, and shaft. Canopy fabric has changed significantly over the years. Modern umbrellas use microfiber fabrics that are coated with special water repellant finishes. Canopies cannot be created from one piece of cloth due to the motion of opening and closing. Machines cut each section of the canopy that can neatly fold and unfold when stitched together and attached to the ribs. The ribs are usually made from steel or some other metal and responsible for opening and closing the umbrella while holding the canopy fixed to the structure. The stretcher is most commonly connected to the shaft with a runner, which is responsible for controlling the opening and closing mechanism of the canopy. The shaft is often made from wood, steel of aluminum, and sometimes from fiberglass or other plastic types. Collapsible umbrellas have a moveable shaft that can telescope into longer or shorter length.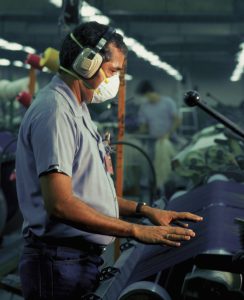 There are many hazards associated with umbrella manufacturing. Although the umbrella industry uses the large-scale factory production, it relies on a significant amount of manual production. Large machines can be used to shape bulk canopy material to size exposing workers to sharp blades and cutting hazards. Workers involved in the production of umbrellas may be at risk of developing musculoskeletal disorders (MSDs). When moving bulk materials mechanical lifts, rollers, and/or carts should be used to reduce the risk of injury.  Height- and tilt-adjustable tables set at elbow height should be used when cutting material. Some environments have airborne fibers and odors that can cause injury and illness if inhaled. Noise from equipment and machinery can cause hearing loss and can be reduced by installing engineering noise controls such as sound curtains, sound blankets, and enclosures. To protect workers from respiratory hazards ventilation systems and enclosures can be used or operations confined to avoid employee exposure. Personal protective equipment could also be used to keep workers safe from hazards during production.
So, remember the next time you're standing next to a stranger in a rainstorm tell them, "…now that it's raining more than ever, know that we'll still have each other, you can stand under my umbrella, ella, ella, eh, eh, eh…" (Confused? click here)
For more information
Umbrella Manufacturing Process – Huifeng Umbrella 
RJ Matetic, MS, PhD, NIOSH Associate Director for Manufacturing
Gary Roth, MS, PhD, NIOSH Manufacturing Sector Program Co-Coordinator
Jenny Topmiller, MS, NIOSH Manufacturing Sector Program Co-Coordinator
Richard Current, PE, NIOSH Manufacturing Sector Program Assistant Coordinator
Adam Smith, PhD, NIOSH Manufacturing Sector Program Assistant Coordinator
The blog content comes from the NIOSH Manufacturing Mondays seminar series. The Manufacturing Program uses Mondays to highlight happenings within the program and throughout the world of Manufacturing. Some weeks feature seminars by internal or external speakers while others will share recent news and interesting facts related to the Manufacturing community. Many of these topics will also be highlighted here on the NIOSH Science Blog. To share your ideas for future topics contact us at mnf-program@cdc.gov.
Mention of any company, product, or service is for informational purposes only and does not constitute endorsement by the National Institute for Occupational Safety and Health, the Centers for Disease Control and Prevention, or the U.S. Department of Health and Human Services.
Posted on

by
---
Page last reviewed:
January 31, 2023
Page last updated:
January 31, 2023