Workers Memorial Day 2022: Statement from NIOSH Director John Howard, MD
Posted on

by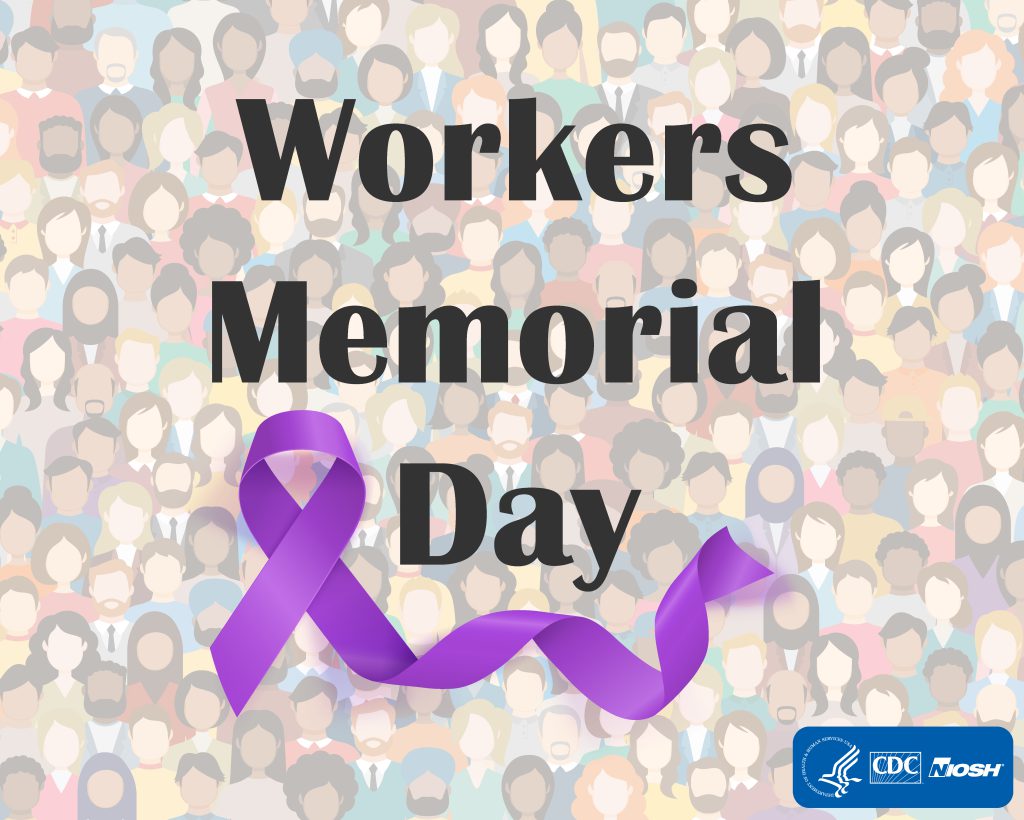 Workers Memorial Day, observed each year on April 28, is an opportunity for us to commemorate workers who were injured, became ill, or died because of exposures to hazards. As scientists, we often look at numbers to tell one part of the story, and within the last two years there have been some trends that are telling. It is interesting to note that nonfatal workplace injuries and illnesses decreased 5.7 percent over 2019. However, in 2020, 4,764 fatal work injuries were recorded in the United States, a 10.7 percent decrease from 2019.
As we commemorate Workers Memorial Day, we remember that behind every fatality number is a worker. Someone who has family, friends, community, and a life. NIOSH remains committed to protecting workers across occupations and industries, addressing threats to workers' safety, health, and well-being, and collaborating with partners to address emerging and long-standing risks.
Despite a decrease in the overall fatality rate, in 2020, more than 1 in 5 workplace fatalities involved Hispanic or Latino workers. Everyone should have the opportunity to be as healthy as possible and this is a sobering reminder that we must do better. The NIOSH Occupational Health Equity program seeks to eliminate health inequities in work-related injuries and illnesses that are closely linked with social, economic, or environmental disadvantage. In addition, we recently teamed up with HeroX, a leading platform and open marketplace for crowdsourced solutions, to launch the "NIOSH Protective Clothing Challenge—Leaving No Body Unprotected." This new challenge seeks to improve equitable access to protective clothing for the broad spectrum of U.S. workers, who vary in size, gender, body shape, ethnicity, religion, and work activity.
The COVID-19 pandemic introduced additional elements of fatigue, strain, stress, loss, and grief for healthcare workers. CDC reports that more than 4,100 healthcare workers have died since the start of the pandemic. While more research is needed to understand the true impact of COVID-19, we know that mental health conditions have been on the rise among health care workers and the general population since the start of the COVID-19 pandemic. Workers providing health services, such as first responders, nurses, physicians, and public health workers, face many challenges as part of their job that can lead to work-related stress and we know that work stress is one major cause of poor work-related mental health.
To address health worker mental health, NIOSH will launch an initiative this year to prevent and address a range of adverse mental health outcomes. NIOSH sought input from partners and the public on current evidence-based, occupational safety and health interventions to prevent work-associated stress, support stress reduction, and foster positive mental health and well-being among the nation's health workers. We are analyzing this input and plan to award a contract for a national social marketing campaign to promote awareness and education among employers and health workers about mental health.
If we know the cause of death and can find patterns and associations with work, that data can contribute to increased knowledge around workplace risks and stressors and interventions to prevent identified risks. NIOSH is working to understand the links between cause of death and work through the National Occupational Mortality Surveillance (NOMS) program. The NOMS program uses information from death certificates to evaluate patterns in causes of death by occupation and industry. Recently, technological innovations allowed updates to NOMS, including efforts to improve the industry and occupation data quality.
Together with our partners, we will continue our work to generate new knowledge in the field of occupational safety and health to make our nation's workplaces as safe and healthy as possible for all workers across America. Please join me on behalf of NIOSH in honoring those workers who have been killed or injured on the job and remembering their families.
John Howard, MD, NIOSH Director
Posted on

by
---
Page last reviewed:
April 28, 2022
Page last updated:
April 28, 2022