Partnering to Design Safe and Healthy Workplaces for the Construction Workforce
Posted on

by
The NIOSH Office of Construction Safety and Health has partnered with industry, government, academia, insurance companies, and labor to address construction-related injuries and fatalities. Working together, these partnerships can tackle many of the serious issues the Construction industry faces today. Prevention through Design (PtD) is an important approach to addressing many of these hazards. A recent NIOSH Science Blog: Prevention Through Design  explains how PtD works. PtD identifies workplace risks early in the planning stages of the construction lifecycle so that hazards can be eliminated or reduced before work begins. Potential hazards are anticipated and removed in the design of work methods and operations, processes, equipment, tools, products, materials, and new and old technologies. Thus, PtD is an upstream primary prevention approach that can effectively eliminate or minimize the risks before they result in injuries or illnesses downstream.
NIOSH-supported construction research projects often include a PtD component whereby the targeted safety features are embedded into the design of the structures and equipment being used by workers. Some past examples of this include NIOSH work on asphalt paving, asphalt milling, and buy quiet. Other examples include safety related recommendations for ingress/egress on scissor lifts using a gate rather than a chain – a gate to exit the lift is a safer design than ducking under a chain.  The gate allows workers to remain stable and not lose their balance, reducing the risk of a fall.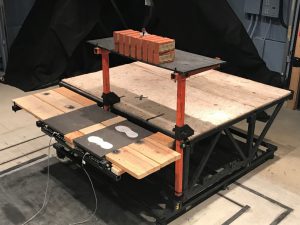 Another example can be seen in a newly published NIOSH infographic based on a NIOSH publication on the use of a production table for improved material handling on mast climbing work platforms: Production Tables on Mast Climbing Work Platforms Can Reduce Back Injuries and Falls  [1]. Placing materials on a working table in front of masons allows for better posture for material handling than current methods. This design reduces awkward postures that can result in musculoskeletal disorders for the workers.
Likewise, a multi-functional guardrail system was developed and tested to provide flexible fall protection for residential roofers: NIOSH Guardrail System for Residential Roofing. The preferred method of reducing any fall hazard is to follow the hierarchy of controls, and to "design out" the hazard itself. NIOSH researchers used this PtD approach while developing the guardrail system on roofs—to eliminate a fall hazard by separating workers from the potential fall area.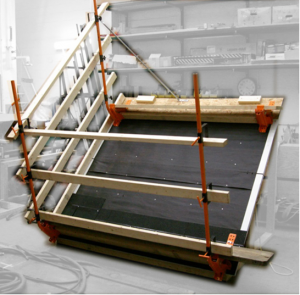 While many NIOSH projects have investigated safety issues related to a specific burden and need in the industry, countless opportunities remain to promote and implement PtD in practice. CPWR — The Center for Construction Research and Training has developed a PtD focused website containing many resources, webinars, and commercially available solutions by topic. Users can search their website for many of the PtD solutions here: CPWR PtD Resources.  Another step to continue building the momentum in this direction is a five-year NIOSH conference grant awarded to Arizona State University to advance PtD in construction. Arizona State has one of the largest engineering programs in the US and a well-respected school of Construction Engineering and Construction Management.
Prevention through Design Workshops
With support from NIOSH, Arizona State University (ASU) is hosting a series of five workshops highlighting PtD in Construction as a part of their 5-year  ASU PtD Initiative.  The next workshop is expected to occur  May 25–26th, 2022. Previous workshops have highlighted the need to identify, address, and mitigate construction hazards by engaging with owners, designers, and contractor organizations.
The first workshop, PtD Workshop 2020: Current and Future State-of-the-Art on Research, Practice, and Education, focused on academia and professional organizations. Specifically, on the safety education requirements for current accreditation criteria in higher education as set forth by the Accreditation Board of Engineering and Technology, American Council for Construction Educators, and the National Architectural Accrediting Board. Workshop discussion topics included application of the hierarchy of controls for PtD, obstacles for teaching PtD principles, and how PtD might be part of the process of accreditation. The premise was that effectively teaching and implementing a PtD approach in Construction protects workers by eliminating or minimizing safety hazards and risks. Presenters noted that design-related causes were identified in incident reports in more than two thirds  of the fatalities in the U.S. construction sector. In countries where PtD is common practice, the construction fatality rate is four times less than in the United States.
The second workshop,  Prevention through Design as We Move into the Post-COVID Era, held remotely  in May of 2021 highlighted the importance of PtD in Construction, considering the changes COVID-19 has forced on the industry. This workshop brought together construction companies and industry organizations, as well as experts from universities, to discuss lessons learned in PtD over the prior year and how they could be translated to future PtD work such as online collaboration, modularization, artificial intelligence, work-site ventilation, and future building design considerations, for example, Lessons Learned during COVID for Airport Design – A Case Study. Presentations also focused on PtD in the Australian Construction industry, the importance of legislation and regulations, autonomous vehicles and machine learning, modularization as a driver of PtD, and the role of PtD in protecting worker health.
Continue to check the ASU PtD 2022 Workshop website for sign up information and we hope to see you there!
You can find out more about the Prevention through Design initiative and work that NIOSH has been doing on our PtD website. If you have any new and exciting PtD solutions you've used or seen in construction, please consider  submitting them  for the annual PtD Award that NIOSH presents in partnership with the American Society of Safety Professionals  and the National Safety Council. The annual award is given out to individuals, teams, businesses, and other organizations that have eliminated or reduced hazards using PtD methods. The submission deadline is May 2nd, 2022.  Please also use the comment section below to share with us  the PtD efforts you have used or experienced to help keep our construction workforce safe!
LT Bryan Wimer is a Safety Engineer in the Protective Technology Branch in the Division of Safety Research at NIOSH.
Scott Earnest, PhD, PE, CSP, is the Associate Director for Construction Safety and Health at NIOSH.
CDR Elizabeth Garza, MPH, CPH, is Coordinator for the Construction Program in the Office of Construction Safety and Health at NIOSH.
J'ette Novakovich, PhD, MS, MA, is the Assistant Coordinator for the Construction Sector Program and Writer-Editor in the Division of Science Integration.
Douglas Trout, MD, MHS, is Deputy Director, Office of Construction Safety and Health at NIOSH.
References:
[1]. Christopher S. Pan, Xiaopeng Ning, Bryan Wimer, Joyce Zwiener, Tsui-Ying Kau. (2021). Biomechanical assessment while using production tables on mast climbing work platforms. Applied Ergonomics 90 (2021).
[2]. Thomas G. Bobick; E.A. (Tony) McKenzie, Jr., (2011). Construction Guardrails: Development of a Multifunctional System. Prof. Safety 56 (01): 48–54.
Posted on

by
---
Page last reviewed:
March 8, 2022
Page last updated:
March 8, 2022