Noise Myths Debunked – Fact and Fiction Behind all the Cicada Buzz
Posted on

by
This is the first installment of a series of science blogs that will address common myths attributed to noise and hearing loss.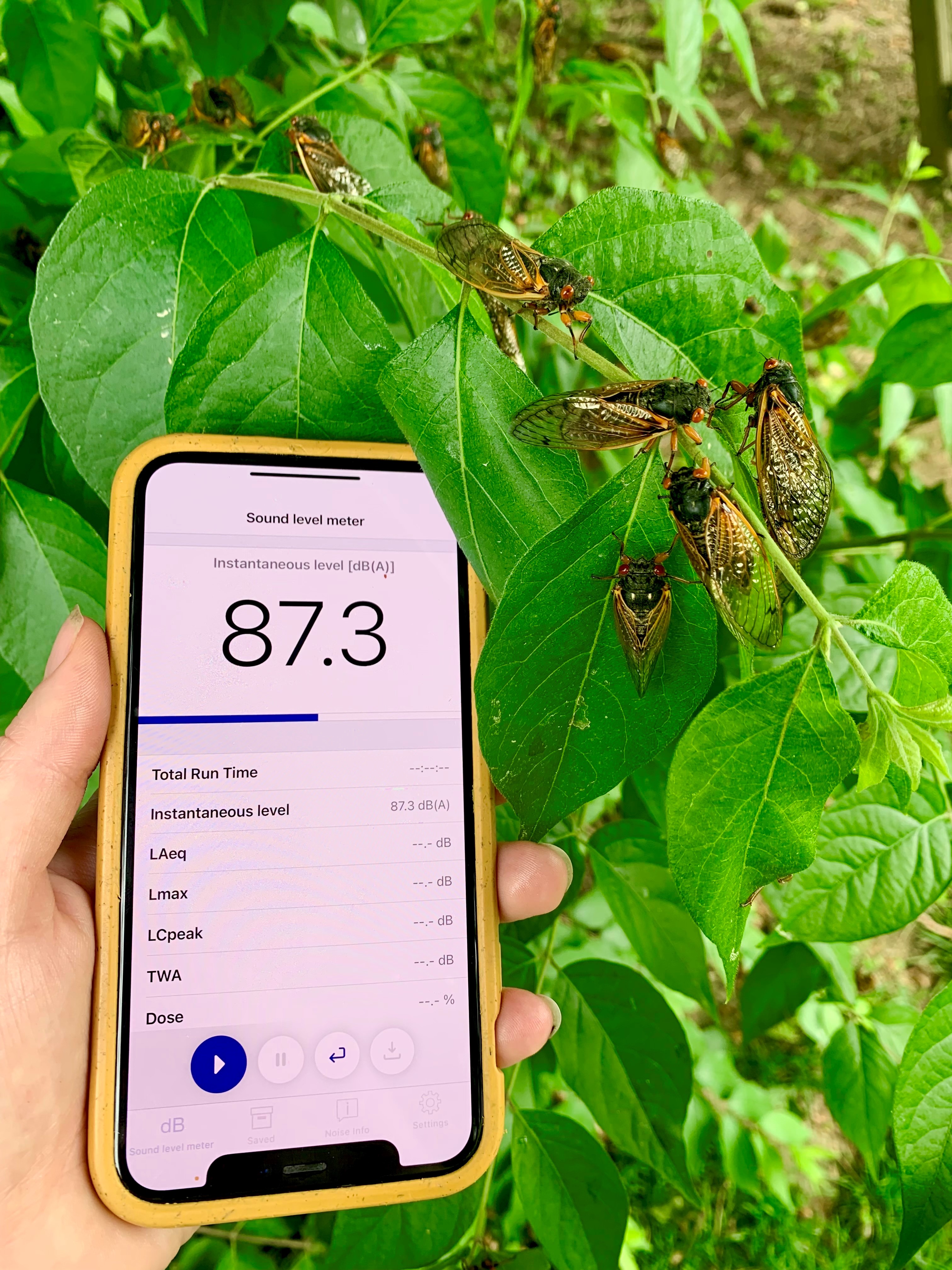 For much of the eastern U.S., 2021 has been the year of the cicadas. The Brood X insects have made their presence known after 17 years of living underground, with their characteristic buzz that rises with the temperature each day. Ranking among the loudest insects in the world, their unique call has prompted a swarm of interesting articles discussing how loud these bugs can be. Headlines such as "Trillions of lawnmower-loud cicadas emerging," "The cicada's deafening shriek , or "Cicadas' chirp could cause hearing damage were common throughout the spring and early summer.
Journalists and citizens armed with sound level meters or smartphone apps reported noise levels ranging from 90 – 100 decibels (dB). These levels are well above the 85 dB that is the basis of the NIOSH Recommended Exposure Limit (REL) for noise, leading to some faulty conclusions. One story, for example, reported that cicada sounds are "right up there with a jet plane at take-off or concert" and are "the type of sound that breaks the noise ordinance and is illegal in most communities." In some cases, articles attributed the misinformation to CDC and NIOSH scientists, making false statements such as "According to the U.S. Centers for Disease Control and Prevention (CDC), exposure to sounds of cicada buzzing, which can reach 100 decibels, for 15 minutes can be enough to cause noise-related hearing loss."
While we are glad the cicada invasion has raised awareness of the hazards of excessive noise exposure, we thought we should take this opportunity to set the record straight and address a common myth about noise exposure and noise-induced hearing loss.
Common myth: Exposure to noise above a certain level will automatically cause hearing loss.
It is true that noise exposures at or above 85 A-weighted decibels (85 dBA) are considered hazardous to hearing. However, safe noise exposure limits are established assuming repeated exposures over long periods of time. The NIOSH REL has been set to prevent hearing loss from noise at work over 8-hour workdays, 40-hour work weeks, and a 40-year working lifetime1. Other environmental and recreational noise limits have been established assuming different durations and periods of exposure, though most are based on the same scientific evidence. For example, the 70 dBA noise limit established by the Environmental Protection Agency2 was set to prevent hearing loss over 24-hour exposure periods for 70- year lifetime. A previous NIOSH science blog describes the similarities and differences between occupational and environmental limits. The Occupational Safety and Health Administration (OSHA) prohibits exposure to continuous noise exceeding 115 dBA sound level.
Fact: Noise level alone is not enough to provide appropriate context about the risk to hearing. Exposure duration and how often it's repeated and for how long are critical to understanding risk.
Let's take a brief look at factors in addition to the instantaneous sound level that influence hearing risk.
Exposure duration – How long a sound lasts is just as important as how loud the sound is. The trade-off between intensity and duration is known as the "exchange rate." NIOSH recommends a 3-dB exchange rate, meaning that the time you can safely be exposed to a certain level of noise is cut in half with each 3-dB increase in sound level, as shown in the following table:

| | | | | | | | |
| --- | --- | --- | --- | --- | --- | --- | --- |
| Average noise level | 82 dBA | 85 dBA | 88 dBA | 91 dBA | 94 dBA | 97 dBA | 100 dBA |
| Safe duration | 16 hours | 8 hours | 4 hours | 2 hours | 1 hour | 30 minutes | 15 minutes |

As you can see, exposure to sound levels of 85 dBA and even higher are not necessarily immediately hazardous to hearing. Loud noise becomes hazardous with duration, and that duration means repeated and prolonged exposures.

2. Exposure period – A single exposure to a loud noise (such as the sound generated by cicadas) – even when it exceeds the safe duration – will not necessarily damage your hearing. Most noise-induced hearing loss is caused by repeated exposure to hazardous noise. In rare cases, an extremely loud, impulsive noise can cause immediate hearing damage (for example, a gunshot or blast very near the ear). Sometimes a single exposure can cause a temporary change in hearing. But – just as it takes walking over a grassy area over and over and over to wear the grass down – it generally takes repeated noise exposures over time to permanently damage hearing.

3. Exposure distance – Although occupational noise levels are typically measured at the worker's location, sometimes measurements are made near the source of the noise and may not reflect the actual risk to someone located farther away. Exposure risk changes with distance from the sound source – the sound level drops by around 6 dB for each doubling of distance from the original measurement location. For example, the level of cicada noise measured 3 feet from a heavily infested tree may approach 100 dBA. However, the noise level will be substantially lower if you are standing farther away (e.g., 94 dBA at 6 feet, 88 dBA at 12 feet, 82 dBA at 24 feet, etc.).

Still, NIOSH recommends protective actions whenever noise levels exceed 85 dBA, regardless of duration.

Although it takes repeated exposures of sufficient duration to cause hearing loss, NIOSH recommends that preventive measures be used any time the noise is 85 dBA or higher… regardless of duration. This is not because the sound is immediately dangerous to hearing, it is because you don't always know how long the sound will last or what other noise exposures you might accumulate over time. In addition, susceptibility to noise-induced hearing loss varies across individuals, and we can't know whether a particular person is highly susceptible to noise effects until after it is too late. What's more, noise is associated with problems other than hearing loss, such as stress and hypertension3 and tinnitus. Imagine hearing a sound like cicadas—all day, every day—even while you try to sleep… for some people that is the reality of tinnitus. Reducing noise levels can help prevent these other unwanted effects of noise. Remember this: If the noise level exceeds 85 dBA (use the NIOSH SLM app to check), it's always a good practice to move away or wear some hearing protection.

This is the first blog in a new series addressing myths about hearing loss. Look for future blogs that address issues related to the feasibility of noise controls, noise and ototoxic chemicals, music and safe listening, and hearing protection devices. Can you think of a common myth that you'd like us to discuss? We would love to hear from you.

For more information on preventing hearing loss visit the NIOSH website or read our related blogs.

NIOSH Noise and Bio-Acoustics Team

References

1. NIOSH [1998]. Criteria for a recommended standard: occupational noise exposure. DHHS (NIOSH) Publication Number 98-126. https://www.cdc.gov/niosh/docs/98-126/

2. EPA [1974]. Information on levels of environmental noise requisite to protect public health and welfare with adequate margin of safety. EPA/ONAC 550/9-74-004. http://nepis.epa.gov/Exe/ZyPDF.cgi/2000L3LN.PDF?Dockey=2000L3LN.PDF

3. Kerns E, Masterson E, Themann C, Calvert G [2018]. Cardiovascular conditions, hearing difficulty, and occupational noise exposure within US industries and occupations. Am J Ind Med 61(6), 477-491. doi: 10.1002/ajim.22833
Posted on

by
---
Page last reviewed:
July 20, 2021
Page last updated:
July 20, 2021