Jobs and Exposures That Increase Risk for Developing COPD Later in Life
Posted on

by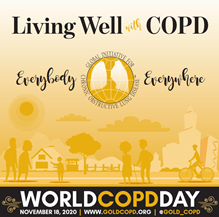 The 19th annual World COPD Day is November 18, 2020. COPD – chronic obstructive pulmonary disease – includes the chronic lung conditions of chronic bronchitis and emphysema, which are characterized by airflow obstruction and breathing-related problems. COPD is a major cause of illness, with an estimated 300 million cases worldwide, and is the 3rd leading cause of death globally. There is no cure for COPD.
Cigarette smoking is the leading preventable cause of COPD. Efforts to prevent COPD focus on limiting exposure to smoking. Occupational exposures are important causes of COPD, contributing to an estimated 14% of all cases and 31% of cases among never smokers.[I]
Workplace agents associated with COPD include:
mineral dusts (coal mine dust, silica, asbestos),
organic dusts (cotton, wood, grains),
metal/welding fumes (cadmium),
diesel/engine exhaust fumes,
asphalt/tar fumes or vapors in road and roofing operations,
smoke from fires, and
other chemical gases or vapors.
Prevention efforts specific to the industry or agent involved can minimize exposures to these work-related COPD agents and prevent the onset of new cases and worsening of existing cases.
NIOSH recently published new research in the American Journal of Industrial Medicine that suggests working in certain industries and occupations can increase the risk of developing COPD just before or during retirement. Additionally, exposure to specific chemicals appears to increase risk within some industries and occupations.
The research used survey data that followed nearly 8,000 people for 20 years into retirement, allowing researchers to examine the downstream effects of occupational exposures occurring during the working years.
The study found risks for COPD were significantly elevated for several industries:
mining
blast furnaces
steelworks
rolling and finishing mills
groceries and related products
automotive repair shops
Occupations with significantly elevated risk for COPD were:
maids and housemen
farmworkers
vehicle/mobile equipment mechanics and repair workers
material-moving equipment operators
non-construction laborers
Elevated risks were observed among workers in several industries and occupations reporting specific exposures to:
asbestos in the blast furnace/steelworks/rolling/finishing mills industries,
aerosol paint in automotive repair shops,
pesticide among farmworkers, and
dust and ash in both material moving equipment operators and non-construction laborers.
Following a sizeable group of respondents for more than two decades allowed researchers to look at industry and occupation in more detail, clarifying the role of workplace exposures in COPD risk. The study was not without limitations, however. Participants may have had additional exposures not identified in the survey. In addition, not all exposures occurring within industries and occupations could be evaluated.
COPD is associated with significant disability and economic costs. This study highlights that exposure prevention and medical monitoring are warranted for groups of workers at increased risk of COPD.
Sharon R. Silver, MS, MA, is lead research epidemiologist in the NIOSH Division of Field Studies and Engineering
Walter A. Alarcon MD, MSc, is lead research epidemiologist in the NIOSH Division of Field Studies and Engineering
Jia Li, MS, is a statistician in the NIOSH Division of Field Studies and Engineering
More information from NIOSH:
Silver SR; Alarcon WA; Li J. Incident chronic obstructive pulmonary disease associated with occupation, industry, and workplace exposures in the Health and Retirement Study. Am J Ind Med. 2020 Oct; :[Epub ahead of print] https://doi.org/10.1002/ajim.23196
World COPD Day – November 18th
Online video series Faces of Work-related COPD
Spirometry Longitudinal Data Analysis (SPIROLA) Software
[i] Blanc PD, Annesi-Maesano I, Balmes JR, et al. The occupational burden of nonmalignant respiratory diseases: An Official American Thoracic Society and European Respiratory Society Statement. Am J Respir Crit Care Med;199:1312–1334.
Posted on

by
---
Page last reviewed:
November 18, 2020
Page last updated:
November 18, 2020