Manufacturing Day 2020: Staying Safer in 2020
Posted on

by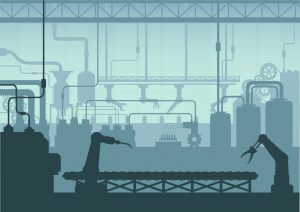 National Manufacturing Day 2020 is a day devoted to educating the public about manufacturing and manufacturers.
About the Manufacturing Sector
Manufacturing is the fourth largest industrial sector in the United States, currently employing about 15.6 million Americans, [1] representing aabout 11% of the gross domestic product. [2] The White House has declared manufacturing to be a national priority. [3] Manufacturing workers experience a higher percentage of nonfatal injuries and illnesses per capita than the US workforce as a whole. In 2017, the number of nonfatal injuries and illnesses within manufacturing was 4.26 million (12.5%). [4]
Manufacturing workplaces are evolving as quickly as technology changes, and employers and workers must adjust to maintain safe workplaces. Advanced manufacturing technologies, such as additive manufacturing and robotics, are changing the nature of work and are at the forefront of innovation and technical development. Many of these technologies have dedicated advanced manufacturing institutes, such as America Makes and Advanced Robotics for Manufacturing. These institutes represent a combined investment of both public and private sectors to push the envelope of technical capability and improve the position of American manufacturing. [5]
The National Institute for Occupational Safety and Health's (NIOSH's) Advanced Manufacturing Initiative and the highlighting of related technologies within the Future of Work Initiative represents the Institute's own commitment to keeping safety apace with the rate of innovation within these fields. [6-7] For additive manufacturing facilities, NIOSH developed workplace resources to provide information to handle metal powders and thermoplastic filaments safely. [8-9] The NIOSH Center for Occupational Robotics Research investigates the far-reaching implications for safety and health, from ergonomics of exoskeletons to behaviors of autonomous systems. [10] NIOSH has also partnered with America Makes and Advanced Robotics for Manufacturing to ensure responsible development of these technologies. [11-12]
Challenges in Manufacturing During the COVID-19 Pandemic
In addition to the challenges that the fast pace of technological development poses, safe, modern manufacturing must also adapt to changing circumstances. 2020 has been full of extraordinary challenges for manufacturers, in no small part due to the COVID-19 pandemic. The pandemic has forced manufacturers to rethink what makes and maintains a healthier workplace, while simultaneously managing to continue production of essentials including food, medicine, and equipment; and meeting new demands to handle the hazards related to COVID-19, including increased production of sanitizers, disinfectants, as well as personal protective equipment (PPE) of all kinds (particularly respirators).
Advanced manufacturing institutes have demonstrated how new technology can help adapt to meet sudden demand:
In this way, the fast pace of adaptation in the manufacturing environment helped meet sudden needs during this public health crisis.
How the National Occupational Research Agenda (NORA) Is Helping to Guide Manufacturing During the COVID-19 Pandemic
Each firm and facility might face different challenges in mitigating the risks of COVID-19. NIOSH and the Occupational Safety and Health Administration have worked together to develop guidance and key tools for manufacturers to identify and address COVID-19 hazards in the workplace. [15] The diversity of products and processes means that best practices in the manufacturing sector do not always translate directly between industries, workplaces, and even worksites. Information sharing remains crucial to allow companies that develop robust solutions to share them. To this end, the National Occupational Research Agenda (NORA) Manufacturing Sector Council dedicated a session of its May 2020 meeting specifically for its members to share COVID-19 response strategies. NORA is a partnership program that stimulates innovative research and improves workplace practices through 17 sector and cross-sector councils. These councils are groups of interested stakeholders that set occupational safety and health research priorities for the nation and help gather and disseminate information among themselves, with NIOSH, and with other audiences. The Manufacturing Sector Council specifically focuses on bringing together individuals and organizations within the manufacturing sector to form partnerships, share information, and disseminate solutions that work.
After the May 2020 meeting, the Manufacturing Sector Council launched a workgroup to combine and disseminate information to help manufacturers adapt to the challenges they are facing during the pandemic. With members including labor groups, academic institutions, and a wide variety of industries, the workgroup has a large array of expertise to draw on in problem solving. This allows manufacturers to develop ideas and communicate at the speed of business, which helps them better respond to immediate needs. This year, the Council also welcomed members from the National Association of Manufacturers. Interested public stakeholders, particularly manufacturers interested in joining the Manufacturing Sector Council should contact either the NORA Coordinator or the Council Co-chair.
The NIOSH Manufacturing Program Is Working to Address Challenges
In the past year, American workplaces have experienced many changes. The NIOSH Manufacturing Program works to address the challenges resulting from changing circumstances and technology. The Program created a dedicated steering committee to allow for more input from other experts across NIOSH. The Program will also host a seminar series to create opportunities for the Program, Council, and broader public to learn directly from manufacturers and researchers on a variety of related topics. Those who want to learn more should contact the Manufacturing Program Manager or Coordinators for additional information. NIOSH remains committed to the safety and health of manufacturing workers by providing guidance to address potential hazards within the constantly evolving workplace.
Gary A. Roth, MS, PhD, is a Health Scientist in the NIOSH Division of Science Integration.
Adrienne Eastlake, MS, RS/REHS, MT(ASCP), is an Industrial Hygienist in the NIOSH Division of Science Integration.
References
Posted on

by
---
Page last reviewed:
October 2, 2020
Page last updated:
October 2, 2020