Statement by Dr. John Howard on the September 11th National Day of Service and Remembrance 2020
Posted on

by
Nineteen years ago, we faced the unimaginable. The events of September 11th, 2001, have left a permanent mark on us all. Today we remember the lives lost on that fateful day, as well as the bravery, resilience, and sacrifice shown in the face of tragedy by responders and survivors.
Each Day of Remembrance is also a chance for reflection about 9/11. Almost two decades later, many responders and survivors still suffer the long-term health effects, both physically and mentally. Their resolve and health are now being further tested by the COVID-19 pandemic. The World Trade Center (WTC) Health Program continues to provide expert WTC-related medical care to this community.
With each passing year, it becomes more imperative that those that may be eligible for the WTC Health Program learn about how to enroll. It is not too late. Some WTC-related health conditions can take many years to develop. If you or someone you know might be eligible for the WTC Health Program, please visit our website at cdc.gov/wtc or call 1-888-982-4748 for more information on how to apply.
Today and every day, we will never forget.
John Howard, M.D.
Administrator, World Trade Center Health Program
Director, National Institute for Occupational Safety and Health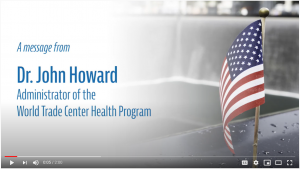 About the World Trade Center Health Program
The WTC Health Program provides medical monitoring and treatment services to eligible 9/11 responders and survivors for certified WTC-related health conditions. Care is available throughout the country with several Clinical Centers of Excellence in the NY metropolitan area and a Nationwide Provider Network.
The WTC Health Program has surpassed 100,000 members, with over 79,000 responders and over 26,000 survivors as of June 30, 2020. Almost 56% of members have at least one certified WTC-related health condition.
Top conditions certified by the Program include chronic rhinosinusitis, gastroesophageal reflux disease (GERD), asthma, cancers, sleep apnea, and post-traumatic stress disorder (PTSD).
For more information about WTC Health Program, including how to apply, covered conditions, Program statistics, and information on WTC-related research, please visit the WTC Health Program website.
Posted on

by
---
Page last reviewed:
September 11, 2020
Page last updated:
September 11, 2020