Take Action to Protect Your Hearing
Posted on

by
In the United States, hearing loss is the third-most common chronic physical condition among adults after hypertension and arthritis. About 22 million U.S. workers are exposed to occupational noise each year. About 12% of the U.S. working population has hearing difficulty and around 58% of the hearing difficulty among U.S. workers is attributable to occupational exposures. Within every industry sector, there are some workers exposed to hazardous noise levels, although some workers in mining, construction, manufacturing, and services have been found to be at especially high risk of occupational hearing loss.
Noise is produced from a variety of machinery, tools and other mechanisms. Engines, drills, pumps, stamping presses, conveyors and other types of machinery are just a few of the noise hazards. In some situations, workers traverse the areas on foot around these noise hazards. In other cases, workers are stationed near loud equipment for an entire work shift.
Occupational safety and health professionals use the Hierarchy of Controls to determine how to implement feasible and effective controls of occupational hazards; in this case, noise. This approach groups actions by their likely effectiveness in reducing or removing the noise hazard. To the extent feasible, engineering controls, administrative controls, and work practices should be used to ensure that workers are not exposed to hazardous noise levels. Engineering controls require physical changes to the workplace, such as redesigning equipment to eliminate noise sources and constructing barriers that prevent noise from reaching a worker. If engineering controls are not feasible, employers should explore potential administrative controls. These are actions that include scheduling workers to rotate time in noisy areas to minimize exposure and providing quiet and convenient lunch and break areas.
Employers should provide access to a comprehensive hearing conservation program for workers whose daily noise dose meets or exceeds the Occupational Safety and Health Administration (OSHA) or Mine Safety and Health Administration (MSHA) action level of an 8-hour Time-Weighted Average sound level (TWA) of 85 decibels. In addition to employer-based actions, workers can take several simple steps to reduce their occupational noise exposure and, in turn, reduce their chance of acquiring occupational hearing loss. A new infographic from NIOSH summarizes these steps.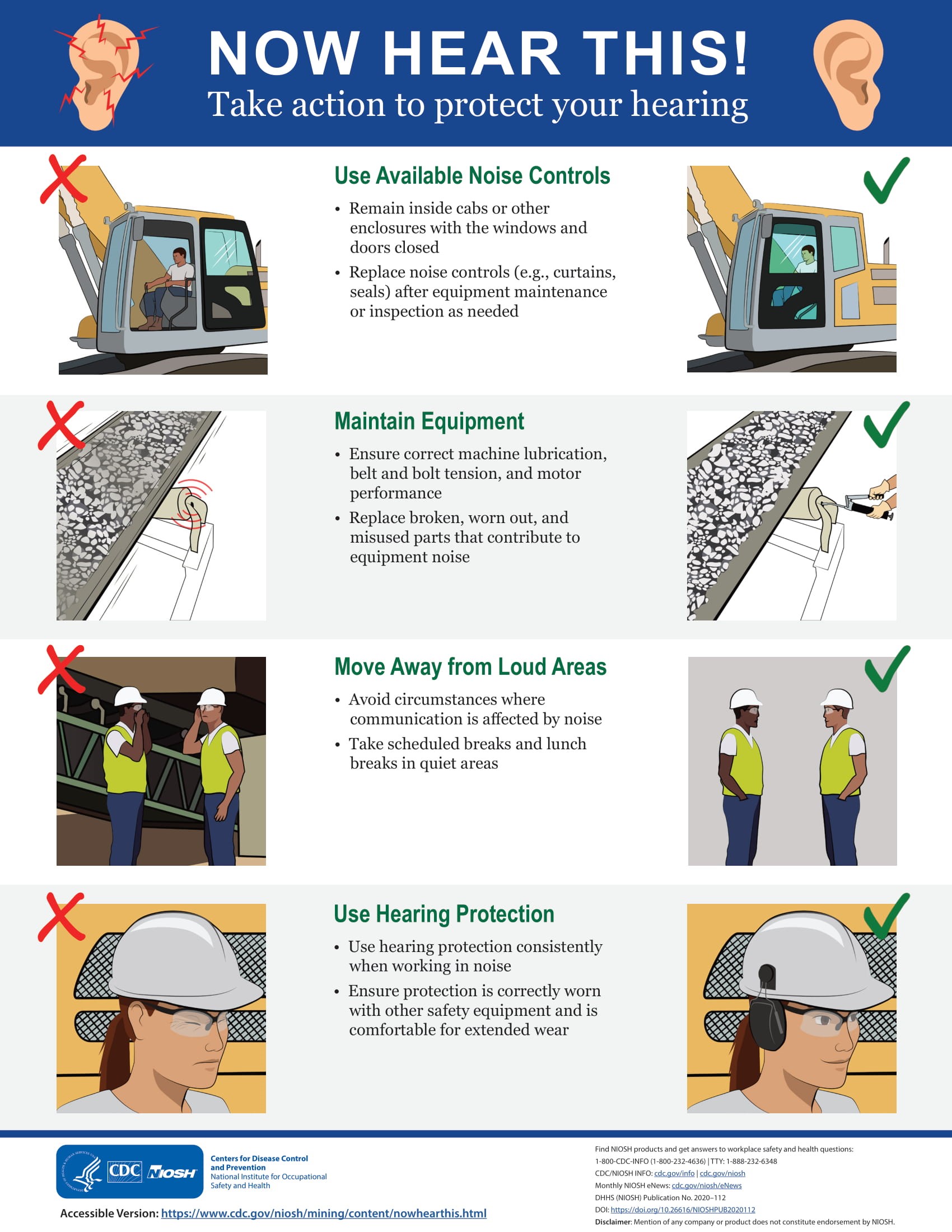 First, workers should use noise controls that are available. For example, keep cab doors and windows closed. Use existing control rooms or booths when available. If acoustic barriers or materials have been installed, do not remove them and if they become damaged report to management.
Next, maintain equipment. Machinery and vehicles in good repair tend to make less noise. Keep bearings, and other moving parts properly lubricated to avoid squeaking. Maintaining proper belt tension and other set forces can reduce the noise generated by parts of machinery striking against itself.
Also, when available, move to quiet areas. If specific work does not need to be done in a loud area, move it to a quieter space. Take breaks in quiet areas and move away from operating machinery or equipment for conversation. It will be easier to communicate and protect your hearing.
Last, use available hearing protection. Find a hearing protector that you can wear comfortably and consistently the entire time you are in noise. A variety of hearing protection types are available that can be used with other PPE such as hard hats and safety glasses. The noise reduction rating isn't always the most important factor in choosing hearing protection. Hearing protection that is comfortable enough to maintain during your entire noise exposure is often the best choice.
These steps are easy to implement, inexpensive or no-cost and can drastically reduce worker noise exposure in various occupational settings. These steps can be accomplished with little to no oversight from management or other individuals. Workers can proactively protect their hearing from occupational noise exposure by taking the small steps listed above.
Please help us distribute this infographic and blog to workers at risk for noise-induced hearing loss.
Amanda Azman, Au.D. is lead audiologist in the NIOSH Pittsburgh Mining Research Division. 
This blog was created in collaboration with the NORA Hearing Loss Prevention Cross Sector Council.
For more information on noise, occupational hearing loss and protecting your hearing visit:
Occupational Hearing Loss Surveillance
Posted on

by
---
Page last reviewed:
August 28, 2020
Page last updated:
August 28, 2020