Stand-Down for Falls in Its 7th Year: Fatal Falls are Falling
Posted on

by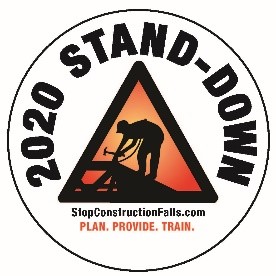 The National Campaign to Prevent Falls in Construction was launched in 2012 through the NORA Construction Sector Council with leadership from NIOSH, OSHA and CPWR – The Center for Construction Research and Training. Each year as part of the Campaign, safety stand-downs are held by employers across the country to focus on fall prevention.
The 2020 National Safety Stand-Down to Prevent Falls is set for September 14–18 to coincide with Construction Safety Week.
Individual safety stand downs are hosted by employers who choose to set aside time during the workday and educate workers and supervisors about the risks associated with construction falls and how to reduce these risks.
Over the last few years, thousands of companies have participated in the Safety Stand-Down, reaching millions of construction workers, across all 50 states and internationally. The Campaign is intended to encourage and educate construction contractors on how to prevent falls from heights on their worksites following three simple guidelines: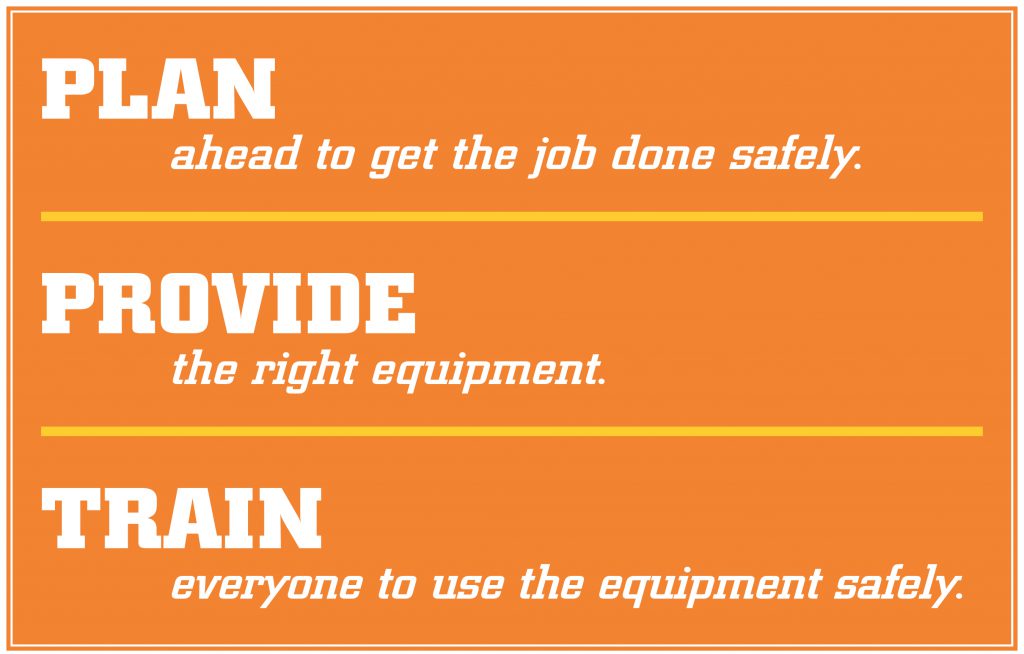 Falls remain the leading cause of construction-worker fatalities, accounting for one-third of all on-the-job deaths in the industry. Most affected are small businesses, roofers, immigrant workers, and older workers over the age of 65. Each year, to help promote the Campaign and Stand-Down events, NIOSH, CPWR, along with the NORA Construction Sector Council Falls Working Group, work collaboratively to develop educational materials (in English and Spanish) for social media (#StandDown4Safety), presentations, and print  (see 2020 infographics below).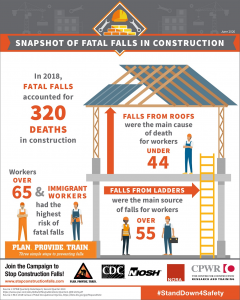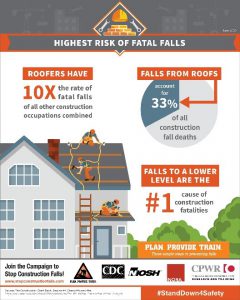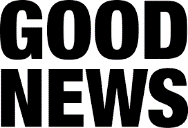 The National Campaign to Prevent Falls in Construction is showing signs of success. Construction still has the most fatal falls out of all industries and represents 51% of all falls nationally. However, in the past two years, we have seen a decrease in many of the types of falls. While fatal construction falls increased in 2014 and 2015, reaching a peak in 2016, there has been a steady decline since 2017 in fatal falls from: structures and surfaces, scaffolds, staging, ladders and roofs. These are the most common sources of fall injuries for construction workers.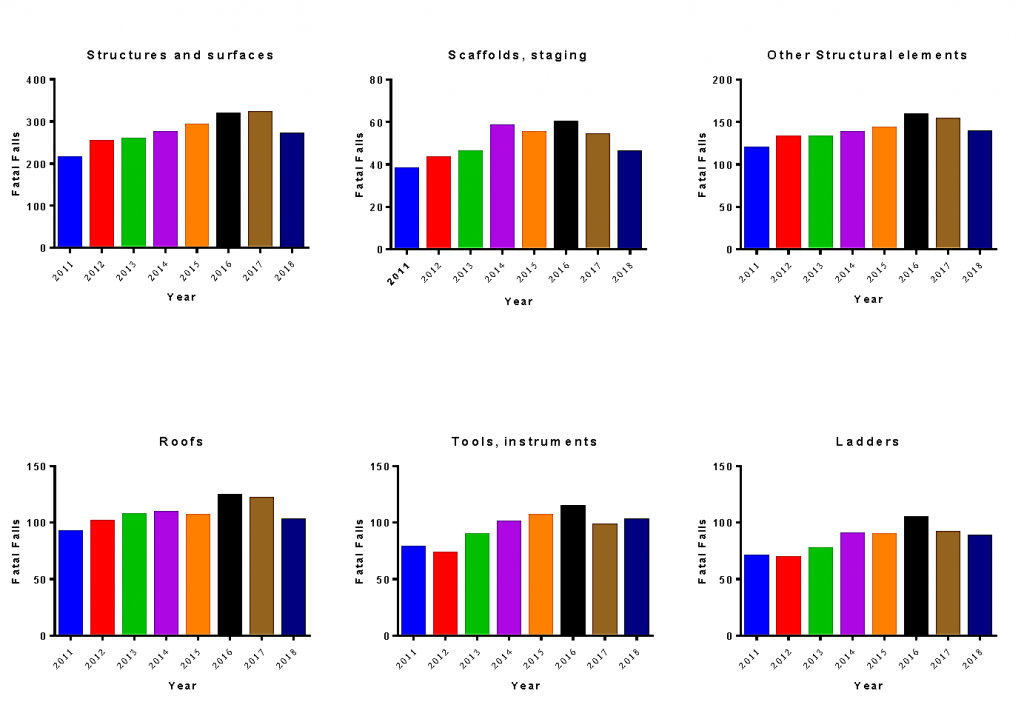 Data from BLS 2018
The rate of fatal falls is a ratio of the total number of fatal falls and the total number of workers. For example, if 300 fatal falls occur with only 5,000 workers, that is much worse than if 300 fatal falls occurred with 100,000 workers. The graph below provides a summary of annual fatal falls in construction to a lower level between 2003 and 2018. Between 2003 and 2007, the number of falls and fall rates remained fairly stable. During the recession and its recovery between 2008 and 2013 a reduction in workers corresponded to a reduction in fatal falls reaching a low in 2010 of 256. As construction employment returned to prerecession rates, falls and fall rates increased until 2016. Fortunately, beginning in 2016 there has been a steady decline in the number of falls to a lower level for several years (372, 367, 321). Even more notable, is the large decrease in the rate of fatal falls over this same time period (3.6, 3.4, 2.8), particularly between 2017 and 2018. This indicates that as the number of construction workers increase, fewer are having fatal falls.*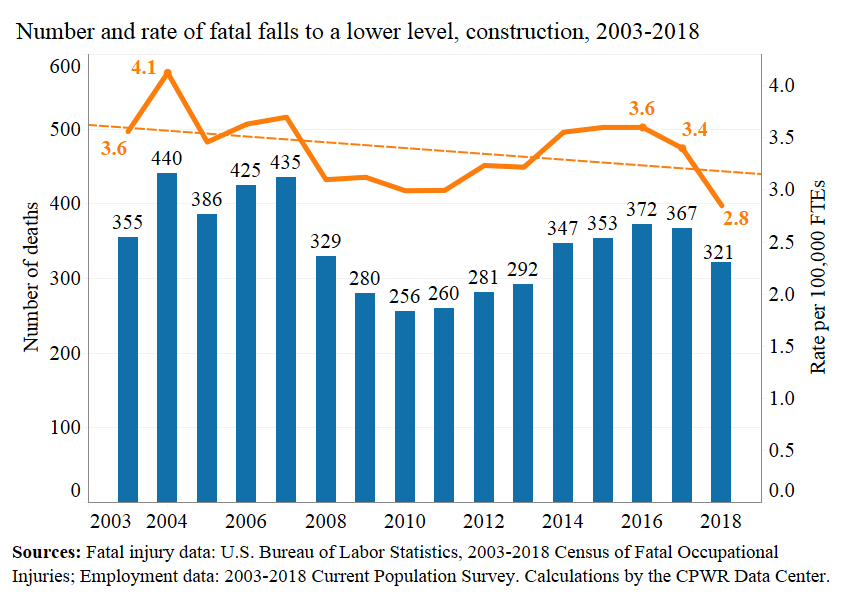 Let's harness this positive momentum. If you have previously participated in Stand-Downs, please continue; and if you haven't, it's time to join. Here are a few ideas for how you can participate and continue the momentum: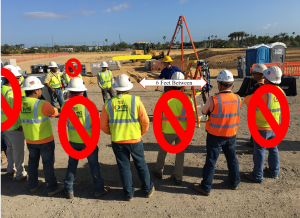 The global COVID-19 pandemic has changed construction sites. Safety needs to remain a priority, for both addressing traditional hazards and protecting against COVID-19. If your company is able to hold a safe stand-down outside, participants should wear masks (covering the nose and mouth) and socially distance at least six feet apart. The CDC has provided some guidelines for hosting events and gatherings, as well as use their handy checklist and planning tool to plan your stand-down event.
Please help us continue the momentum by getting involved in this year's National Campaign to Prevent Falls in Construction and the National Safety Stand-Down. Completion will earn your firm a Certificate of Participation which can be displayed at the worksite and will help us evaluate the reach and impact of this National Campaign. Your involvement can be as simple as accessing some of the resources highlighted here or becoming an official partner in our efforts to prevent falls in construction. We're counting on you to make this year's National Safety Stand-Down a success!
In the comment section below tell us how your company is preventing falls, share your personal story of how fall protection saved your life, and let us know what plans are in the works to have a virtual or socially distanced Stand-Down to prevent falls. We'd also love to hear any other ideas for how we can expand our reach at the national level, and what more we can do to support you in the field.
Scott Breloff, Ph.D. is a Biomedical Research Engineer in the NOISH Office of Construction Safety and Health.
CDR Elizabeth Garza, MPH, CPH, is Assistant Coordinator for the Construction Sector in the NIOSH Office of Construction Safety and Health.
Scott Earnest, PhD, PE, CSP, is the Associate Director for Construction Safety and Health
CAPT Alan Echt, DrPH, CIH, Senior Industrial Hygienist in the NIOSH Office of Construction Safety and Health (retired).
Christina Socias-Morales, DrPH, is a Research Epidemiologist in the NIOSH Office of Construction Safety and Health.
Jeanette Novakovich, MA, MS, PhD, is a Writer-Editor in the NIOSH Division of Science Integration.
*Text and graph added for clarity on 8/31/2020.
References:
Socias-Morales CM, Chaumont Menéndez CK, Marsh SM. Fatal work-related falls in the United States, 2003-2014. Am J Ind Med. 2018;61:204–215. https://doi.org/10.1002/ajim.22810
CPWR (2018). "The Construction Chartbook. Sixth Ed. Silver Spring, MD: CPWR- The Center for Construction Research and Training." https://www.cpwr.com/wp-content/uploads/publications/The_6th_Edition_Construction_eChart_Book.pdf
Bureau of Labor Statistics, U.S. Department of Labor, Injuries, Illnesses, and Fatalities, Fatal Falls in Construction, 2019 https://www.bls.gov/iif/
Posted on

by
---
Page last reviewed:
August 31, 2020
Page last updated:
August 31, 2020